A horde of zombies is threatening to break through your tower in Roblox Retro TDS. You will need to build up an arsenal of weapons and traps so that you can stop them at any cost. These hordes don't ever slow down, and each wave gets harder and harder, so you will need to build a team to take them down. We have the codes to get the firepower to stop them dead in their tracks!
You will need the in-game currency Cash in Roblox Retro TDS to purchase the weapons and traps to stop the zombie hordes. These traps and weapons will make it easier to defend your tower for as long as you need before the next wave starts.
Get the latest codes for all your favorite Tower Defense Roblox games. We have the codes to make the start game a lot easier for you so that you can level up faster and get all the upgrades you need to keep your towers standing. Roblox Tower Defense: Mythic Codes, Roblox Tower Blitz Codes, Roblox Tower Defense Shinobi Codes, Roblox Tower Defenders Codes, and Roblox Tower of Easy Codes.
All Roblox Retro TDS Codes List
Updated June 13, 2023

Added a new code.
Roblox Retro TDS Codes (Working)
Here are all the working Retro TDS Codes. Note: The original game page for this game has been set to private. There is a new game page and players must launch the game on that page to use these codes.
Clean—Redeem for a Reward (New)
Roblox Retro TDS Codes (Expired)
J0HNRBX—Redeem for John Tower
THANKYOU—Redeem for XP and Coins
SIUUUUUUUUU—Redeem for Cash
GORILLAPRO—Redeem for free rewards
JOHNROBLOX—Redeem for free rewards
34k—Redeem for a 2x XP and Coins Boost
RELEASE—Redeem for 3.5k Cash
REL
Bugged—Redeem for 500 Cash
BOOM!—Redeem for free 250 Cash
DOUBLETROUBLE—Redeem for 200 Cash
Distances—Redeem for free rewards

part4…—Redeem for free rewards
WEOUTHEREEEE!!!—Redeem for free rewards
whenpart2—Redeem for free rewards
verycoolcode—Redeem for free rewards
Valentines—Redeem for 150 Coins
30k—Redeem for 150 Coins
NORMAL—Redeem for 150 Coins
DAY3HYPE—Redeem for 150 Coins
HappyBDAYBelow—Redeem for 250 Coins
2021—Redeem for 100 Coins
FIREDUP—Redeem for 100 Coins
BACKONLINE—Redeem for free rewards

SKILLISSUE—Redeem for 100 Coins
100k—Redeem– Redeem code for 1,500 Coins
burrito—Redeem for 500 Coins
Roblox Retro TDS FAQ, Answered
Here's everything you need to know regarding Roblox Retro TDS codes.
How to Redeem Roblox Retro TDS Codes
It's easy to redeem codes for free rewards in Roblox Retro TDS. To do so, follow the instructions below.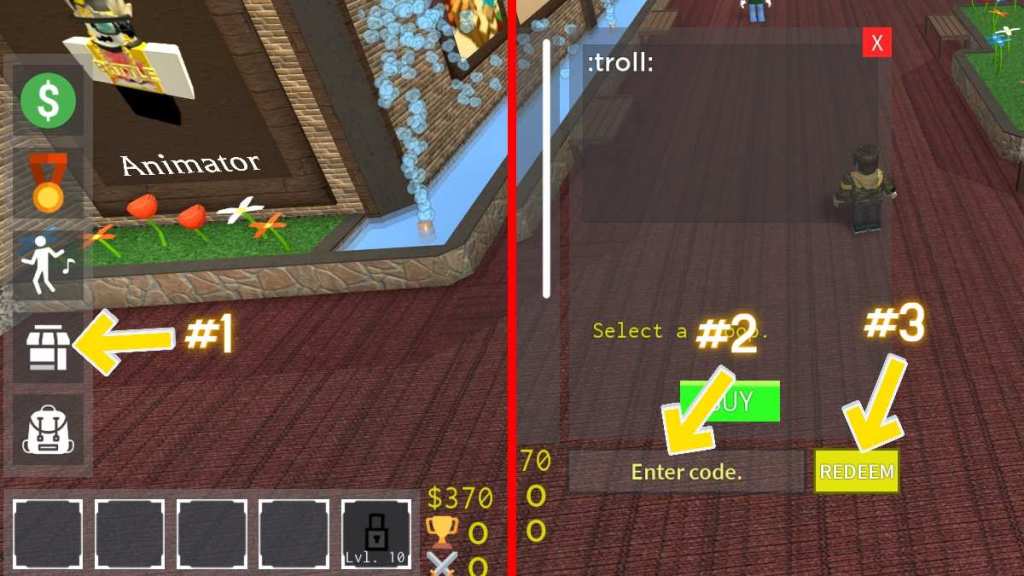 In the game, press the Shop icon on the left side of the screen.
In the 'Enter code.' box, enter the code exactly as it appears in the list above.
Press Redeem to claim your reward!
How to get more Roblox Retro TDS Codes
Follow the developer Retrowavy on their Retro TDS Community Discord Server to get new codes. We here at Pro Game Guides have all the latest codes for Roblox Retro TDS, so make sure to save this page and return to claim the new codes as they are released.
Why aren't my Roblox Retro TDS codes working?
There are a few reasons your Roblox Retro TDS codes aren't working. Make sure you copy and paste the code from our list so that you don't make any spelling or punctuation mistakes in your text box when claiming your code. Codes can expire fast, so make sure you claim the new codes as soon as they are released to avoid disappointment if those codes have big rewards.
What is a Roblox Retro TDS game?
Roblox Retro TDS is a tower defense game with many different maps and difficulties. Start defending your towers from small waves of Zombies as they try to destroy everything in their path. Team up with friends and level up to take on the harder difficulties. Can you and your friends top the leaderboards?
You can also get more free codes to help you in all your Roblox adventures by going to the Roblox Promo Codes page. We have you covered when it comes to all things Roblox and Roblox Anime!