Roblox Takeover is a high-speed sandbox Roblox driving experience. You'll be given enough free dollars to buy your own starting car, then it's up to you to earn more as you play to get new cars, paint jobs, and more. You can even decide to switch to the law's side, becoming a cop and careering around town in your police car. But I love it for the crazy speed ramps dotted around the map, especially when they're pointed over a lake…
Roblox Takeover codes give you free dollars, allowing you to purchase more cars and upgrades faster. Upgrades include a full range of paint colors broken down to bodywork, rims, and calipers, while you can also alter the drivetrain. I hope later codes will add unique cosmetics, such as rims and paint jobs, but we'll see. If you love Roblox driving games, you should also check out Peak Drift Codes.
All Roblox Takeover Codes List
Roblox Takeover Codes (Working)
These are all the working Roblox Takeover codes.
RELEASE—Redeem for $50,000
SPAGHETTI—Redeem for $25,000
Roblox Takeover Codes (Expired)
These are expired codes for Roblox Takeover.
There are no expired codes for Roblox Takeover
Related: New Horizons Codes
How to redeem codes in Roblox Takeover
Follow the instructions below to redeem codes in Roblox Takeover.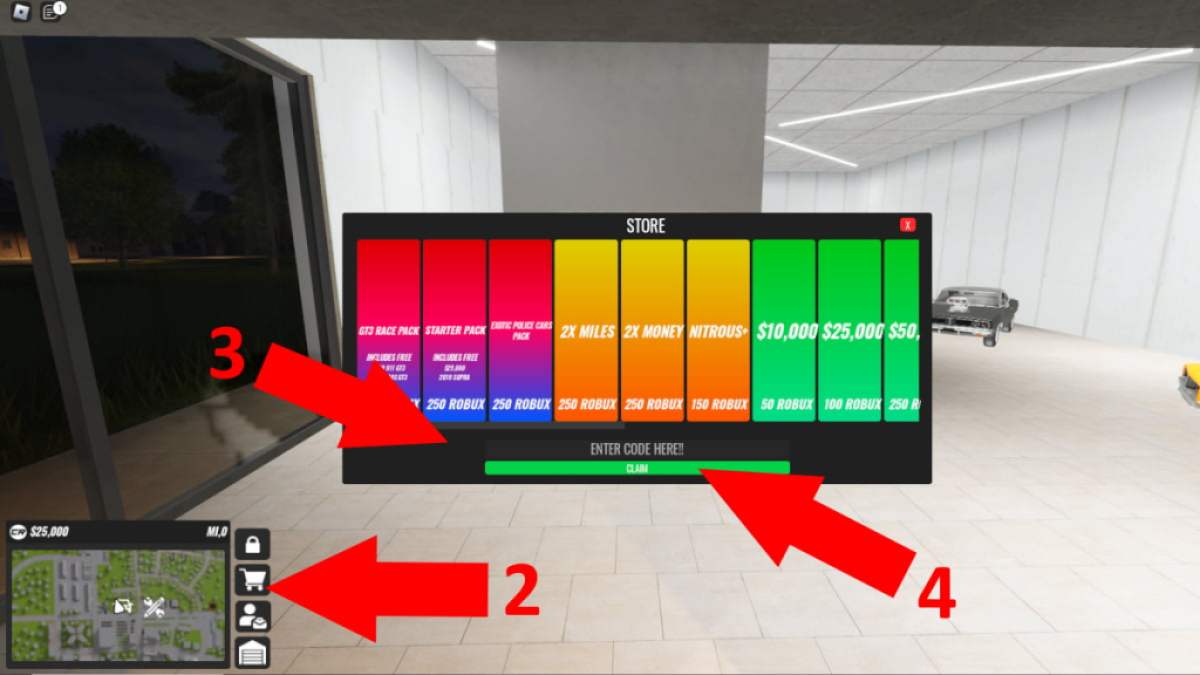 Launch Roblox Takeover on Roblox.
Press the Shopping Cart button in the bottom left of the screen.
In the text box saying Enter Code Here, do so exactly as it appears above.
Press the green Claim button to claim your reward!
How can you get more Roblox Takeover codes?
Roblox Takeover codes may be found by checking out the Takeover: Studios Roblox Group, which you can join. You can also follow @TakeoverRB on Twitter for updates on all the Takeover Studios titles, including Takeover. Another good source of information is the Takeover Studios Discord Server, where you'll find announcements, including code news.
Why are my Roblox Takeover codes not working?
Roblox Takeover codes need to be entered exactly as you see them above. Otherwise, they may show up as invalid. This tends to happen if you make a typo, such as missing a capital letter, or thinking a number is a letter, so cut and paste them to avoid any issues. If, instead, it says the code has expired, let us know in the comments because that code is gone for good. Come back soon, as we'll head out regularly to find new codes.
Other ways to get free rewards in Roblox Takeover
The best way to get more freebies in Roblox Takeover is to simply drive. You'll constantly earn a small number of dollars while logged into the game, whether driving or not, so it's even worth staying logged in if you go AFK. Also, remember you can switch jobs and become a Police Officer. This gives you access to four new cars for only $1,000 each, as well as letting you roleplay being the long arm of the law while others speed around and race (note they are temporary, though).
What is Roblox Takeover?
Roblox Takeover is a sandbox Roblox driving experience in which you can buy and pimp out various cars, as well as take on jobs such as police if you want to add a roleplay element. The map is big, with both a city center and a large countryside area to explore, while there are lots of jumps, races, and dirt tracks to have fun with as you drive and earn dollars for new cars and upgrades.
If you're looking for codes for other games, we have a ton of them in our Roblox Game Codes post! You can also get a bunch of free stuff via our Roblox Promo Codes page. And in the meantime, take a look at the latest news to stay up-to-date on all things entertainment.