A lion has escaped from its enclosure, and it's up to you to put the zoo back in order with Roblox Zoo Tycoon 2. Your guests and your animals' well-being keep your zoo rating high. Making sure that both the guests and the animals are fed and catered for will reveal what rating zoo you have. The bigger your zoo gets with exotic animals from around the world. More guests worldwide will flock to see these attractions. Make sure that no animal escapes!
Our Roblox Zoo Tycoon 2 Codes has the most up-to-date list of codes that you can redeem for free Gems, Boosts, and other goodies in the game. Whether you're just starting or you've been playing Zoo Tycoon 2 for a long time, these codes can give you a significant boost!
Do you enjoy building and creating your own zoo? We have the latest codes for all your creative needs for managing and developing your zoo from the ground up! Try these codes and Roblox games like Roblox Zoo World Tycoon Codes, Roblox Zoo Story Codes, Roblox Zoo Tycoon Codes, Roblox Pet Zoo Tycoon Codes, and Roblox Pet Zoo Codes.
All Roblox Zoo Tycoon 2 Codes List
Updated July 12, 2022

Added new info.
Roblox Zoo Tycoon 2 Codes (Working)
hybrid—Redeem for 10 minute Luck Boost (New)
employees—Redeem for 2x Money for 10 Minutes
agua—Redeem for 10 Gems
firstupdate—Redeem for 10 Gems
sixklikes—Redeem for 10 minutes x2 Money Boost
gemz—Redeem for 30 Gems
Roblox Zoo Tycoon 2 Codes (Expired)
There are no expired codes yet.
Roblox Zoo Tycoon 2 FAQ, Answered
Our guides below are here to make claiming your Roblox Zoo Tycoon 2 codes easier.
How to Redeem Roblox Zoo Tycoon 2 Codes
It's easy to redeem codes for free rewards in Roblox Zoo Tycoon 2. To do so, follow the instructions below.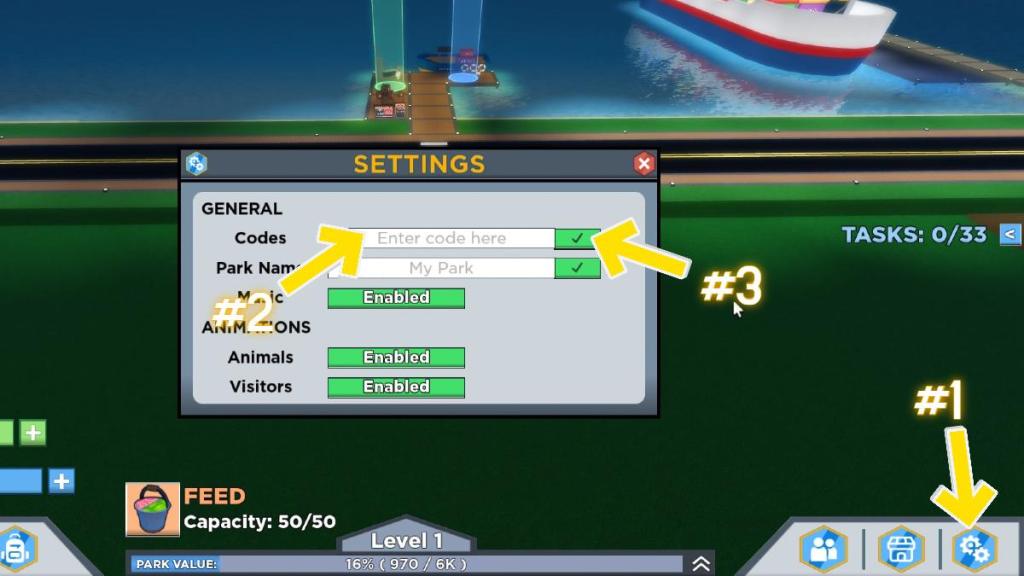 In the game, press the Setting button in the bottom right corner of the screen.
In the 'Enter code here' text box, enter the code exactly as it appears in the list above.
Press the Checkmark to submit the code and claim your reward!
How to get more Roblox Zoo Tycoon 2 codes
Follow the developer AspireWorks - Tycoons for all the latest codes for Zoo Tycoon 2. You can also follow them on the AspireWorks - Tycoons Discord Server. Save this page and often return because here at Pro Game Guides, we have all the latest codes for you.
Why aren't my Roblox Zoo Tycoon 2 codes working?
If you are struggling to redeem your Zoo Tycoon 2 codes, try these options to make sure you can claim these codes. Ensure your spelling and punctuation are correct when typing the code in the text box while trying to redeem the code. Codes can disappear overnight and be invalid if the developer decides it to be that way, so make sure to claim the new codes from the list as soon as you see them on our list.
What is a Roblox Zoo Tycoon 2 game?
Build your very own zoo in Roblox Zoo Tycoon 2. You will have to manage and develop your zoo, managing what animals you have to, what you feed, and entertain your guests. The better the attraction in your zoo, the better your park will be rated. Get the best zoo rating by collecting up to 75 animals.
You can also get more free codes to help you in all your Roblox adventures by going to the Roblox Promo Codes page. We have you covered when it comes to all things Roblox and Roblox Anime!