Experience an epic adventure in Shadovis RPG. This Roblox title features six different realms to explore and conquer on your quest to become the ultimate warrior. Collect various weapons, gear, and magic as you battle various monsters on your journey.
Codes in Shadovis RPG will give you various rewards, like weapons, accessories, and items, so keep an eye on them. These will also have expiration dates, so you must use the codes before they expire. We have compiled a list of available codes so you can earn gear and more in Shadovis RPG.
If you're looking for more Roblox content, check out Roblox RPG Simulator Codes, Demon Slayer RPG 2 Codes – Free resets & EXP, Roblox Legend RPG 2 Codes, and more on Pro Game Guides. Use our various Roblox code guides to get loads of free stuff.
All Shadovis RPG Codes List
Updated October 12, 2023

We found a brand new code today!
All Shadovis RPG Codes List (Working)
iloveshadovia—Redeem for 1 hour of +50% EXP Boost (New)
saveslots—Redeem for 1 hour of +400% XP (New)
twindrake—Redeem for drake daggers (Requires 24 Rebirths) (New)
minionmaster—Redeem for minion master tome (Requires 25 Rebirths) (New)
overlord—Redeem for The Great Pour (Requires 10 Rebirths) (New)
jingle—Redeem for 75 Tokens (New)
frosted—Redeem for 1 hour of 2x XP
freebie—Redeem for 1k Tokens
bells—Redeem for 125 Event Tokens
late update enjoyers—Redeem for 2 hours of 2x XP
craft—Redeem for the Ring of Transmutation
75000likes—Redeem for a Dusk Blade

crafting enjoyer—Redeem for 1 hour of 2x exp
photon—Redeem for a Photon Ring
sleepy—Redeem for 60 minutes 2x exp
joindiscord—Redeem for Leafy Sprig
60000likes—Redeem for a Charged Icedagger
void—Redeem for a Magic Star item
100kfavs—Redeem for the Flying Star Charm
25000likes—Redeem this code for the Party Hat
15000likes—Redeem this code for Party Bazooka
burning—Redeem this code for Faux Firebrand
twitter—Redeem this code for Fledgling Ringlet
7500Likes—Redeem this code for Gold Ring

million—Redeem this code for Wanwood Antlers
All Shadovis RPG Codes List (Expired)
bruh—Redeem for 175 Tokens
woops—Redeem for 525 Tokens
brokenasgame—Redeem for 69 tokens
haunting—Redeem for 75 tokens
swag—Redeem for an hour exp Boost
scary—Redeem for 50 Event Tokens
rockin—Redeem for a Regular Guitar weapon
saucy—Redeem for a Vampire Charm
falchion—Redeem this code for Champions Falchion
million2—Redeem this code for Wanwood Antlers
claws—Redeem this code for Shadow Claws

500likes—Redeem this code for Party Cap
Roblox Shadovis RPG Codes FAQ
Here's everything you need to know about Roblox Shadovis RPG codes.
How to redeem codes in Shadovis RPG
You can use codes in Shadovis RPG to get resources and rewards quickly. Here is how to redeem codes in Shadovis RPG.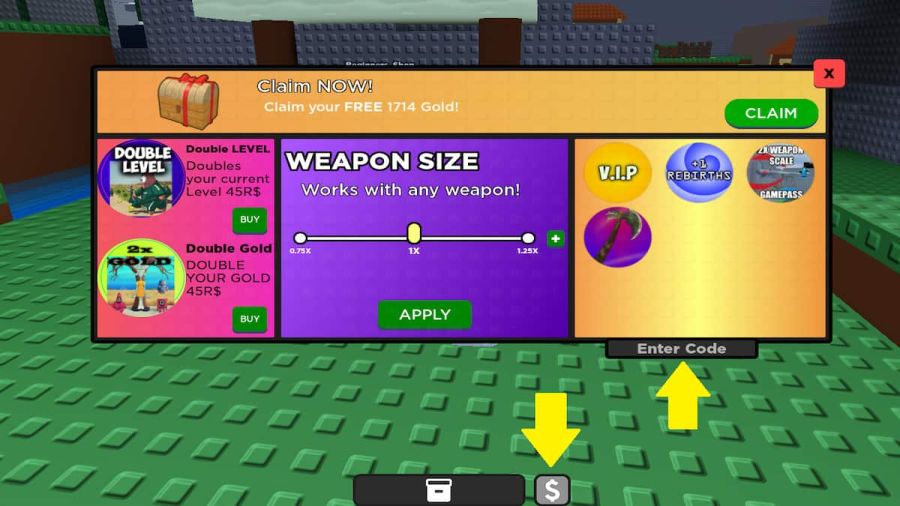 Click on the $ symbol at the bottom of the screen.
Select the Enter Code box.
Input the code and hit enter.
How to get more Shadovis RPG Codes
For more codes, join the Shadovis RPG Twitter and Discord. You can also bookmark this page, as we will update this list once new codes are released. So be sure to check back often to see if there are new codes for Shadovis RPG.
Why aren't my Shadovis RPG Codes working?
The developer controls codes for Shadovis RPG, and this is who determines how long they are active. Some codes may expire quicker than others, and some may not work with others. If a code does not work for you, double-check if there is a spelling error, the code isn't active yet, or it has already expired. To help solve that issue, bookmark this page and come back often to see if Shadovis RPG has added new codes or if some are expired.
How to get weapons in Shadovis RPG
To safely explore the world of Shadovis RPG, you must get your hands on weapons. You can do this by defeating enemies, purchasing them from shops, or using codes. You will need better weapons as you progress in the game and find yourself in more dangerous areas.
What is a Shadovis RPG game?
Shadovis RPG is a feature-full Roblox RPG with various regions to explore, monsters to slay, and gear to collect. Find Cubits across the world to gain permanent power-ups and become a mighty warrior. Fight with swords, bows, magic, and more as you take on the dangers of Shadovis RPG.
For more information on Roblox, check out Roblox Undertale AU RPG Codes and Roblox Limitless RPG Codes on Pro Game Guides.