Treasure Hunt Islands is the sequel to the popular Roblox game Treasure Hunt Simulator. Dig in the sand and sell your findings to upgrade your equipment. Then, as you progress, you can advance to new islands, each of which has unique items, while buying pets and upgrading your skills. The deeper you dig, the more chance you have to find chests with valuable items!
Treasure Hunt Simulator codes help you gather treasure quicker, either by giving you a limited-time coin boost or by giving you free gems to spend.
If you like Treasure Hunt Islands, why not check out some of our other Roblox code pages? We have loads to choose from, including Treasure Quest codes, Treasure Lake Simulator codes, Treasure Hunt Simulator codes, Timber Champions codes, and Tree Planting Simulator Codes.
All Treasure Hunt Islands Codes List
Updated November 28, 2022

Added a new code!
Treasure Hunt Islands Codes (Working)
Here's a look at all the working Treasure Hunt Islands codes.
FALL—Redeem for 10 min Turkey and Lucky Boost (New)
UPDATE2—Redeem for a 5-minute Luck Boost
Lava—Redeem for 5-minute Coin and XP Boost
Captain—Redeem for 5-minute Coin and XP Boost
RELEASE—Redeem for 100 gems and a five-minute XP Boost
Treasure—Use for a 5-minute Coin Boost
Bucket—Redeem for 500 Gems
Treasure Hunt Islands Codes (Expired)
These codes for Treasure Hunt Islands no longer work.
There are no expired codes for Treasure Hunt Islands
Treasure Hunt Islands FAQ
Here's everything you need to know regarding Treasure Hunt Islands codes.
How to redeem Treasure Hunt Islands codes
Redeeming codes for free rewards in Treasure Hunt Islands is easy.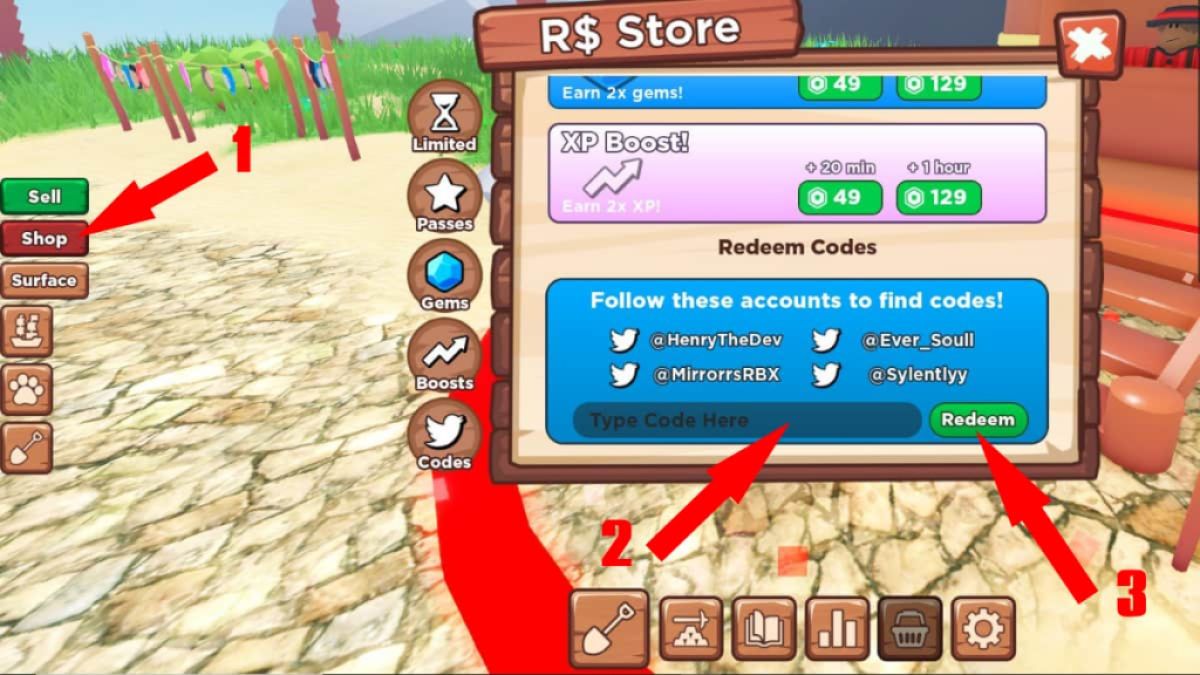 In the game, press the red Shop button on the left of the screen.
When the shop appears in the middle of your screen, scroll right down to the bottom of it. At the end, you'll see a section called Redeem Codes. Cut and paste your code into the dark blue box underneath that says Type Code Here.
Press the green Redeem button next to where you typed the code to claim your reward!
How can you get more Treasure Hunt Islands codes?
You don't need to hunt for Treasure Hunt Island codes, as we'll update this page regularly with all the codes we find. But if you're a natural codes hunter, you should start by joining the HD Games Roblox Group (which gives you a permanent 10 percent coin boost) and becoming a member of the HD Games Discord community. You should also follow HenryTheDev, MirrorrsRBX, Ever_Soull, and Sylentlyy on Twitter.
Why aren't my Treasure Hunt Islands codes working?
If you're having trouble with a particular Treasure Hunt Islands code, start by checking you haven't made a typo. The most common reasons are missing some capitalizing or mistaking a number for a letter. As this isn't always obvious, we suggest you cut and paste the code directly from here wherever possible. If it still doesn't work, it may have expired, which is what happens to most Roblox in the end. Do let us know if this is the case, so we can update the guide as quickly as possible.
What to look out for while digging
When you arrive at a dig site, look for deep holes others have started you can drop into. The lower you drop, the better your chance of finding rare chests and ore. Always collect ore and chests first, especially if you're deep in a great spot. These items don't count toward your carry total, so the more you get, the longer you can stay in the great spot you've found. And remember to hand that ore in to get some super useful skill-ups at the Upgrades stand.
What is Treasure Hunt Islands?
Treasure Hunt Islands is essentially a Roblox exploration game. You take your shovel and go digging in the sand to try and find valuable ores and treasure chests. Ores can be smelted to get upgrades, while the cash you find can be spent on better items and pets that help you dig. As your level increases, you can move on to explore new islands, where you'll unearth more unknown treasures.
If you're looking for codes for other games, we have a ton of them in our Roblox Game Codes post! You can also get a bunch of free stuff via our Roblox Promo Codes page.