When you're playing Roblox, you might find yourself chatting with other players. While chatting you may see certain words thrown around that you don't understand. One of those is "Tags". So what does it mean?
Chat Filters
Roblox wants to keep its site friendly for children. They want to make sure games do not have any inappropriate content, that avatar store items are not offensive, and even that the chats are age-appropriate. One way that Roblox helps moderate for safety in their community is to filter the chat when it detects inappropriate content. When the chat finds a message to be against guidelines, it turns the text into a #### format.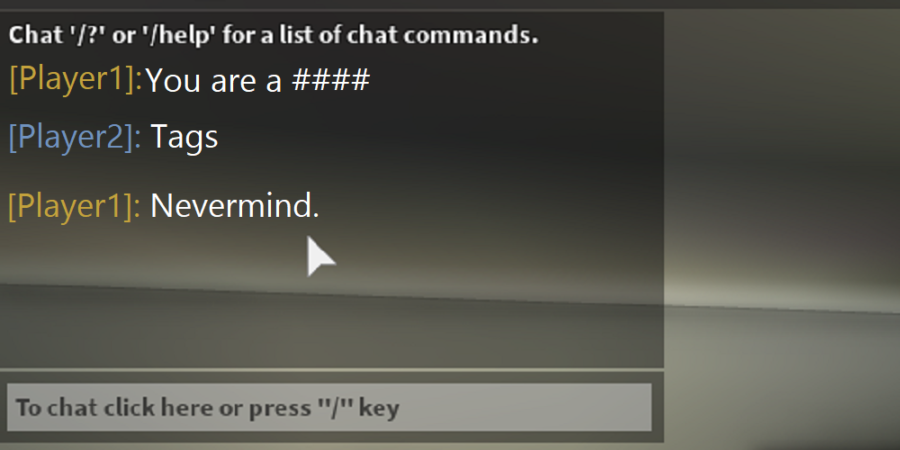 If you see an exchange like in the picture above, it usually means that chat moderation has taken place. While there are times where it is not the case, hashtag filters mostly flag swearing or other inappropriate language. A small percent of the time, the chat mistakenly picks up words that are appropriate.
Related: Roblox Voice Chat Guide – Security, Age Verification, and More
The person who has the #### in their message probably used a swear word. The second player says "Tags". They are pointing out the moderation that has occurred in the other players message. Sometimes, the person saying "Tags" wants the other player to reword their phrase to get around the filter. If Guides was filtered to ######, the player might instead type GUID3Z to make their point clear. Other times, like in the photo example, the person may just say never mind, as they do not want to bother trying to get around the filter to swear.
Overall, Tags is an acknowledgment of the chat filter being used on another player's message.
Want to read more about Roblox? Look at the How to Set Up Roblox Parental Controls guide on Pro Game Guides.