You can now give your Sims any pronouns you wish, which is certainly good news for players who have longed for more diverse representation of gender expression in The Sims 4. Here's how to edit pronouns in Create-a-Sim.
How to change a Sim's pronouns in Create-a-Sim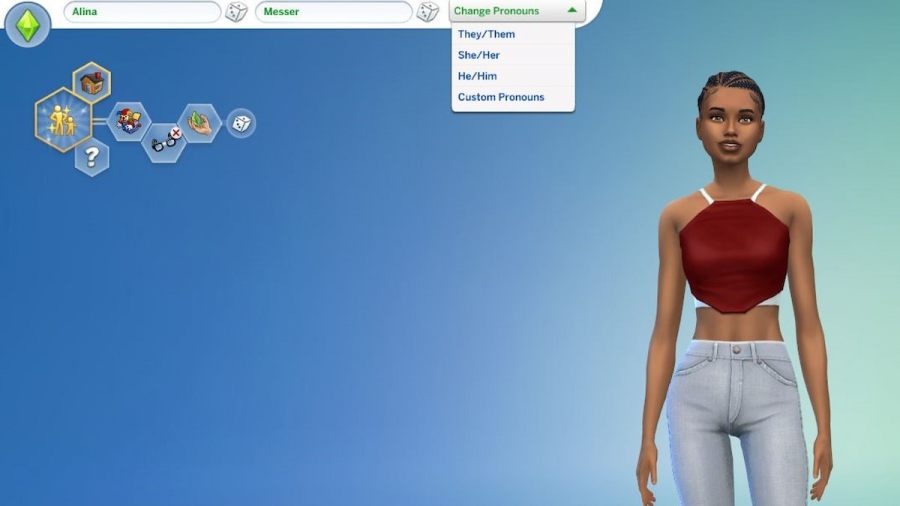 Changing the pronouns of any Sim in The Sims 4 is simple and straightforward. Follow these steps to customize your Sim's pronouns:
Navigate to Create-a-Sim and begin making your Sim.
You can add pronouns at any step of character creation, so whenever you are ready, go to the top left of the screen.
Click on the empty name slot, which is the place you usually go to enter the name of your Sim.
Look to the far right of the name bar and toggle the drop-down menu that says Change Pronouns.
Choose the pronouns you desire and finish making your Sim like you normally would.
Why did EA add pronouns to The Sims 4?
Electronic Arts announced in Jan. 2022 that they intended to add pronoun customization in The Sims 4 in the near future. They have stated it is part of a larger effort to continue to make The Sims 4 an inclusive environment for all players. On May 24, 2022, The Sims' official Twitter announced that they had finally added custom Pronouns to the game with the help of both the It Gets Better Project and GLAAD.
Want to see more Sims 4 content? If so, give How to turn on cheats in The Sims 4 a try on Pro Game Guides.