The Tears of Themis Secrets of the Tomb event runs from April 29, 2022, to May 20, 2022. During the event, you can explore the Tomb of Ita with the male leads to get Antiquated Coins and Exploration EXP, which can be exchanged for various rewards.
Upon starting an Exploration, you can choose one of the four male leads to accompany you. In most Tears of Themis events, choosing a different boy doesn't change the gameplay. But in Secrets of the Tomb, each love interest has a unique skill that you can activate once on each floor. You may find that some skills are more useful than others.
What are the Male Leads' Exploration Skills?
Here are the skills that each male lead can use in the Tomb of Ita. Skills are unique to each male lead. They can't be changed but can be leveled up to be more effective.
Luke: Precise Detonation

Use during Luke's Exploration to destroy surrounding Basic Debris. Use 1x per floor.
Range: one-cell cross-pattern
Artem: Adequate Preparation

Use during Artem's Exploration to have a high chance of obtaining one archeological tool.
Use 1x per floor.
Vyn: Mental Shift

Use during Vyn's Exploration to recover three Energy.
Use 1x per floor.
Recover 2x as much Energy when a Luck Cell is active.
Marius: Keen Observation

Use during Marius' Exploration to discover one hidden object on the current map.
Use 1x per floor.
Related: How to explore the Tomb of Ita in the Tears of Themis Secrets of the Tomb event
Which Male Leads are best for Exploration?
If you want to efficiently farm Antiquated Coins, it's highly recommended to use Vyn, as his skill will recover Energy, increasing your Exploration potential. Next in line would be Artem, as archeological tools are extremely useful in Exploration as well. Marius and Luke would be the lowest priorities, with Luke's skill being the least helpful.
In higher Exploration levels, you may find that Artem's skill is more useful than Vyn's. Likewise, Marius and Luke's skills aren't much help in higher levels either. However, if you're playing for fun, then explore the ruins with your favorite male lead!
How to Level Up the Male Leads' Skills?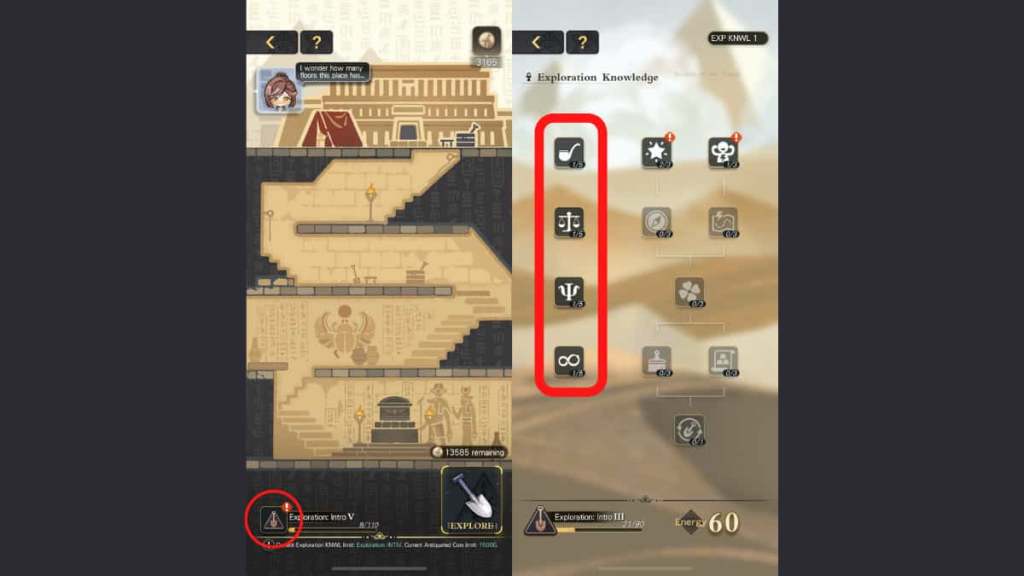 Click on the shovel button on the bottom left of the event screen to open up the Exploration Knowledge menu. Here, you can level up various Exploration skills—including the male leads'. You need to reach the required Exploration Level to level up the skills. For example, to get them from levels one to two, you need to reach Exploration: Intro V.
Check out our guide on How to get and use archeological tools in the Tears of Themis Secrets of the Tomb event to help you explore the Tomb of Ita.