Have you tried playing Wordle in reverse? You probably haven't, and we don't blame you if that sounds insane. But "insane" is a great word to describe Antiwordle, where you don't want to find a word. We have broken down what this game is about, who created it, how to play, and some strategies and tips to get you started.
What is Antiwordle about?
A game inspired by the original Wordle, Antiwordle is a spin-off that goes against the goal of normal word-guessing games. This one will challenge you to stay away from the word of the day at all costs. The higher your number of guesses is at the end of a day, the better. Antiwordle was created in 2022 by Joel Beer, who is a web developer known for founding WillCodeForBeer and Toucan Green.
How to play Antiwordle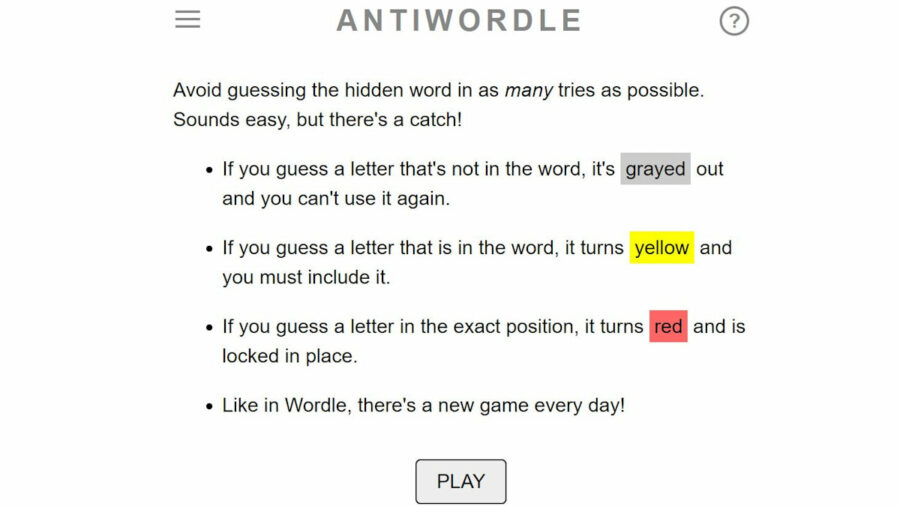 Antiwordle is pretty simple to play; simply think of it as the opposite of Wordle. You want to not guess the word of the day. Essentially, you're going to attempt to waste all of your guesses on wrong answers. You want to get all gray squares for as long as possible, as this means you're cold and staying away from the mystery word.
Getting red or yellow squares is bad because this means you're getting close to the word and have to use those letters. This is tricky because using the letters in the real word means you are closer to stumbling upon the answer. The ultimate goal is to guess as many times as you can while avoiding the word. An Antiwordle game does not end until you get the secret word.
Antiwordle Best Strategies & Tips
There are many ways you can approach an Antiwordle game. No strategy is perfect because the mystery word is different every day. Here are some of our recommended strategies for you to get the best score possible in Antiwordle:
Try to use words with double or triple letters. It can backfire occasionally, but it usually works.
In the beginning, attempt to use rare letters like Q and Z.
Attempt to figure out the word so you can take steps to guess the opposite of that word.
Don't get flustered by the yellow letters. You don't have to move them to a different spot, you can leave them in their place. But do use the yellow squares as a clue to the secret word.
You'll want to think of the rarest letters for your starting word. Also, you'll want to reuse a letter as many times in one word as you can. This will backfire some days, but most days, this will advantage you. Here are some helpful starting words:
Aquae
Exeem
Feeze
Jeeze
Jocko
Kazoo
Keeve
Kooky
Mezze
Neeze
Tuque
Quaky
Want to see more Wordle spin-offs? If so, check out What is Semantle? A hard-mode Wordle spinoff on Pro Game Guides.