If you want to make some real money on days with bad weather then this is a great fish to catch! We're looking to teach you how to catch a Coelacanth in Animal Crossing: New Horizons. If you're someone who wants to check off every part of your Critterpedia, then you're going to need to know how to catch this large fish.
How to Catch a Coelacanth
First, we'll take a look at the Coelacanth's Critterpedia information because there's one vital piece of information you'll need to know on how to get one!
Northern Hemisphere: All Year
Southern Hemisphere: All Year
Active Hours: All Day
Shadow: Largest
Location: Sea (Rainy Days)
Price: 15,000 Bells
You probably already noticed it, but the key to catching these is that you will need to fish in the ocean on rainy days. If it's not raining on your island then you will not find them in the water!
The shadow is the largest one that you'll encounter in the water. It's fat at the top and is quite long, and it will be pretty noticeable once you actually see it in the game. Here's a look at a screenshot (Credit to SimplyPressStart):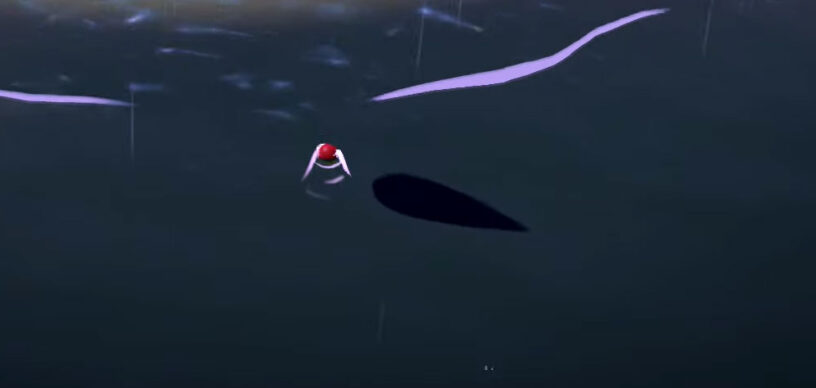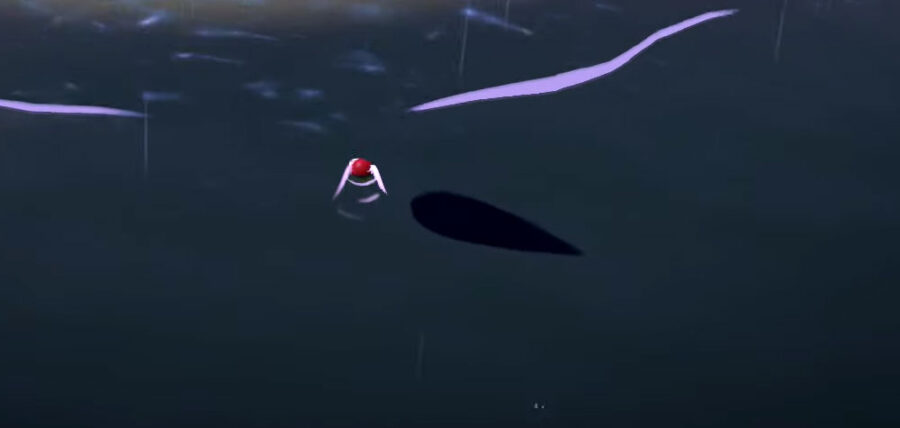 There are some general tips I have for catching rare fish in Animal Crossing: New Horizons, but they aren't fully necessary with this fish. It actually isn't super rare, and if you have a rainy day on your island you can pretty reliably find these if you go looking for them.
One thing you can do to help increase spawns is to run around the sea area and scare away any fish that aren't large enough to be a Coelacanth. This should help get you new shadows in the water that could possibly be what you're looking to catch. You can hold down the B-button to sprint near the water to scare them, or you can cast out at them and get them to bite. If you reel in your line before the bobber goes down, the fish will be scared away.
Fish Bait/Hard Resets
Fish bait is one of the reliable ways to focus a farm on a particular fish. This can be gotten by running around your beaches and looking for dark holes that spout out water. Use your shovel on one of these locations to obtain a Manila clam. Gather a bunch of these up and head to the crafting table. You can use them to create Fish bait. Once you've got the bait, head over to the pier or any ocean water area and scatter it in the water. You will get a guaranteed fish spawn, however, it's not always going to be the fish you want. So, if the shadow isn't the right size, just throw in more bait. Repeat until you get the one you want!
If you don't want to continue to farm Fish bait, then you can use the reset method to make things easier. What you need to do is gather up 10 Fish bait, and then go to the pier or anywhere near the sea. Wait for your game to auto-save, look at the top right of the screen for the spinning dot icon. Once that happens, start throwing bait into the water and look for the shadow that is the size of a Coelacanth. Cast at any that match the size! If you don't catch one, hit the Home button on your controller and fully close Animal Crossing. You have about three minutes between auto-saves, so just make sure to reset before the next save (if you see the auto-save indicator, DO NOT close the game or your save might be corrupted)! This will put you back to where you saved previously and you will have all of your bait. Repeat this method until you catch the Coelacanth.
There is one risk to resetting your game, and that's if the weather changes when this is done. I haven't experimented with it yet, so let me know in the comments if the weather changes after a reset or not!