In Animal Crossing: New Horizons, you get the initial ability to customize your character. However, what if you end up not liking how they look? Well, I have good news for you! The ability to change your appearance later in the game is available, so you don't have to worry about being locked into a specific skin tone, hairstyle, eyes, nose/mouth, and cheeks!
While you can eventually change your look, you should make sure you're at least somewhat happy with your starting face! This is because it will take a little while to be able to get access to customization, so make your choices with a bit of a critical eye because you might have them for a bit!
How to Change Your Appearance
You will need to craft or purchase a mirror to customize your character in Animal Crossing: New Horizons. One particular one that is relatively easy to craft is the Wooden full-length mirror. You will first need to find the DIY recipe, it can be found via a message in a bottle. Take a stroll around your island near the ocean and you should hopefully run into it. Once you've found that, all you need to do is gather 5 pieces of wood and 1 iron nugget. Go to your crafting bench and create the mirror. Now that you've done that, head over to your tent or home and place it somewhere as furniture. Once you've done that, select the "Change it up!" option to alter your appearance.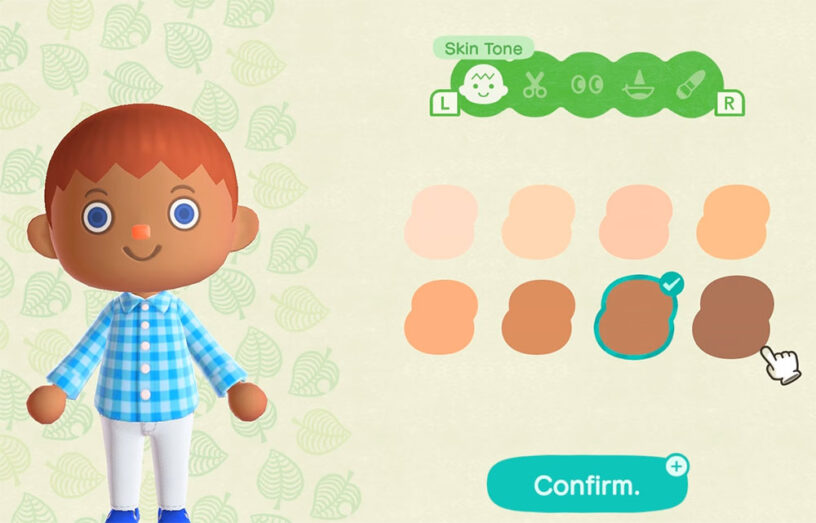 If you're hoping for additional hairstyles, you can actually purchase some of these by collecting Nook Points and spending them at the Nook Stop! You can find this over at the shop area where Tom Nook can be found.
How to Change Your Clothing
If you're looking to change your clothing, then you're going to need a completely different type of furniture! What we need is a chest, and one you can create relatively early on is the Wooden-block chest. To create this, you will need 1 wooden-block toy and 12 softwood. Now that you have yourself a chest, go back to your tent/house and place it down somewhere. Interact with it and select the "Get changed" option. From here, you have a bunch of different options to choose from to wear. You can get more clothes by purchasing them with Nook Points and various other methods! We'll add more details on this as we get more information.
For now, that's all you should need to know about how to change your appearance and clothes in Animal Crossing: New Horizons!