The Apex Legends Awakening Collection Event runs for two weeks from June 21 to July 5. During the course of this limited-time event, players can unlock various cosmetic rewards such as legend skins, weapon skins, the new Valkyrie heirloom, and more. While the majority of items featured in the event can be attained by purchasing them, there are some free rewards that can be accessed by completing in-game challenges. Here's a list of all the rewards included in the Awakening Collection Event prize tracker in Apex Legends.
Apex Legends Awakening Collection Event Reward Tracker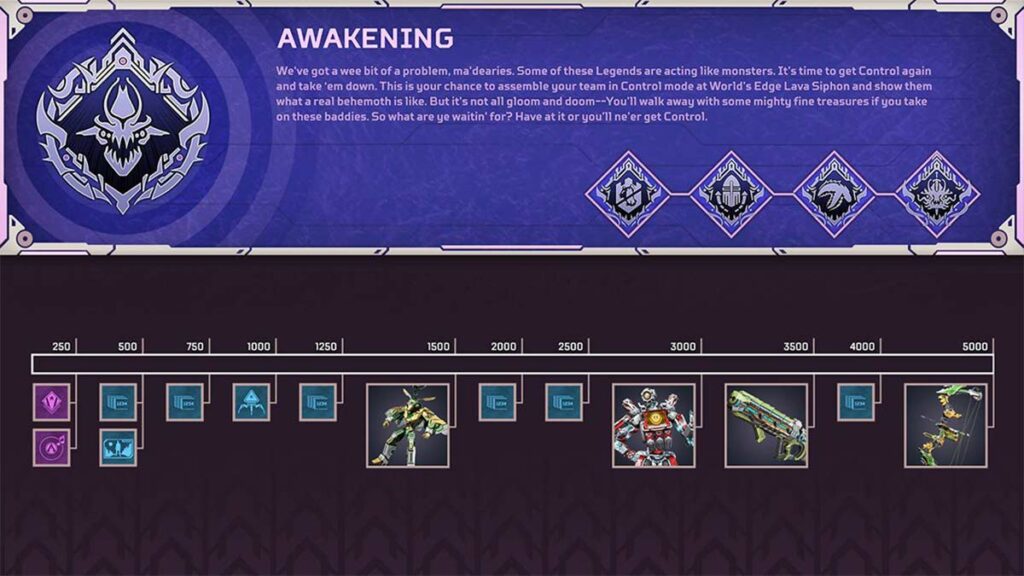 You can complete challenges and earn points during the event to unlock the free rewards shown in the table below.
Tier
Points
Reward
1
250
Epic Music Pack
2
500
Rare Legend Stat Trackers
Rare Transition / Background Screen
3
750
Rare Legend Stat Trackers
4
1000
Rare Apex Pack
5
1250
Rare Legend Stat Trackers
6
1500
Mecha-Moth Epic Weapon Charm
7
2000
Rare Legend Stat Trackers
8
2500
Rare Legend Stat Trackers
9
3000
Path of Glory Epic Pathfinder Skin
10
3500
Reptilian Fury Legendary Havoc Skin
11
4000
Rare Legend Stat Trackers
12
5000
Widow Wing Legendary Bocek Bow Skin
Players can earn 1,600 points per day by completing challenges during the event. The set of challenges refresh daily and also stack with the Season 13 Battle Pass so that you can complete multiple objectives simultaneously. Furthermore, players can also unlock five unique badges by completing certain in-game missions until the Awakening Collection Event lasts.
Stay tuned to Pro Game Guides for more on Apex Legends. In the meantime, head over to our article on Apex Legends Awakening Collection Event – Release Date, LTMs, Changes, and more.