The Apex Legends anniversary collection events are a lot of fun because they tend to bring new content that also gives players a flashback to beloved older content. For the 2nd Anniversary Collection Event, players could unlock new color variants of fan favorite skins. For the 3rd Anniversary Collection Event, however, the callback looks a little different, and we can't get enough of it.
Legendary skins in the 3rd Anniversary Collection Event can be divided into four groups, each consisting of an existing fan favorite Legendary skin, as well as two brand-new skins for other Legends inspired by the original.
Each of the original Legend skins is a base Legendary that can be purchased for 1,200 Crafting Materials year-round, rather than being a limited-time or event skin. Some of the chosen skins even have lore behind them too.
The reason that each of these skins coming in sets of three, specifically, is so significant is that for the most part, teams in Apex Legend consist of three players. That means if you can handle the team comp present in one of these skin sets, you and your squad can all match. But the chosen Legends for each group go beyond just a team comp, in fact there is a lore reason for each of the groupings as well.
Without any further ado, let's dig into all of the Legend skins inspired by fan favorites for the 3rd Anniversary Collection Event in Apex Legends.
The Hype Beast Collection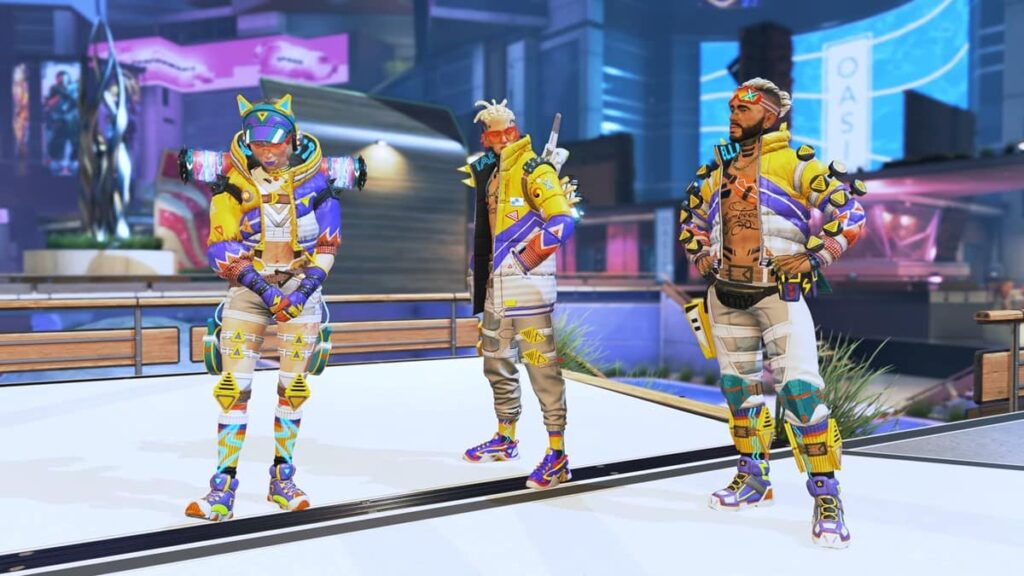 The first set of skins is inspired by the Crypto Legendary skin, Hype Beast. This is a skin that's important to Crypto's identity. A sort of outlandish, over-the-top style (reading out his full real name) is exactly the kind of look he would go for if he weren't constantly on the run. Crypto is a wanted man, and his code name gives him safety—but in another life, he wouldn't hide away from the world.
The two characters receiving Hype Beast-inspired skins—and completing this trio—are also both important to Crypto's story. Wattson is the only Legend who Crypto has confided his true identity and real name (Tae Joon Park) to. There is possible a romance brewing as well.
Mirage, on the other hand, is someone with who Crypto bickers back and forth, but in the end, they always have each other's backs. It could also be argued that Mirage and Crypto have their own kind of romance themselves, not that either would admit they're even friends.
Honestly, this set is so much fun. They look ready for a stage performance or a music video. Which Apex Legends should really have.
The Purple Reign Collection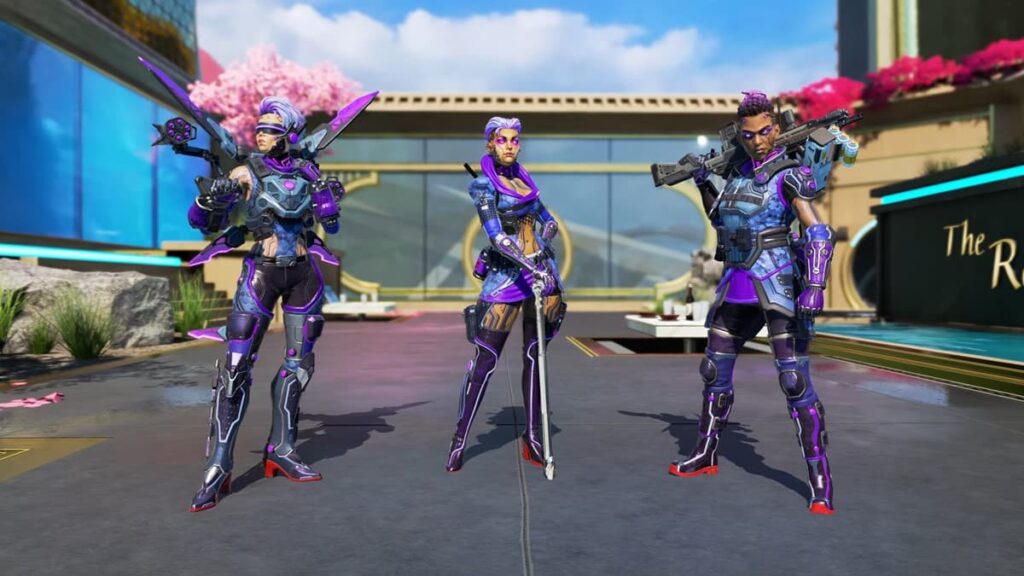 The second set of skins is inspired by the Loba Legendary skin, Purple Reign. This skin, and its color variants, Off the Record and Tigress, bring a taste of gender nonconformity to Loba. All of these skins feature short hair and some stunning androgynous elements. While the design itself doesn't have any lore significance, the grouping is one of the most blatant that the Apex developers could have gone for. That's right: it's everyone's favorite queer disaster love triangle.
Loba was crushing on Bangalore, who was secretly in love with her back but wouldn't admit it. Bangalore, to hide her feelings, called Loba a 'friend' during a touching moment—which frustrated Loba, who thought (correctly) that the moment meant more. Loba, on the other hand, is also worried about any romance because Revenant threatened to go after anything, or anyone, that she holds dear.
Valkyrie is crushing hard on Loba, though, and wants to date her. Loba does flirt with Valkyrie back, but Loba's unresolved feelings for Bangalore prevent her from committing. Which annoys Valkyrie, but pleases Revenant, who is using Loba's affection for Valkyrie to manipulate Bangalore into thinking that Loba moved on. Which is, in turn, to torture Loba. You got all of that?
Long story short, this set is three queer women in matching outfits that really should just be in a triad three-person polyamorous relationship, and stop being so dramatic.
Related: Evolving Prestige Legend skins will debut in Apex Legends Season 12: Defiance
The Dread Captain Collection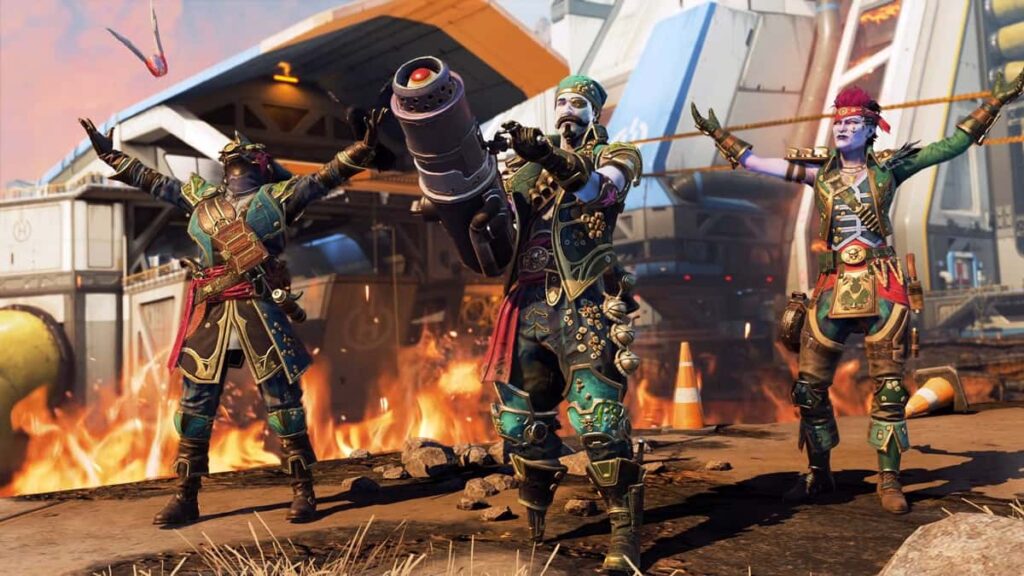 The third set of skins is inspired by the Fuse Legendary skin, Dread Captain. Fuse has a few pirate skins, the others being Man-O-War and Scallywag, in which he is a human pirate. However, Dread Captain has him looking like an undead, Davy Jones, back-from-the-bottom-of-the-sea type monster. It is definitely one of Fuse's best skins, and the others in the set follow in its spooky footsteps.
First up in Fuse's set is Mad Maggie. There couldn't be a more perfect choice. Mad Maggie was Fuse's best friend from childhood, but after an explosive (pun intended) disagreement, they ended their friendship and are now rivals. Fuse entered the Apex Games willingly, while Mad Maggie was forced into them as a death sentence by The Syndicate. Be sure to listen to the voice lines between these two.
Secondly, Bloodhound is also a perfect choice to pair with Fuse, as in the comics Fuse has become rather close to them. In fact, Bloodhound is probably the closest Fuse has gotten to a new best friend, or maybe even more, since leaving Mad Maggie behind. This all may beg the question: will Mad Maggie be jealous that Fuse has a new friend? Will she feel replaced?
This trio may be just as messy as the prior, even if in a different way, and they look great as a band of scallywags.
The Blackheart Collection
The final set of skins is inspired by the Caustic Legendary skin, Blackheart. Blackheart, like Hype Beast, is another skin with great lore significance. Blackheart is a costume that was worn by the culprit of the Gaea prison break, who Caustic claims was not him—but a lookalike. It's pretty clear it was Caustic, but either way, the evidence others don't have can't hurt him.
The first Legend to have a Blackheart-inspired skin is Revenant, which makes sense. Both characters have been seen as major villains in the story, making it seem like this whole lot may be reserved for the baddest of the bad. They both don't have much value for human life.
Which… leads us to the second choice. Why is Gibraltar here? All of the other choices had lore significance, but this just seems out of left field. Caustic's only connections, really, are Wattson and Crypto, who already have a set. If we were going off of an antagonist route, Mad Maggie was also taken. Which, fine, but why was Gibraltar the replacement?
In this trio, it's either an outlier type situation or intense foreshadowing about Gibraltar that we are not sure we are ready to learn about.
Overall, these skin sets are some of the smartest and coolest that Apex Legends has released. We definitely hope that matching skins and skin themes are something we see more of in the future.
For more Apex Legends content, check out All of Mad Maggie's abilities in Apex Legends on Pro Game Guides.