Our Apex Legends Map Guide will feature the ins-and-outs of the first map for this new Battle Royale game. We're taking a look at points of interest, what all the labels mean on the map, and we'll feature a high quality version of it as well!
We've got a big high quality version of the map below, and a version of it with all of the current loot tiers for each of the areas. There's also a legend that describes all the things that appear on the map in the beginning and during the game.
There has been confirmation that more maps are to come. This was mentioned in an interview with Vince Zampella, the CEO at Respawn Entertainment:
This is just the start of our journey. There will be new maps, new modes, new characters, new weapons, new skins. There will be a ton of stuff coming over the next year to 10, maybe. It depends on how successful it is.
Apex Legends High Quality Map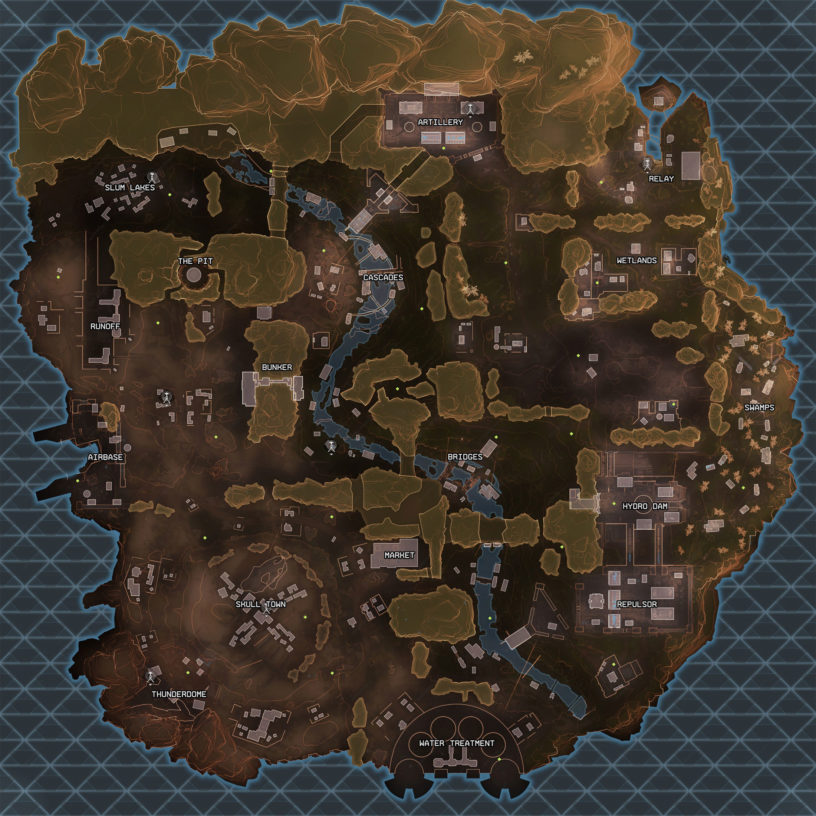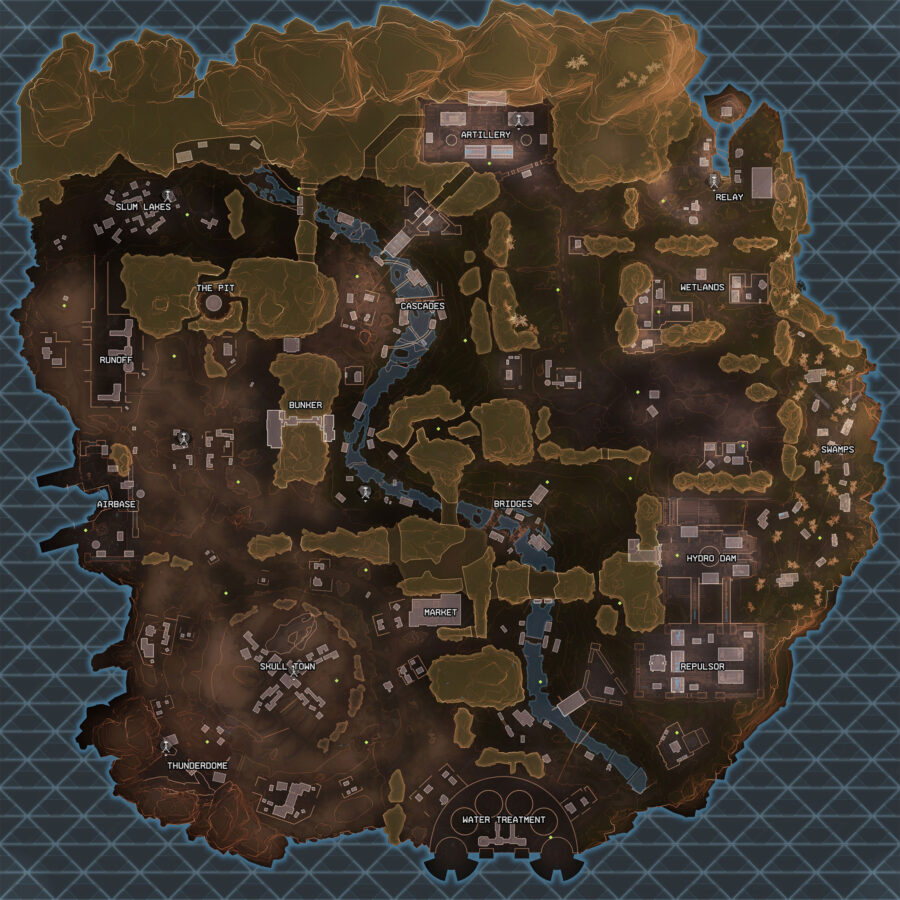 Map Legend Information
There's various things that you will notice on the map that should be identified. Here's a list of them, so you'll know exactly what's going on with the map.
Green Diamond: These are Respawn Beacons. If someone on your team is eliminated, you can grab their banner and bring it to one of these areas. This allows you to revive a fallen teammate and get back into the action!
Supply Ship: You'll see two things when you first start a game, one is the white Supply Ship that appears on the map, and one is a blue outline of the ship. The white icon is the ship itself, which you can land on at the beginning of the game. The blue icon is where the ship is headed and will eventually land.
Blue Filled in Circle: This is a Hot Zone and it will appear at the start of the game. If you head to the area marked, there's a guarantee of some Legendary gear or a fully kitted weapon.
Blinking Blue Circle: This designated an incoming Supply Drop. These will happen periodically through the game, keep an eye out for them because they are the only way to get Legendary weapons.
Map Tier Loot Locations
Each part of the map has a designated tier for loot. There are three different tiers: High, Medium, and Low. The higher the tier, the better the loot! You will want to stick with areas with at least medium loot, but obvious high loot spots are the best.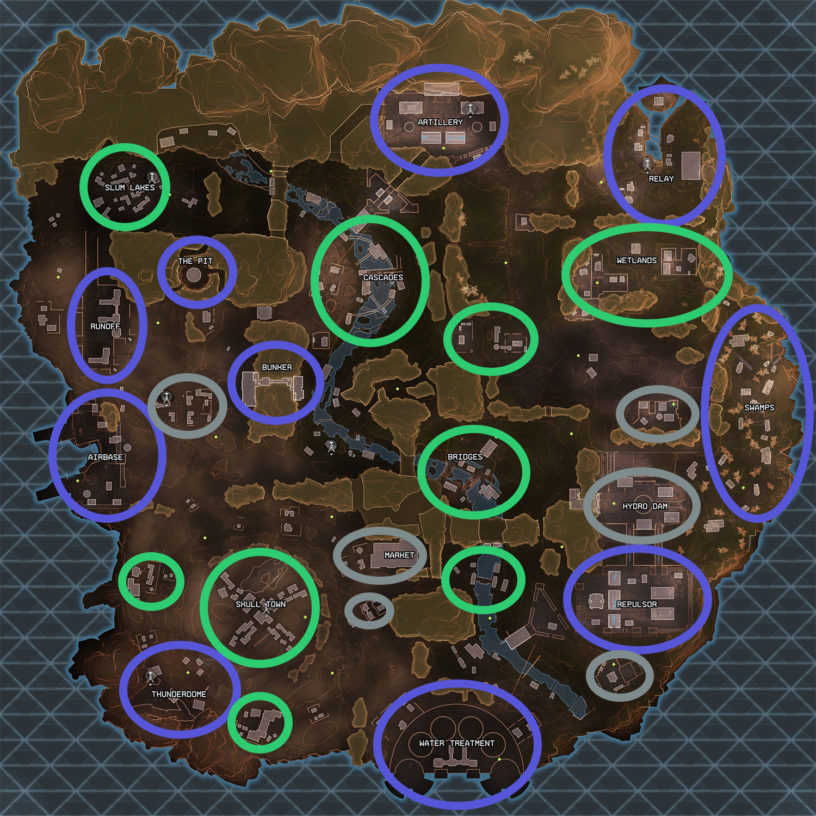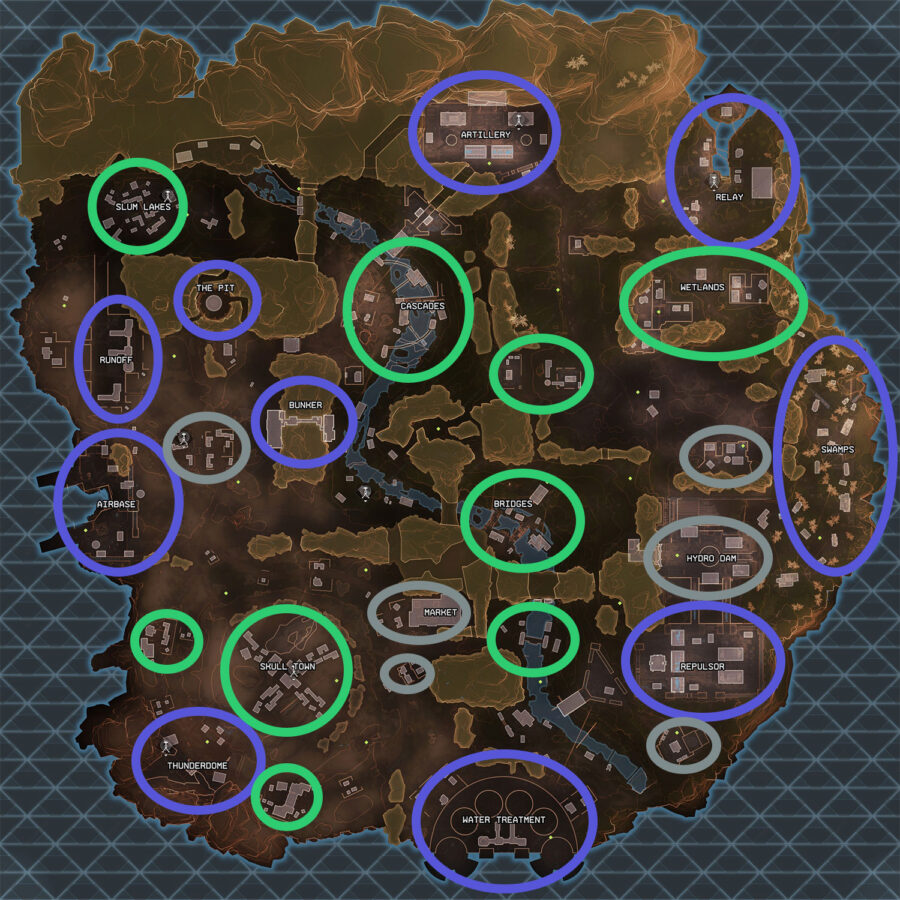 Purple Circle: High Tier Loot
Green Circle: Medium Tier Loot
Gray Circle: Low Tier Loot
These designations stay consistent from match to match, so if you find a high tier area you like to land then feel free to repeatedly land there in your matches. Here's a list for easier consumption:
High Tier Loot Locations
Artillery
Relay
The Pit
Runoff
Bunker
Airbase
Swamps
Repulsor
Thunderdome
Water Treatment
Mid Tier Loot Locations
Slum Lakes
Cascades
Wetlands
Bridges
Skull Town
Low Tier Loot Locations