Learn all there is to know about the Wraith Legend in Apex Legends with our detailed guide! We've got information on her passive, abilities, ultimate, portal, heirloom, skins, and a bunch of tips and tricks to get you better with this character.
Wraith is a pretty interesting character with her ability to enter an alternate reality and pop up back into reality. She can sense when she's being targeted by an enemy, and her ultimate ability allows for some unique plays by spawning a portal that you can bounce back and forth through. Wraith is a not a simple character to play, and will require a good amount of time before mastering her completely.
Wraith Character Information
"There's a thin line between life and death. You'll find me there."

Interdimensional Skirmisher

Wraith is a whirlwind fighter, able to execute swift and deadly attacks and manipulate spacetime by opening rifts in the fabric of reality — but she has no idea how she got that way. Years ago, she woke up in an IMC Detention Facility for the Mentally Ill with no memory of her life before. She also began hearing a distant voice whispering in her mind that would keep her awake for days on end. Despite nearly driving her insane, once she started to listen and trust it, the voice helped her harness her newfound power of void manipulation and escape the facility.

Determined to uncover her true identity, Wraith began a quest to find out more about the experiments. Many of the old research facilities, however, are buried beneath heavily guarded arenas used for the Apex Games. Now Wraith has joined the competition, and with every match she gets closer to the truth.
Wraith's Voice Actor
Wraith is voiced by Shantel VanSanten!
Introduction Video
Wraith's Heirloom Set
Wraith is currently the only Legend that has an available Heirloom. What is an Heirloom? It is a specific bonus set that is available that has a super rare possibility of appearing in an Apex Pack. Heirloom Sets do not consume a full pack, you get it as a bonus. This set can't be crafted with Crafting Metals, and can only be found in packs. Here's the official information from the Apex Legends FAQ:
Apex Legends currently has one bonus Heirloom Set available, which contains three items for Wraith. When a player opens an Apex Pack, there is a <1% probability of an Heirloom Set dropping. Heirloom Set drops do not deduct an Apex Pack from your inventory. Heirloom Sets cannot be crafted with Crafting Metals. A player cannot open more than 500 Apex Packs without receiving an Heirloom set (assuming the player does not own all of the available Heirloom Sets). Once a player owns all of the Heirloom Sets, the player will not be eligible for this bonus until more Heirloom Sets are added to the game.
Here are the items from the Heirloom Set and how it looks when you open it: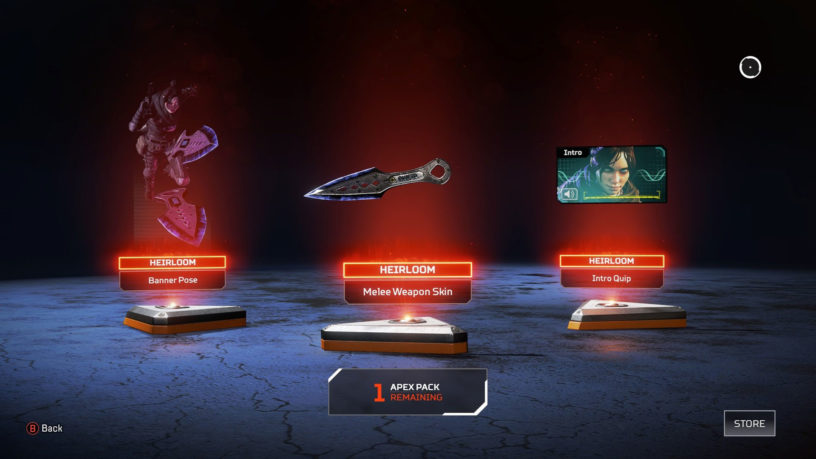 You receive a unique Banner Pose, Melee Weapon Skin, and Intro Quip in the set.
Wraith Abilities
Tactical Ability: Into the Void
Reposition quickly through the safety of void space, avoiding all damage.
This is a solid flanking ability and allows you to escape in certain situations. The problem with this ability is that it's really obvious where you are headed and unless you get cover from a teammate, your enemy can just wait for you to appear and take you out. So, if you are trying to escape, make sure you head towards teammates or be ready to fight the second you come out of the void. You can't fire your weapons while phasing, so be ready once it ends. There's also the issue of not being able to see enemies while phased, so while you might have an idea where they are when you enter the void, they could have easily moved by the time you exit it. Your teammates can help relay to you where they are with pings or verbal communication.
Passive Ability: Voices from the Void
A voice warns you when danger approaches. As far as you can tell, it's on your side.
Now this is an okay ability, but it's not great. If an enemy is either looking at you or has their sights set on you, then you will get a verbal cue like "you are being looked at" that will alert you. This is not bad when you haven't yet engaged with an enemy, but overall it's not super helpful when you are in the heat of battle and you are already very aware that you are being targeted. It's also pretty good if someone is scoping you with a sniper rifle, and you can then get behind cover quickly. It's also a better ability if you have comms with your teammates, because it's harder to alert them with just the ping system if you are being aimed at.
Ultimate Ability: Dimensional Rift
Link two locations with portals for 60 seconds, allowing your entire team to use them.
The Ultimate Ability is where Wraith really gets interesting. Now, you can absolutely be shot while trying to place these portals, so if you are in the midst of a firefight then it's not that great of an ability. Where this skill is actually good is just prior to a battle. You can either setup a portal on the high ground so you can jump in and out of a battle, or you can flank to the side of your enemy and place the portal so your teammates can jump in it and attack.
This portal can be placed pretty far from where you start, so try to stay behind cover or not in the open as much as possible. The other thing of note to understand is that anyone can take your rift, that obviously includes enemies! This can be good or bad depending on the situation.
Wraith Tips & Tricks
It's important to remember that when you use the tactical ability you aren't exactly invisible. You are invulnerable, so it can be used as an escape, but you will really need to focus on heading towards cover or your team for support. Any player that saw you will be able to follow your movement by watching your trail and light you up when you phase back from the void.
The tactical ability protects from any damage from the zone.
You cannot see enemies or teammates while using your tactical or within the rift. You will occasionally see shadows of what appears to be players, but that's just cosmetic and doesn't actually represent anyone in game.
Your downed teammates can still use your Dimensional Rift, so this can be used sometimes to get a fallen team member out of the fray for a revive!
If you are running with your rift, you can hit your tactical ability to run even faster and cover more ground with it.
The Dimensional Rift ability is one of the fastest movement abilities in the game. If you are trying to cover a lot of ground, it's worth burning it just for the additional speed.
The placed portal will remain for a total of 60 seconds.
You can't jump on a zipline while engaged in the placement of a portal. It would've been nice to speedily get further using it, but it will not work unfortunately!
You can't enter a portal while using your tactical ability.
If your rift energy runs out you will automatically just place the portal, so don't be scared of not getting to place an exit.
Using the rift to escape can be useful, but keep in mind that your enemies can use it as well. This can be good for you at times if you jump into the rift and immediately turn around to land shots on an enemy that follows you. This can also be bad, because if you placed it behind your team you will need to watch it for the duration so the enemy doesn't use it as a flank!
You can get really crafty with the rift if you can aim it off the map. If an enemy runs through, they might just run themselves out of bounds and be eliminated. This can be tough to do properly because you might end up accidentally launching yourself off the cliff!
Wraith Skins
Here are some of the awesome skins options available to Wraith!
Legendary
Epic
Wraith Wallpapers
We've got some wallpapers of Wraith so you can dress up your desktop! They are both 1920x1080 in size, you can click to enlarge them.