Our Archero Gems, Coins, & Energy Guide will walk you through the process of how-to farm and get these valuable currencies in the game. We also feature information on what you should spend them on! You don't want to waste these, because they are pretty valuable when it comes to usage in the game.
How-to Get Gems in Archero
Gems are pretty hard to come by in Archero. They are the main resource you would spend money on if that was the route you decided to take. However, if you want to gain Gems for free, you're going to have to do some work. There's only really a few ways you can gain them.
One way is to view ads. After you complete a boss, you'll sometimes be given a Lucky Spin. This gives you a random buff or some gold. After the first spin, you'll be given the option to watch an ad for another spin. This is different than the previous spin, because instead you're guaranteed to get some Coins or Gems! You can do this five times per day, so make sure you always max out the times you can do it.
Another way is to just level up your account. Each time you do, you're given some Gems. You can also get Gems by progressing through a Chapter. Each time you get through 10 additional levels in a chapter, you are given some Gems as a reward. This is a one time reward for reaching a new milestone, so you can't repeat it over and over.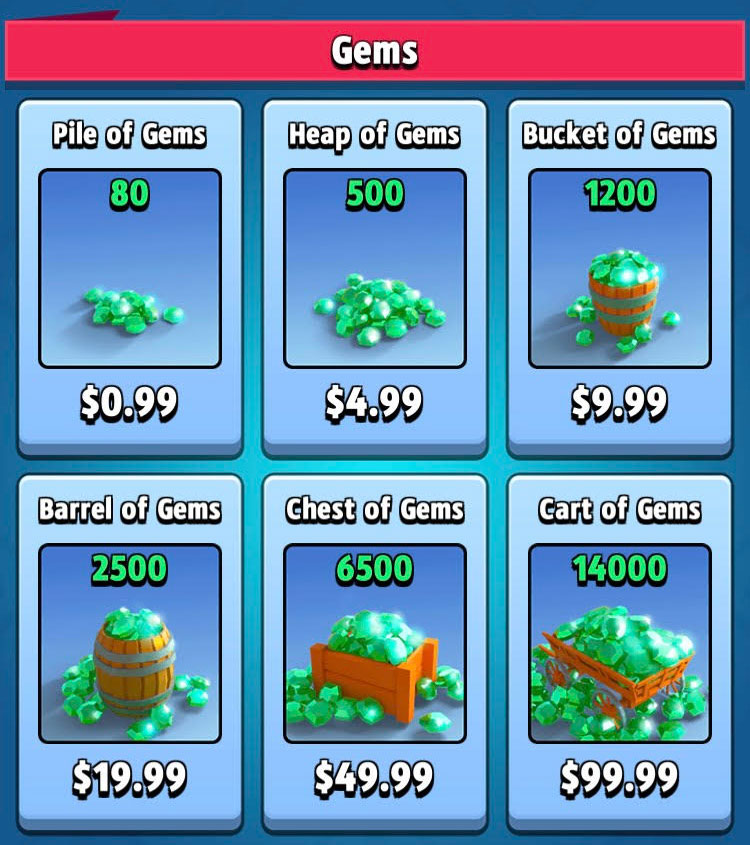 The final way is of course, spending real money. Ideally, we'd like to avoid this one because it can get quite pricey.
Pile of Gems: 80 for $0.99 USD
Heap of Gems: 500 for $4.99 USD
Bucket of Gems: 1,200 for $9.99 USD
Barrel of Gems: 2,500 for $19.99 USD
Chest of Gems: 6,500 for $49.99 USD
Cart of Gems: 14,000 for $99.99 USD
However, if you absolutely want to spend money on the game, you should first get the beginner's pack. It's only $1.99 and you get 300 Gems, 10,000 Coins, and Five Free Revivals!
What to Spend Gems On?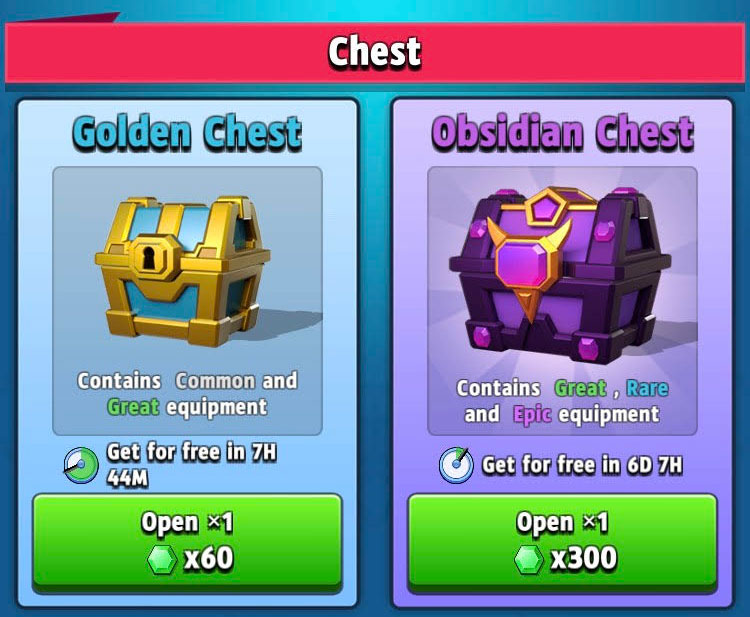 The best and really only thing we want to be spending Gems on is Chests. Realistically, we only want to be purchasing Obsidian Chests, because these guarantee us at least a Great, Rare, or Epic piece of equipment. You do get a free Golden Chest once per day, and each week you'll get one free Obsidian Chest. Try to be patient with how you spend your Gems! Save them up for the Obsidian Chest, and make sure not to use them on reviving yourself in game if you can avoid it.
If you've really got patience, then you actually want to wait until you saved up 840 Gems. Why? Because each time you open an Obsidian Chest, the following Obsidian Chest gets reduced by 20 Gems. It gets reduced a maximum of twice, so you can get Obsidian Chests for 260 each if you don't cancel out of the purchase menu (300 + 280 + 260 = 840). Saving for this would obviously take a while if you aren't spending money on Gems.
How-to Get Coins in Archero
Coins are mainly gotten from just playing the game. Every time you clear a level in a chapter, you will gain a small amount of coins. You can also gain additional Coins by spinning the Lucky Wheel, which can sometimes appear once you clear a Boss. You can gain even more Coins afterwards if you watch an ad, but most of the time you'd rather get the Gems.
You can also just spend Gems on Coins, which is essentially spending real money on Coins. You'll want to avoid using your Gems this way, since you can grind up Coins just by playing the game. Gems are always best spend on Obsidian Chests.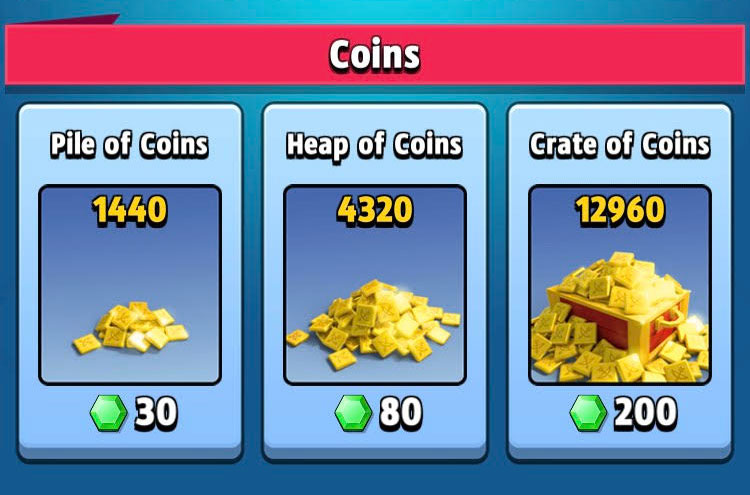 What to Spend Coins On?
Coins are pretty valuable, and you'll need to be spending it pretty regularly. The first thing you want to spend it on is your Talents. These give you passive upgrades to your character, and you are going to need as many as you can possibly get. These buff things like your damage, health, recovery rate, damage resistance, attack speed, and a lot more!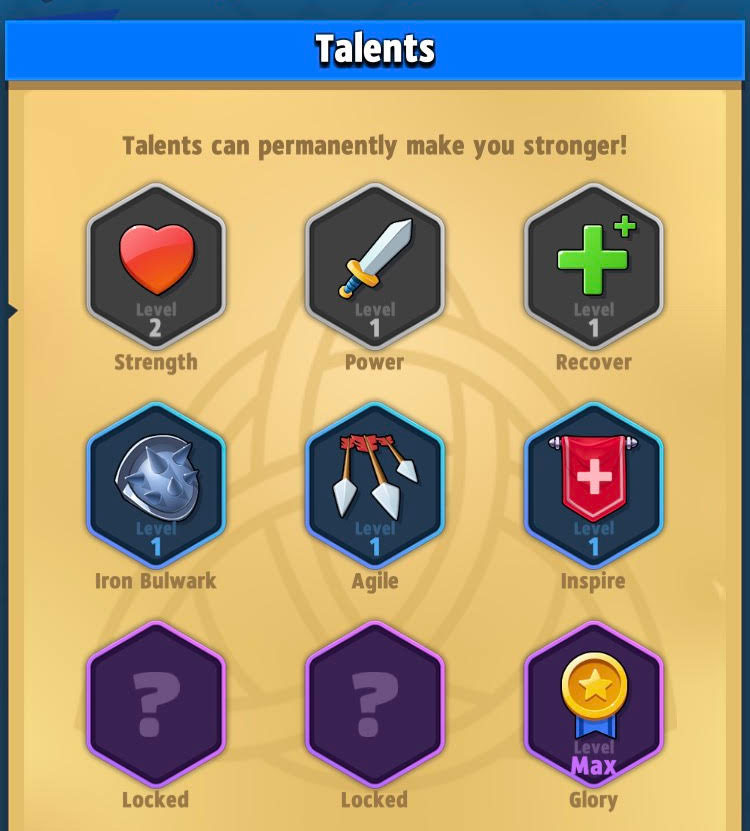 The other really important thing that Coins do is upgrade your equipment! You'll end up needing quite a bit of those Coins to do this, but it ends up making a big difference when it comes to how well you do in the game. You can upgrade your weapons, armor, rings, and pets! You do, however, require a specific Scroll to make an upgrade, but as you progress in the game, you'll find that these drop pretty regularly!
How-to Get More Energy
Energy might be the only real bummer in the game of Archero. You require 5 of it to head into the game for a round, and if you run out you won't be able to play until you've accumulated five more. This can be done in a few different ways.
There's only three real ways to get more Energy: Use Gems (100?!?), Watch an Ad (up to 4 times a day), or to wait! We obviously don't want to be spending our Gems on it, so for the most part I would avoid that option. You do want to watch the advertisement and max out on that ability. However, you don't want to do this if you plan on waiting to regenerate more. If you hit maximum Energy, then you won't gain anymore through waiting. So, we want to burn all of our energy, then watch an ad, and then play again. Repeat that process until you've used all your ad watching, and then you just have to passively wait to gain more throughout the day.