Updated September 26, 2023

We searched for new codes everywhere!
There are a lot of mobile tower defense-style games out there, but I haven't found any that ooze as much style as Arknights! This anime-inspired game is packed full of cool units that offer everything from ranged and melee attacks through to healing, while you can pause and speed up play as you need to make those critically tactical decisions.
Arknights also now had a codes system in place, but as yet, no codes have been introduced to the game. However, according to the recent code system announcement, we can expect the first code to drop during the Anniversary Livestream on July 22. Also, if you love Arknight, make sure to also check out our Arknights Module Tier List while you're with us.
All Arknights Codes List
Working Arknights Codes (Active)
There are currently no working codes.
Expired Arknights Codes
GWSIX6JJA25P4QEK—Redeem for 200 Furniture Parts, 10 Strategic Battle Records, 1,200 Orundum, and 20,000 LMD (New)
Related: Miko Era Twelve Myths Codes
How to redeem codes in Arknights
Follow the instructions below to redeem codes in Arknights.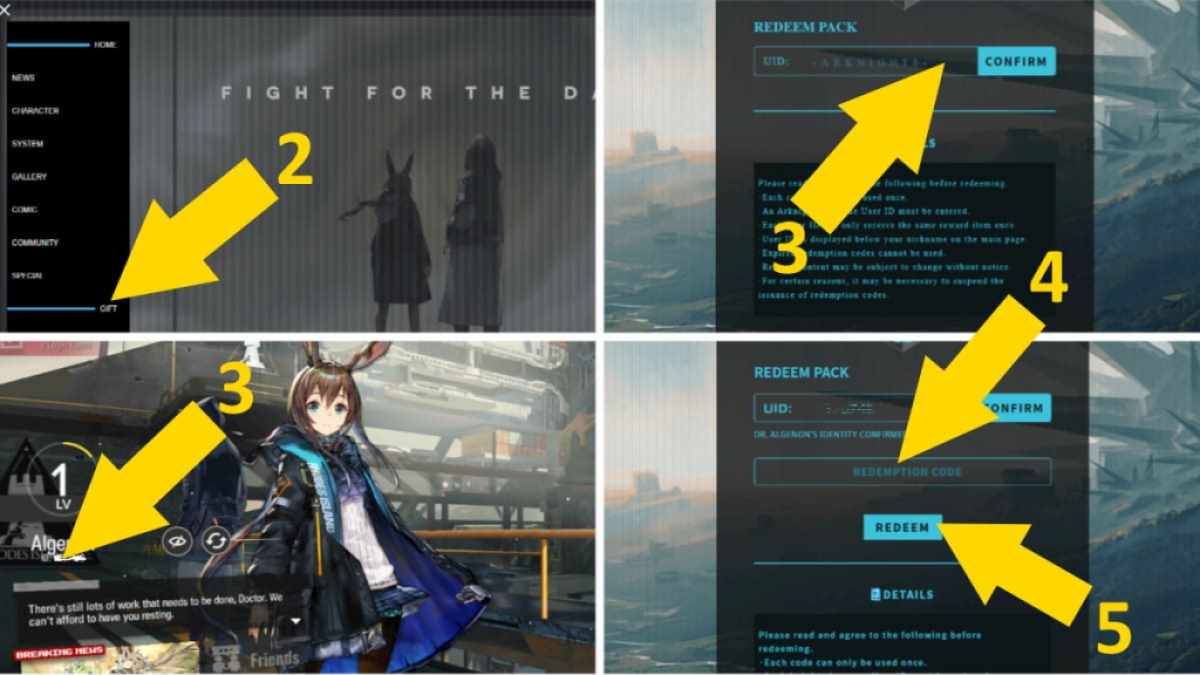 Go to the official Arknights website (linked above).
Click the burger menu in the top left corner and then select GIFT.
In the text box saying UID, enter your User ID. This can be found under your name on the main menu in-game (it is an eight-digit number).
Once confirmed, a new text box will appear below the UID box. Enter the code here exactly as it appears in the list above.
Press the REDEEM button to claim your reward! It will be delivered to your mailbox in-game.
How can you get more Arknights codes?
There are lots of Arknights socials you can keep an eye on for codes. I'd suggest starting with the Arknights Facebook page and following @ArknightsEN on Twitter. You can also join the Arknights Official Discord Server, where you'll find everything from game and server news to fan art and chat. You might also want to subscribe to the Arknights Official YouTube channel and check out arknights_messenger_official on Instagram.
Why are my Arknights codes not working?
Arknights codes need to be entered into the game precisely or they won't work. A simple mistake such as mistaking a number for a letter or forgetting to capitalize a letter will make a code appear to be invalid, so cut and paste them directly from here if possible. If you've tried that and a code still won't work, or if it says it has expired, unfortunately, it has been removed from the game. In this case, let us know via the comments below, and then check back with us soon, as we're always looking out for new codes!
Other ways to get free rewards in Arknights
A great way to find out about upcoming free reward opportunities is to regularly check the Event tab in Arknights (click the triangle with the exclamation mark in the top-left corner of the main menu). Also, click the keyboard icon next to it each day to claim your free daily login reward and the Compass icon next to that for login events, missions, and sign-in freebies. These rewards will give you a variety of in-game currencies, such as LMD and Frontline Battle Records.
What is Arknights?
Arknights is an anime-inspired tower defense-style game for mobile platforms. Players put together a team of units to defend their base, trying to stop any enemies from getting through. Battle units can have ranged and melee attack abilities, while support units can heal and perform other functions. New units are collected gacha-style and can be improved by leveling them up and promoting them.
If you're looking for codes for other games, we have a ton of them in our Roblox Game Codes post! You can also get a bunch of free stuff via our Roblox Promo Codes page. And in the meantime, take a look at the latest news to stay up-to-date on all things entertainment.