If you are wondering how to add new products to your fledgling Startup Business to expand and earn more profits, it is simple. In short, you can add new products by opening your Business Job tab. You can find your Business Job tab by opening the Job/Occupation tab at the Main Menu hub in BitLife.
After clicking the Job/Occupation tab, look for a position called CEO of the name of your business. Under this CEO tab, you can access the option to add new products to your business by using the Add New Product option at the bottom of the Job page. Clicking Add New Product will display a menu where you can select a new product via the Pick your Product option. However, before adding a new Product to your business, you should perform market research.
Related: What are Corporate Jobs in BitLife?
How does Market Research work in BitLife?
Market Research is an option you can use to gauge how well a product will do based on Demand and Competition stats. Ideally, you want to launch new products with High Demand and Low Competition. If you are wondering how to do market research in BitLife, you can do it using the Add New Product option under the CEO business tab. When using Add New Product option, it will open a menu that will display the following options:
Pick your Product
Perform Market Research
Launch product directly
To Perform Market Research in BitLife, use the Perform market Research option as listed above. Doing so will display a tab like the one shown below that gives you two stats: Demand and Competition. We recommend picking a product with high or decent demand and low competition after doing Market Research for the best results when adding new products.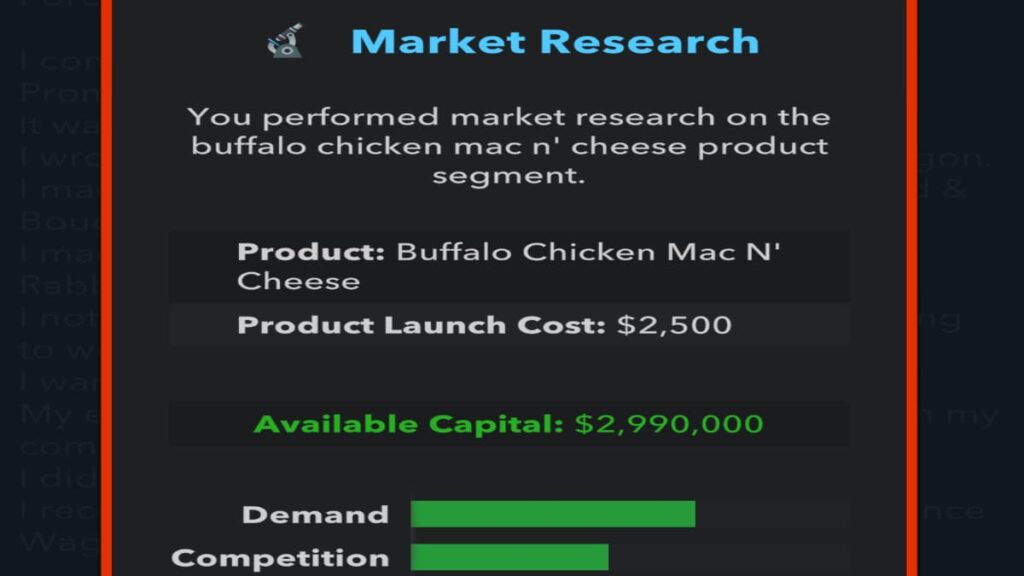 For more content on BitLife's Business update, we at Pro Game Guides have you covered with guides like Can children inherit Startup Businesses in BitLife? and Should you create a Startup Business or Acquire one in BitLife?