BitLife has some pretty tough achievements, and this is probably up there on the list. Trying to get pregnant with three kids isn't easy, and in this game it's particularly simple to do either! You will need to do quite a bit of baby having to make it happen, so be prepared for repeating the same process over and over again.
How to get Triplets
To have triplets in BitLife, you will want to be after the age of 40 and go to the Fertility option under Activities. Once there you will select the IVF option and hopefully get pregnant. You will then age up and see if you were lucky enough to have triplets. If not you can repeat the process over and over again until you do.
There is a trick to making this go a whole lot faster and that is closing the BitLife app over and over again to reset what happens. You will first want to go get the IVF treatment and make sure it succeeds. If it doesn't, do NOT close the prompt you were given and close out of the app completely. When you re-open BitLife, it will be like you never had the treatment done. You can then try again and hope to get pregnant. Keep doing this until it succeeds and you can then close the prompt to basically set that it has happened.
Now that you know you are pregnant, you will want to age up and see what kind of pregnancy it ends up being. You will either get a single child, twins, or triplets. You will also sometimes miscarry, which is more likely due to your age. If you don't get triplets, once again do NOT close the prompt. You can close out of the app and repeat the process. If you get lucky, you will have the triplets happen sooner rather than later. I was able to get it to work in about 5 - 10 minutes, so this method makes it a whole lot faster.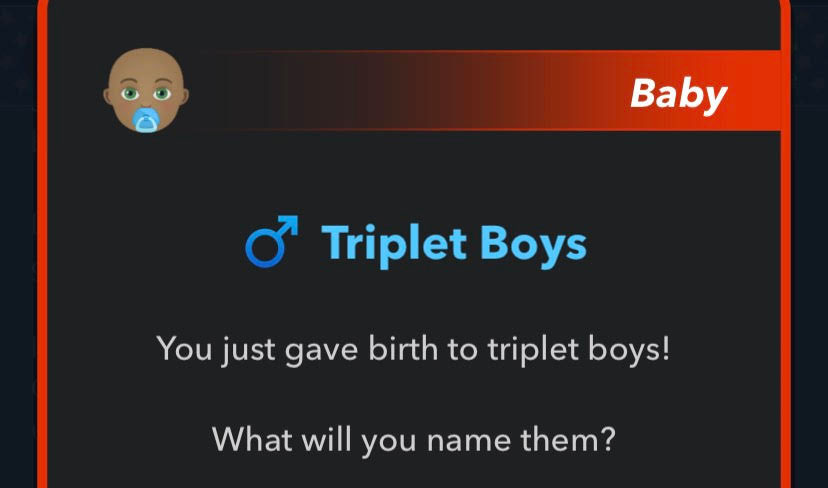 If you're on Android, you might not be able to do the app closing method. If that's the case, you'll just need to try to do IVF each year and see if you get it to work. You could also just try to get pregnant over and over again, but it's a less reliable method.
Find everything you need to know about BitLife in the BitLife section of our site!