Climbing Gear is a highly sought item and type of equipment in Zelda: Breath of the Wild. Its primary use is to improve your climbing ability without the consequence of sacrificing additional stamina. In this guide, we'll cover where you can find this useful equipment set and how to upgrade it to its premiere form.
Climbing Gear in Zelda: Breath of the Wild
The full set of climbing equipment includes the Climbing Boots, Climber's Bandana, and Climbing Gear. These three pieces are all found in three different chests placed throughout the map. The complete set's locations are listed below.
Climbing Gear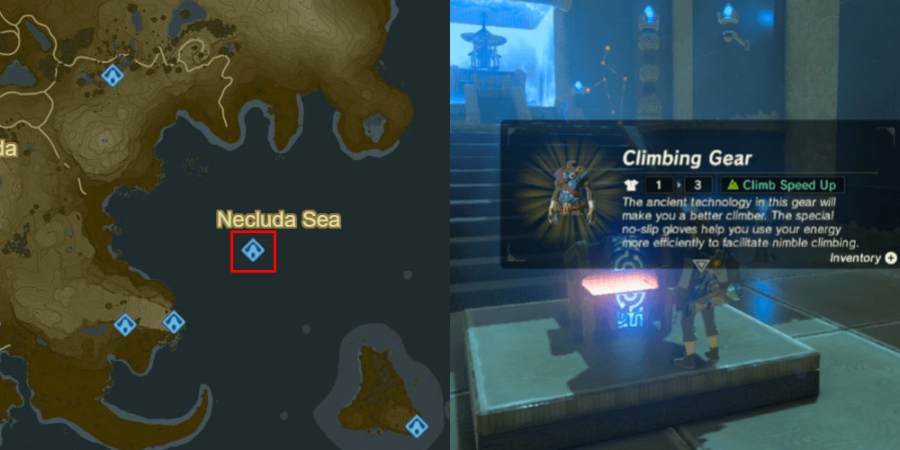 The chest piece itself is located in the Chaas Qeta Shrine. You will find this Shrine on the island in the middle of the Necluda Sea, which is on the map's southeastern corner. Its location is highlighted in red on the image above. To reach the chest, you must make it through the Shrine and defeat the guardian at the end. The chest will then be available in front of the Spirit.
Climbing Boots
The Climbing Boots are located in the Tahno O'ah Shrine, which is directly Southeast of Mount Lanayru, on the map's eastern side. You will need to use bombs to blow up a rock wall that is hiding this Shrine. Once you're inside, there are no further challenges. You can simply walk in and open the chest to obtain the Climbing boots.
Climber's Bandana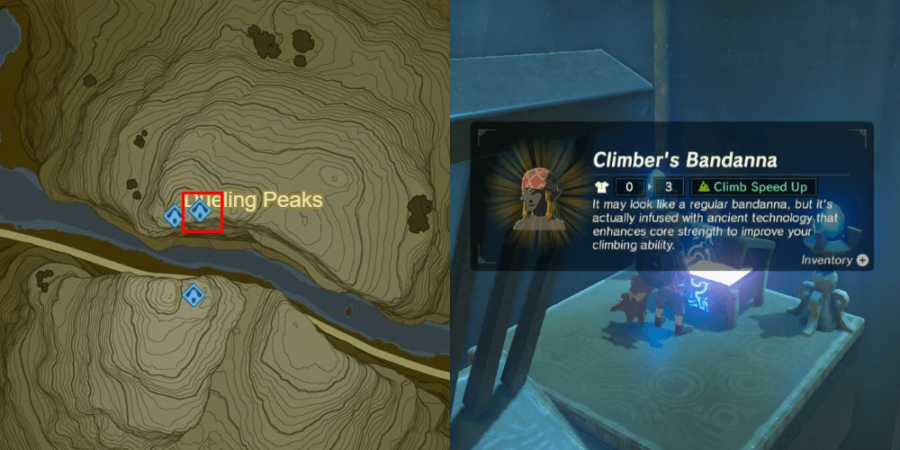 The Climbers Bandana is located in Ree Dahee Shrine, one of the Shrines on Dueling Peaks. There are two Shrines in this location, and you'll be entering the eastern Shrine to get the Climber's Bandana. The chest containing the item is on the left side of the room at the top of a ramp that you force to tilt downward.
Related: Stealthfin Trout Location in Zelda: Breath of the Wild - Pro Game Guides
Shop
You can purchase all the Climbing Gear items from Granté in Tarrey Town once you have obtained them for the first time. Each item costs a total of 4000 Rupees.
Upgrades
To upgrade your Climbing Gear, you can bring specific items to Great Fairy Fountains. The list below includes all the items you'll need to upgrade the equipment to each respective tier.
One Star

One Great Fairy Unlocked
3 x Keese Wing
3 x Rushroom

Two Stars

Two Great Fairies Unlocked
5 x Electric Keese Wing
5 x Hightail Lizard

Three Stars

Three Great Fairies Unlocked
5 x Ice Keese Wing
10 x Hot-Footed Frog

Four Stars

Four Great Fairies Unlocked
10 x Fire Keese Wing
15 x Swift Violet
Once you max out your gear, you'll find that while climbing, you can jump farther and move faster. Time to scale those plateaus and towers!
Do you need Stealthfin Trout? Check out our guide on How to Find Stealthfin Trout!