On Snaktooth Island, there are tons of cute, food-themed critters called Bugsnax that you can capture, including a Flamin Cheepoof. To catch a Flamin Cheepoof, you need a Lunchpad and a Snak Trap. The Flamin Cheepoof is located in the Boiling Bay biome, specifically the lava cave by the coast. Launch a trap at it to make it fall out of the sky, then use a Paletoss to remove the flames.
How to get a Flamin Cheepoof in Bugsnax
Enter the lava cave at any time of day and locate the lava pool room where Flamin Cheepoof's spawn. Once found, scan the Flamin Cheepoof to reveal its flight path. Set up a Lunchpad on top of some rocks to the left of the lavafall. Try not to get bothered by the nearby Paletoss or any other Bugsnax.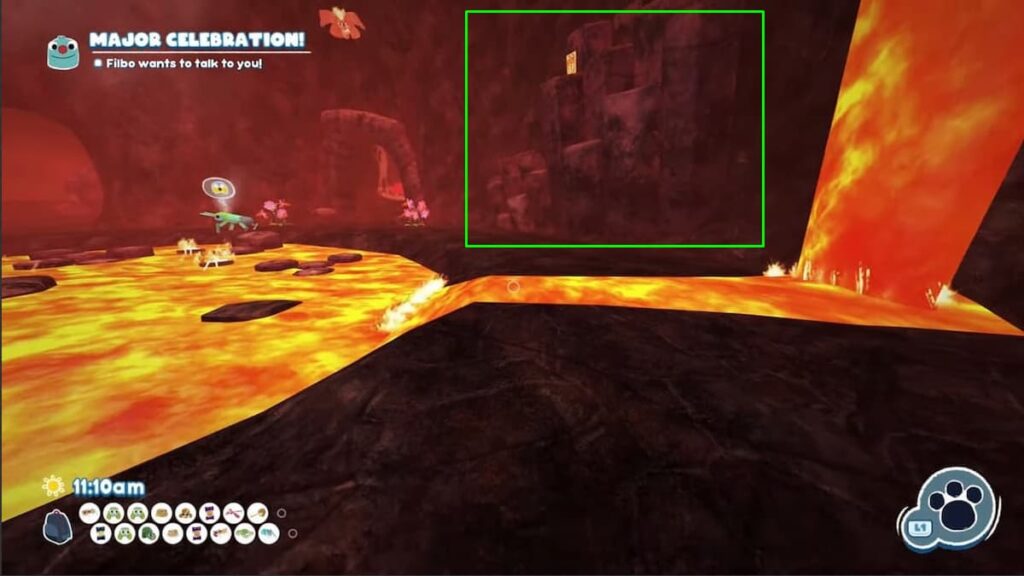 Related: How to get the new ending in Bugsnax: The Isle of Big Snax DLC
Once done, place a Snak Trap on the Lunchpad, and wait for the Flamin Cheepoof to be flying over the ground. If your timing is spot on, you'll net up the Bugsnax, and it'll fall to the floor. Your trap will burn, but the Bugsnax will stay grounded.
Now the Paletoss comes into play. Move toward the Flamin Cheepoof and lure a Paletoss to walk over it. They'll both extinguish each other, and you can pick up the Flamin Cheepoof and a Paletoss.
For more Bugsnax guides, Pro Game Guides has you covered. Check out Every Bugsnax in the Isle of Bigsnax DLC or What are Big Snax, how do you catch them in Bugsnax?