Call of Duty: Warzone's FSS Hurricane is the only Submachine Gun within the M4 Weapon Platform. It has a high rate of fire and fast mobility, features that make it a top-tier viable weapon in the game. Here's a guide to the best FSS Hurricane loadouts in Warzone 2.
Best FSS Hurricane Loadout Warzone 2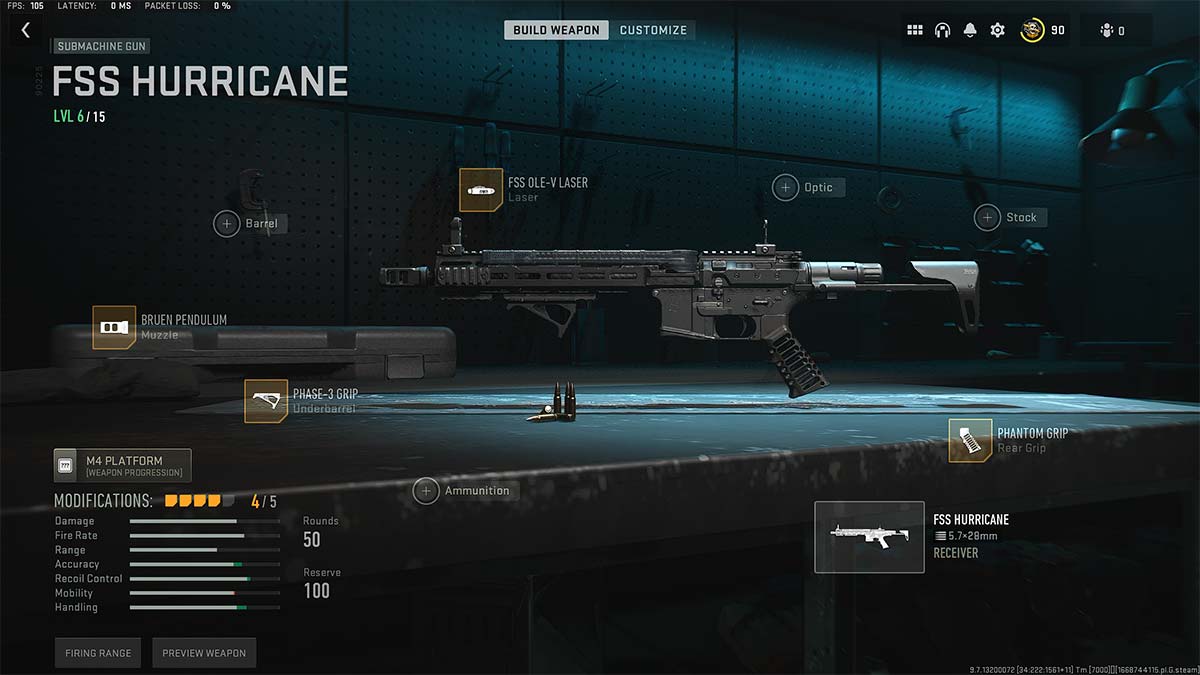 Muzzle: Bruen Pendulum
Laser: FSS OLE-V Laser
Underbarrel: Phase-3 Grip
Rear Grip: Phantom Grip
Attachment Tuning

Muzzle: For max Recoil Stabilization and Gun Kick Control

Underbarrel: For max Recoil Stabilization and Aiming Idle Stability
Rear Grip: For max Aim Down Sight Speed and Sprint To Fire Speed
The FSS Hurricane loadout shown above is built for accuracy and speed. To shrink the weapon's recoil pattern, we've used the Bruen Pendulum muzzle and Phase-3 foregrip, which make the gun effective and easy to control at extended ranges. On the other hand, the FSS OLE-V laser sight and Phantom rear grip boost the mobility stats of the SMG and make it snappier. We didn't find a worthy fifth attachment in our testing, however, you may equip the Cronen Mini Pro optic for better visibility.
Related: Best Vaznev-9K loadout and attachments in Warzone 2
Best FSS Hurricane 'Hipfire' Loadout Warzone 2
Muzzle: XTEN RR-40
Barrel: FSS Cannonade 16"
Laser: FTAC Grimline Laser
Underbarrel: Merc Foregrip
Rear Grip: Phantom Grip
Attachment Tuning

Barrel: For max Recoil Steadiness and Damage Range
Underbarrel: For max Hip Recoil Control and Hip Fire Accuracy
The aforementioned attachments improve the FSS Hurricane's hipfire accuracy and control. While it's not the best hipfire SMG in Warzone 2, you may want to try out this build yourself. You can swap the rear grip or muzzle to equip the Demo Quicksilver Collapsed stock. It provides a huge buff to the gun's mobility, but keep in mind that this attachment greatly worsens the recoil control.
Best FSS Hurricane Class Setup Warzone 2
Primary Weapon: M4
Secondary Weapon: FSS Hurricane
Tactical: Stim
Lethal: Semtex
Perk Package: You can choose from Commando, Specter, Weapon Specialist, or any other package of your preference
Stay tuned to Pro Game Guides for more Call of Duty: Modern Warfare 2 and Warzone 2 content. In the meantime, head to our article on Best Vel 46 loadout and attachments in Warzone 2.