The loot you get in every match of Warzone 2.0 will differ depending on where and when you land. If you are struggling to find your favorite gun in matches, consider equipping it in your loadout. There are multiple ways to get your own loadout in a match, including raiding enemy Strongholds, or from Buying Stations. The M4 is one of the very first weapons you unlock, and is a solid weapon choice for any player thanks to its versatility across the board. In this guide, we'll tell you how to set up your M4 loadout in Call of Duty: Warzone 2.0.
Related: Best TAQ-56 loadout – Attachments and Class for Warzone 2.0
Best Attachments for M4 in Warzone 2.0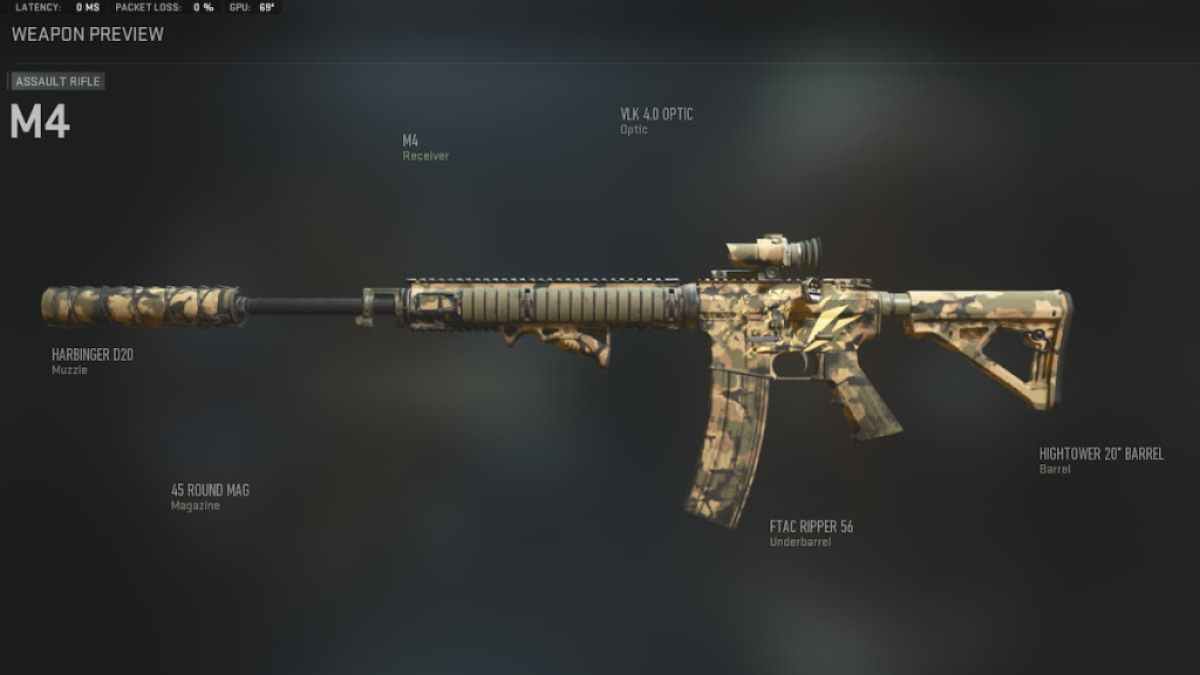 The attachments you equip to your weapon can drastically alter the way it functions. In Warzone, the large map size of Al Mazrah means players might have to deal with long-range fire fights often. Therefore, your assault rifle attachments should primarily focus on improving range, recoil, and handling. The following are the best attachments for the M4 assault rifle in Warzone 2.0.
Barrel: Hightower 20" Barrel
Muzzle: Harbinger D20
Optic: VLK 4.0 Optic
Underbarrel: FTAC Ripper 56
Magazine: 45 Round Mag
The M4 is largely considered to be the jack of all trades. It has good mobility, high fire rate, and an extremely manageable recoil. Being the first weapon you unlock in the game, you should have no trouble leveling it up and unlocking its Gunsmith Weapon Tuning. As for attachments, the Hightower 20" Barrel, and the Harbinger D20 muzzle both work to increase damage range and reduce recoil. Players can opt to swap the 45 Round Mag for the larger 60 Round Mag for longer sustained fire.
Best Loadout for TAC-56 in Warzone 2.0
Your final loadout in Warzone 2.0 must include carefully chosen throwables and perks which compliment your weapon's playstyle. The following is the best equipment and Perk Package for your M4 loadout in Call of Duty: Warzone 2.0.
Lethal: Semtex
Tactical: Flash Grenade
Perk Package: Commando

Basic Perks - Scavenger & Strong Arm
Bonus Perk - Fast Hands
Ultimate Perk - High Alert
Looking to try an SMG loadout in Warzone 2.0? Check out the Best Kastov-74u loadout and attachments in Warzone 2, right here on Pro Game Guides.