The loot you get in every match of Warzone 2.0 is never guaranteed. However, there is always the safety net of getting your personalized loadout in the midst of battle. There are multiple ways to get your own loadout in a match, including raiding enemy Strongholds, or from Buying Stations. The TAQ-56 is well established as one of the best assault rifles in the game. In this guide, we'll tell you how to set up your TAQ-56 loadout in Call of Duty: Warzone 2.0.
Related: Best Kastov-74u loadout and attachments in Warzone 2
Best Attachments for TAC-56 in Warzone 2.0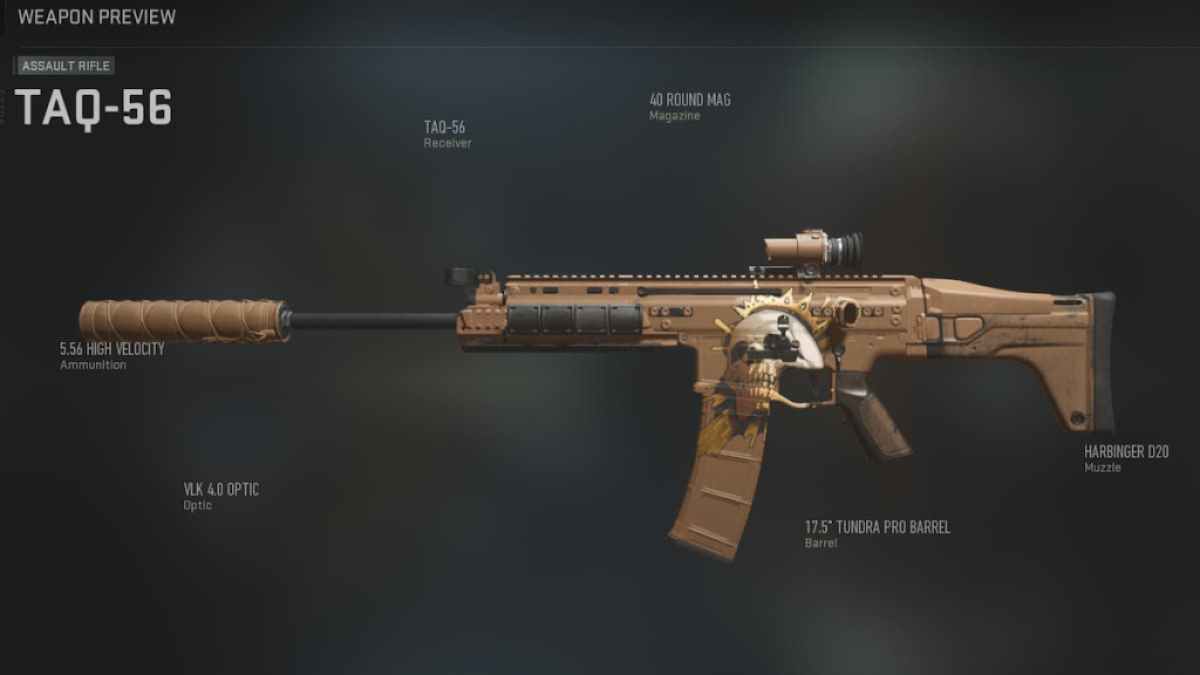 Choosing the right attachments is crucial for coming out on top in any situation. In Warzone, the large map size of Al Mazrah means that players might have to deal with long-range fire fights often. Therefore, your assault rifle attachments should primarily focus on improving range, recoil, and handling. The following are the best attachments for the TAQ-56 assault rifle in Warzone 2.0.
Barrel: 17.5" Tundra Pro Barrel
Muzzle: Harbinger D20
Optic: VLK 4.0 Optic
Ammunition: 5.56 High Velocity
Magazine: 40 Round Mag
The TAQ-56 is a rifle with high fire rate, and decent vertical and horizontal recoil. It has one of the lowest TTKs of all assault rifles in-game, and works great in mid-to-long range fights. Equipping the 5.56 High Velocity rounds will ensure more accurate long-range shots, while the Harbinger D20 muzzle adds range while simultaneously silencing your shots.
Best Loadout for TAC-56 in Warzone 2.0
Your final loadout in Warzone 2.0 must always include carefully chosen throwables and perks which compliment your weapon. The following is the best equipment and Perk Package for your TAQ-56 loadout in Call of Duty: Warzone 2.0.
Lethal: Semtex
Tactical: Flash Grenade
Perk Package: Commando

Basic Perks - Scavenger & Strong Arm
Bonus Perk - Fast Hands
Ultimate Perk - High Alert
Wondering how to master duels in the Gulag in Warzone 2.0? Check out How to win 2v2 in Gulag in Warzone 2, right here on Pro Game Guides.