Vel 46 in Call of Duty: Warzone 2 is an updated variant of the MP7 Submachine Gun from the original Warzone. The weapon boasts an easy-to-control recoil pattern and fast mobility. Although not amongst the fastest killing guns in the game, Vel 46 certainly is a viable choice for close-mid ranges.
Best Vel 46 Loadout Warzone 2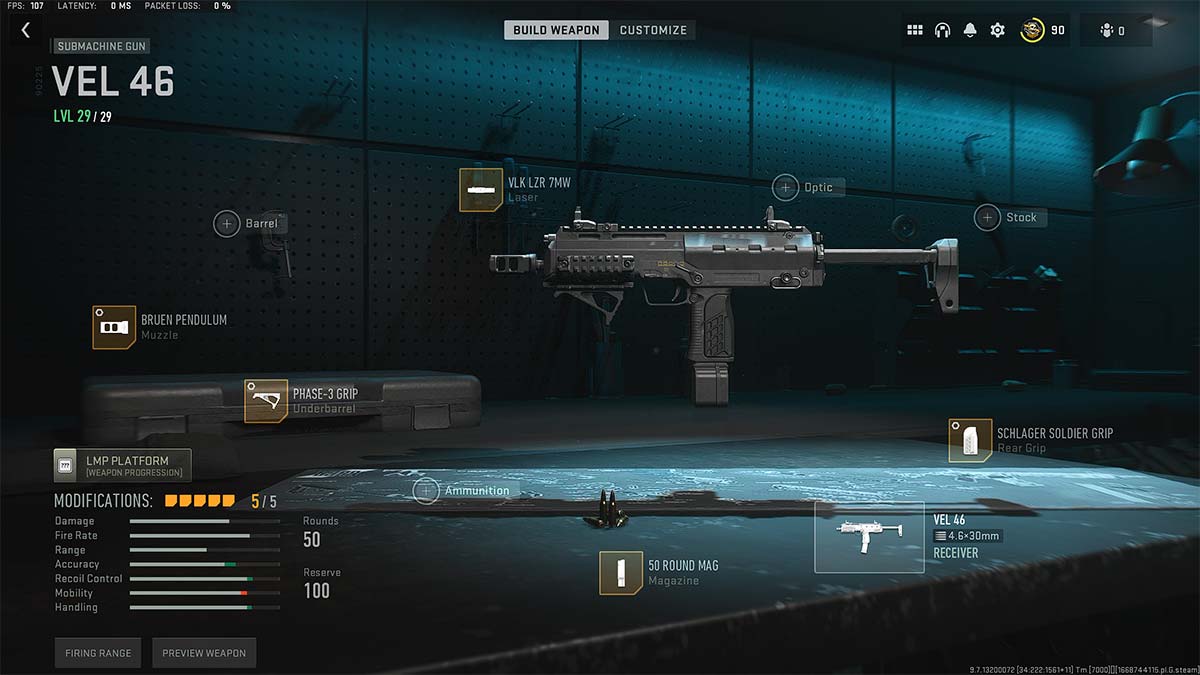 Muzzle: Bruen Pendulum
Laser: VLK LZR 7mW
Underbarrel: Phase-3 Grip
Magazine: 50-Round Mag
Rear Grip: Schlager Soldier Grip
Attachment Tuning

Muzzle: For max Recoil Stabilization and Gun Kick Control

Underbarrel:

For max Recoil Stabilization and

Aiming Idle Stability
Rear Grip: For max Aim Down Sight Speed and Sprint To Fire Speed
We've customized this Vel 46 build for improved mobility and accuracy. Even though the base weapon has an easily controllable recoil plot, we've tried to shrink the pattern using the Bruen Pendulum muzzle and Phase-3 foregrip. These two attachments eliminate the side-to-side bounce, making the gun very accurate and viable for taking gunfights up to medium range. To improve mobility stats like sprint-to-fire and aim-down-sight (ADS) speeds, equip the VLK laser and Schlager Soldier rear grip.
Related: Best Fennec 45 loadout and attachments in Warzone 2
Best Vel 46 'Hipfire' Loadout Warzone 2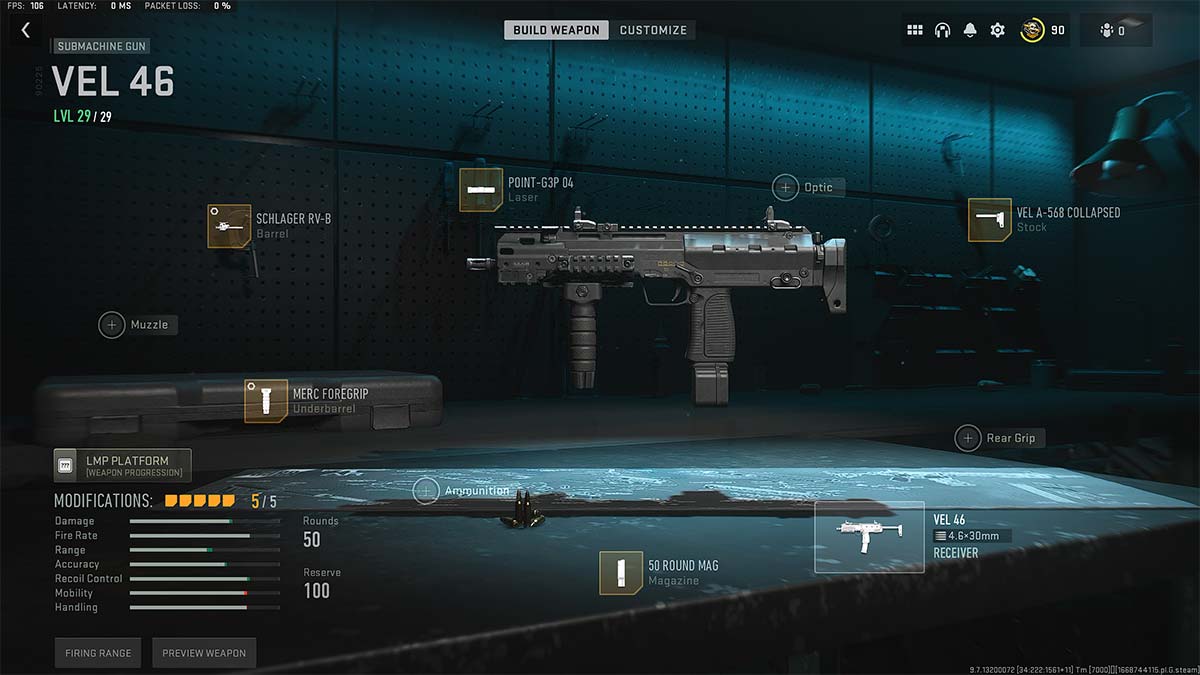 Barrel: Schlager RV-B
Laser: Point-G3P 04
Stock: Vel A-568 Collapsed
Underbarrel: Merc Foregrip
Magazine: 60-Round Mag
Attachment Tuning

Barrel: For max Recoil Steadiness and Damage Range
Underbarrel: For max Hip Recoil Control and Hip Fire Accuracy
Once again, the Vel 46 has amazing hipfire capabilities just like the MP7. For this build, we've listed attachments that specifically shrink the gun's hipfire spread and improve its mobility. Since ADS speed doesn't matter much in a hipfire build, feel free to use the biggest magazine attachment for the gun.
Best Vel 46 Class Setup Warzone 2
Primary Weapon: M4
Secondary Weapon: Vel 46
Tactical: Stim
Lethal: Semtex
Perk Package: You can choose from Commando, Specter, Weapon Specialist, or any other package of your preference
Stay tuned to Pro Game Guides for more Call of Duty: Modern Warfare 2 and Warzone 2 content. In the meantime, head over to our article on Best P890 loadout and attachments in Warzone 2.