In Call of Duty: Modern Warfare 2 and Warzone 2, the Lachmann-762 is the first gun players unlock in the expanded Lachmann Meer weapon platform. The Battle Rifle has a high-damage output at the cost of reduced mobility and poor recoil control when used in full-auto mode. Regardless, the Lachmann-762 makes for a solid mid to long range weapon choice in the game.
Best Lachmann-762 Loadout Warzone 2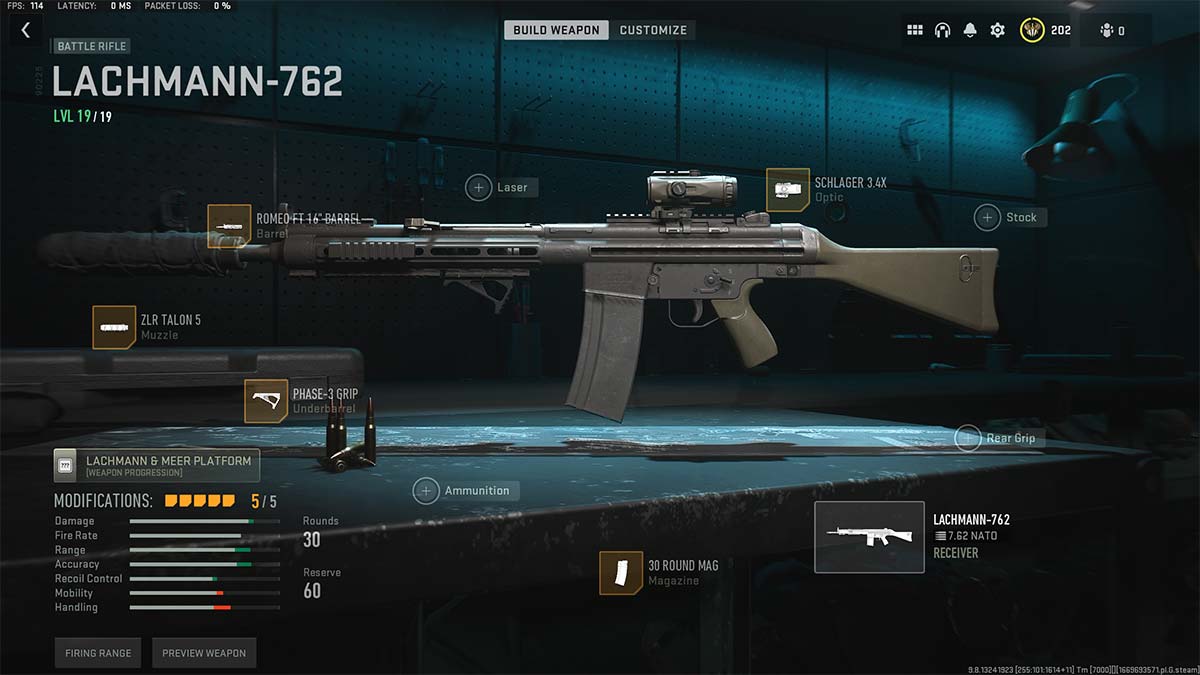 Muzzle: ZLR Talon 5
Barrel: Romeo FT 16" Barrel
Optic: Schlager 3.4x
Underbarrel: Phase-3 Grip
Magazine: 30-Round Mag
Attachment Tuning

Muzzle: Horizontal slider to +0.17 in

Underbarrel: Vertical slider to -0.42 oz
With this Lachmann-762 build, we've aimed to maximize the gun's range while improving its accuracy. For the much-needed damage range and bullet velocity buff, use the ZLR suppressor and Romeo 16" barrel. These two attachments also help reduce the gun's recoil plot and improve its accuracy. To eliminate any remaining horizontal bounce, equip the Phase-3 Grip on the Lachmann-762 Battle Rifle.
Related: Best Lockwood 300 attachments and loadout in Warzone 2
The 30-Round magazine allows you to shoot bullets at a continued pace for an extended period. Finally, equip any medium-range optic of your preference on the gun. Despite being extremely stable in semi-auto mode, the weapon's accuracy decreases significantly when you toggle it to full-auto. Hence, we recommend not using this gun in full-auto mode unless you're engaging up close.
Best Lachmann-762 Class Setup Warzone 2
Primary Weapon: Lachmann-762
Secondary Weapon: Lachmann Sub
Tactical: Stim
Lethal: Semtex
Perk Package: Equip the Weapon Specialist perk package if you want two primary guns in your loadout, else choose from Commando, Specter, or any other package of your preference
Stay tuned to Pro Game Guides for more Call of Duty: Modern Warfare 2 and Warzone 2 content. In the meantime, head over to our article on How to unlock 'Horde Breaker' Icarus 556 blueprint in Warzone 2 DMZ.