In Call of Duty: Modern Warfare 2, Laser Sights are a must-have attachment on your weapons. These mods help improve features such as mobility, stability, and accuracy depending on the type of Laser you've equipped. Here's a guide on the best Laser attachments you can unlock in the game. Before proceeding, note that since this is a clutch attachment type, they have a major downside. Enemies can see the strong light beam of your Laser and locate you easily. Regardless, the pros of Laser Sights in MW2 far outweigh this con.
Best Laser Sights to use in Call of Duty Modern Warfare 2
FSS OLE-V Laser or VLK LZR 7mW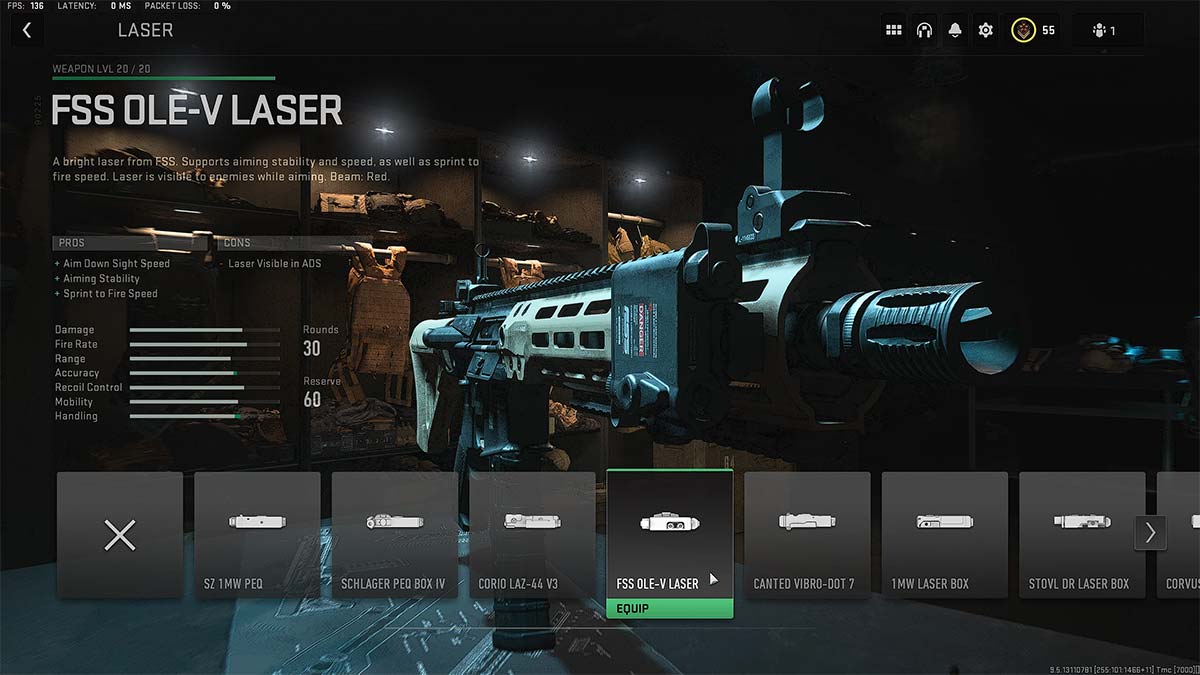 The purpose and use of both these Laser Sights are the same. While the FSS OLE-V Laser is available for weapon classes like ARs, LMGs, and Sniper Rifles, the VLK LZR 7mW Laser is listed for SMGs and Shotguns. They significantly improve the aiming stability, aim-down-sight (ADS) speed, and sprint-to-fire speed of the weapon. These Laser Sights emit a red beam while you ADS.
FTAC Grimline Laser or Point-G3P 04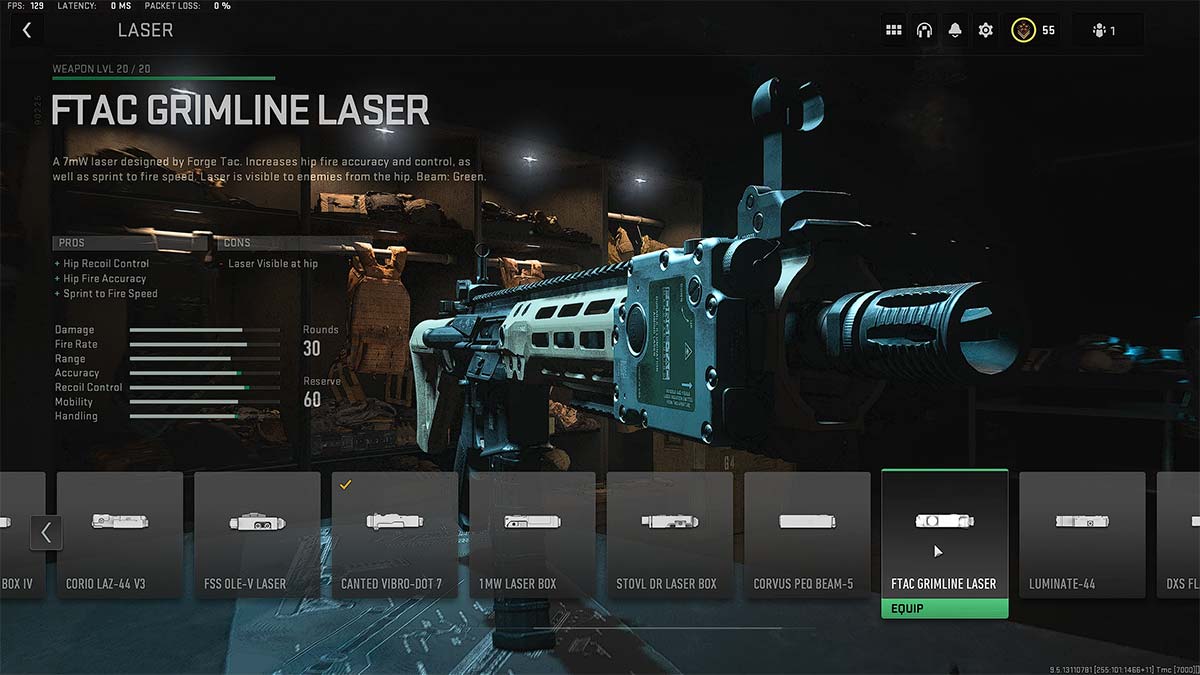 Just like the two Laser Sights mentioned previously, the FTAC Grimline Laser and Point-G3P 04 have different names but serve the same purpose for the weapon class they are available on. They boost the weapon's hipfire accuracy, hipfire recoil control, and sprint-to-fire speed. These Laser Sights emit a strong green beam visible at the hip, which means all the time except when you ADS the gun.
Canted Vibro-Dot 7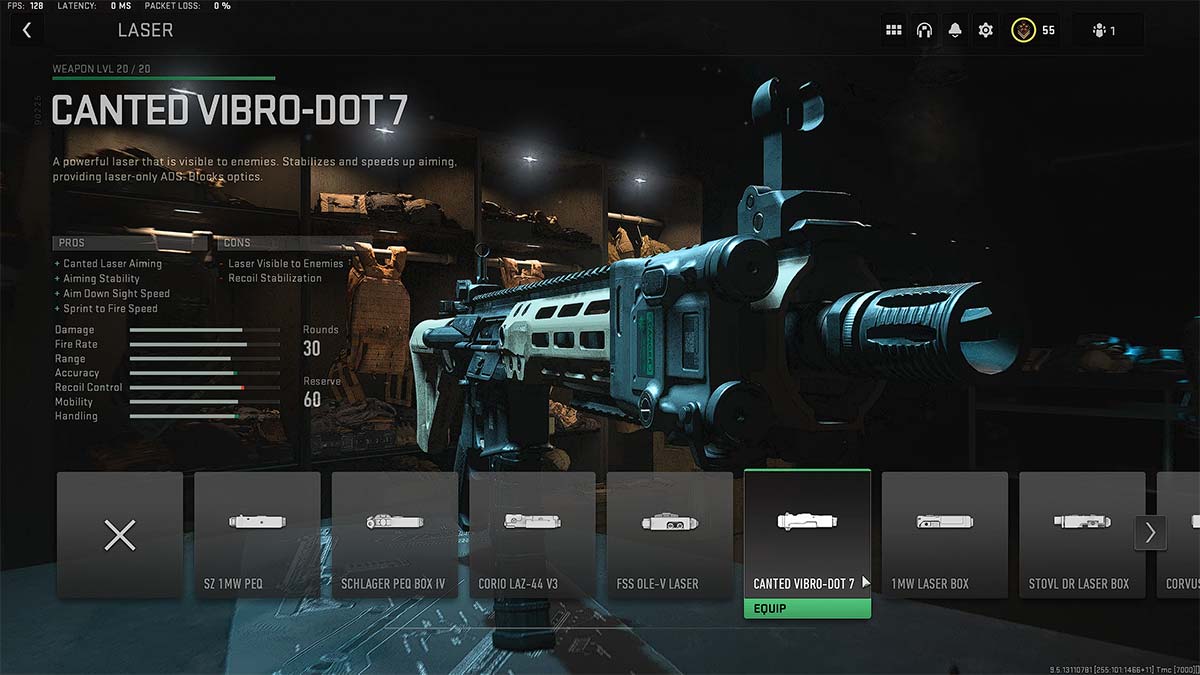 The final attachment on our list is the Canted Vibro-Dot 7, which lets you ADS from the Laser itself, as shown in the second image. Although the Laser is visible at all times, it offers aiming stability, aim-down-sight (ADS) speed, and sprint-to-fire speed to the weapon. The Canted Laser is available for limited weapon classes such as ARs, LMGs, and Marksman Rifles. Use this highly-accurate attachment if you don't like the weapon's iron sight and want a clutter-free view of the target.
If you simply don't want a beam of light giving away your position, you can use the following Laser Sights that come with limited yet crucial pros and without any downside:
SZ 1mW PEQ: Aiming stability.
Schlager PEQ Box IV / 1mW Quick Fire Laser: ADS speed.
1mW Laser Box / Schlager ULO-66 Laser: Hipfire accuracy and hipfire recoil control.
Stay tuned to Pro Game Guides for more Call of Duty: Modern Warfare 2 content. In the meantime, head over to our article on How to get the Neon Loud camo in Modern Warfare 2.