The Modern Warfare Kar98k used to be the most used Sniper/Marksman Rifle in Call of Duty: Warzone. Its popularity and viability declined dramatically after it lost its one-shot kill potential at longer ranges. However, the Sniper is making a comeback after it received a damage range buff with the Season 4 Reloaded update, making it perfect for the smaller maps—Rebirth Island and Fortune's Keep. Here's a guide to the best Kar98k attachments and class setup to use in Warzone Pacific.
Best Modern Warfare Kar98k Loadout Warzone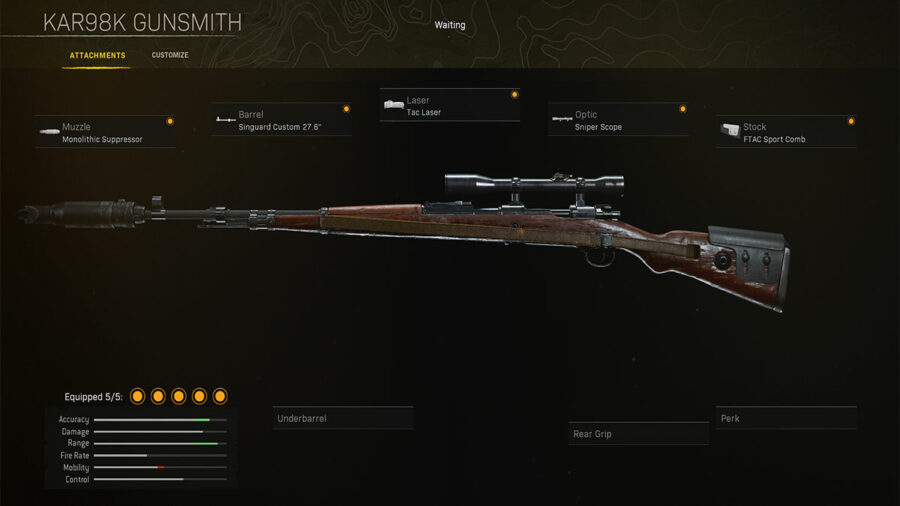 Muzzle: Monolithic Suppressor
Barrel: Singuard Custom 27.6"
Laser: Tac Laser
Optic: Sniper Scope
Stock: FTAC Sport Comb
Since the Kar98k one-shot kills within its damage range, we have customized this build to provide the weapon with its maximum achievable range and bullet velocity. This is done by equipping the Monolithic Suppressor muzzle and the longest barrel, Singuard Custom 27.6".
Related: Best Modern Warfare MP5 Loadout and Class in Call of Duty Warzone
Besides that, the Tac Laser and FTAC Sport stock boost the weapon's aim-down-sight speed, which is one of the most important features of an aggressive Sniper Rifle. Finally, since the Kar98k falls under the Marksman Rifle category of weapons, we need to attach a scope separately. Moreover, you can swap the stock for the Sleight of Hand perk for a faster reload speed if required.
Best Modern Warfare Kar98k Class Setup Warzone
Primary Weapon - H4 Blixen / Kilo 141 / Milano 821
Secondary Weapon - Modern Warfare Kar98k
Lethal - Throwing Knife
Tactical - Stim
Perk 1 - E.O.D.
Perk 2 - Overkill
Perk 3 - Amped
Stay tuned to Pro Game Guides for more Call of Duty content. In the meantime, head over to our article on Best Titanium Trials Weapon Loadouts in Call of Duty Warzone.