With the Season 2 update, the perk customization feature was finally added to Call of Duty: Warzone 2. Earlier, players could only pick from the default perk packages. Since this has changed, you might be wondering which perks are worth using in the Battle Royale. In this guide, we've listed all the viable perks that you should consider adding to your custom class in Warzone 2.
Best Perks to use in Warzone 2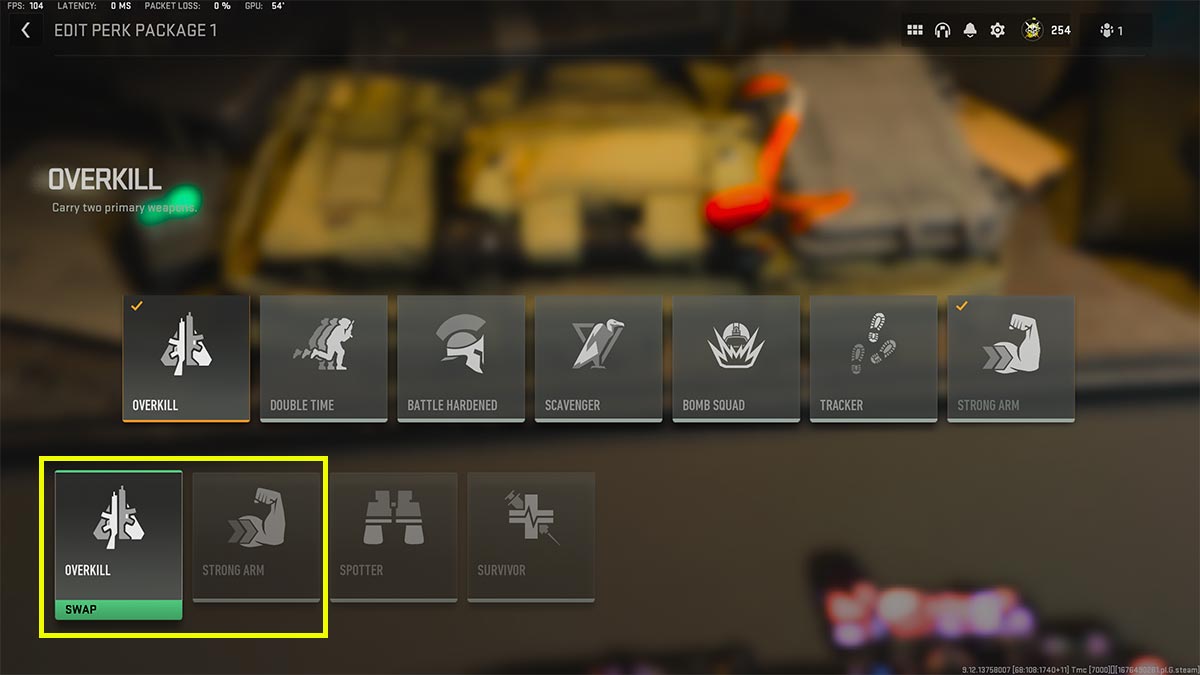 There are three perk categories in Warzone 2—Basic, Bonus, and Ultimate Perks. In your loadout's perk package, you can select a maximum of four perks, i.e., two Basic Perks and one each from Bouns and Ultimate Perks. Below we've listed the best perks from each category to use in Warzone 2 Battle Royale.
Best Basic Perks in Warzone 2
Overkill: It's probably the most used perk in Warzone, and it allows you to carry two primary weapons. You can swap this perk for something else if you're comfortable running a pistol as your secondary.
Battle Hardened: This perk reduces the effects of enemy tacticals such as Flash Grenades, Stun Grenades, Gas Grenades, Snapshot Grenades, and Shock Sticks.
Two other viable options are Bomb Squad and Double Time. While the former allows you to take reduced damage from explosives that aren't killstreaks, the latter doubles your tactical sprint duration.
Related: How to get your Loadout in Warzone 2
Best Bonus Perks in Warzone 2
Fast Hands: This powerful perk allows you to reload and switch weapons faster. It also increases your dexterity so that you can use lethal and tactical equipment faster.
Resupply: With this perk equipped, your tacticals and lethals will recharge over 30 seconds.
While we'd recommend using Fast Hands over Resupply, feel free to use the latter if you plan on running tacticals such as Stun or Flash Grenades. One other good Bonus Perk for Sniper Rifle users is Focus, which improves flinch resistance and breath hold duration.
Best Ultimate Perks in Warzone 2
High Alert: The corner of your screen flashes orange when you're spotted by an enemy outside your view. It's one of the best perks to use if you're tired of being shot in the back at all times.
Quick Fix: This perk starts your health regeneration immediately after you kill an enemy or start plating up. Quick Fix comes in clutch and plays out really well in the small-scale resurgence map, Ashika Island.
Ghost: Ghost allows you to stay hidden when enemies use UAVs, Portable Radars, or Heartbeat Sensors. In Warzone 2, however, you'll appear momentarily on the enemy's minimap when you shoot, even if you're ghosted.
Since this is the most powerful perk group, most of the options are extremely viable for Warzone. That said, you'll have to pick one or the other depending on your playstyle.
Stay tuned to Pro Game Guides for more Call of Duty: Modern Warfare 2 and Warzone 2 content. In the meantime, head over to our article on All Weapon Case Rewards for Ashika Island in DMZ.