In Call of Duty Warzone 2, players get to unlock weapons from various categories, and Light Machine Guns are always dependable at mid-to-long range. These weapons have a larger clip, and offer more range than Assault Rifles. The Sakin MG38 is one of the best LMGs in the game, and players need to know the best setup and equipment for this gun. Here are the best attachments to use for the Sakin MG38 in Call of Duty Warzone 2.
Best Sakin MG38 Loadout Warzone 2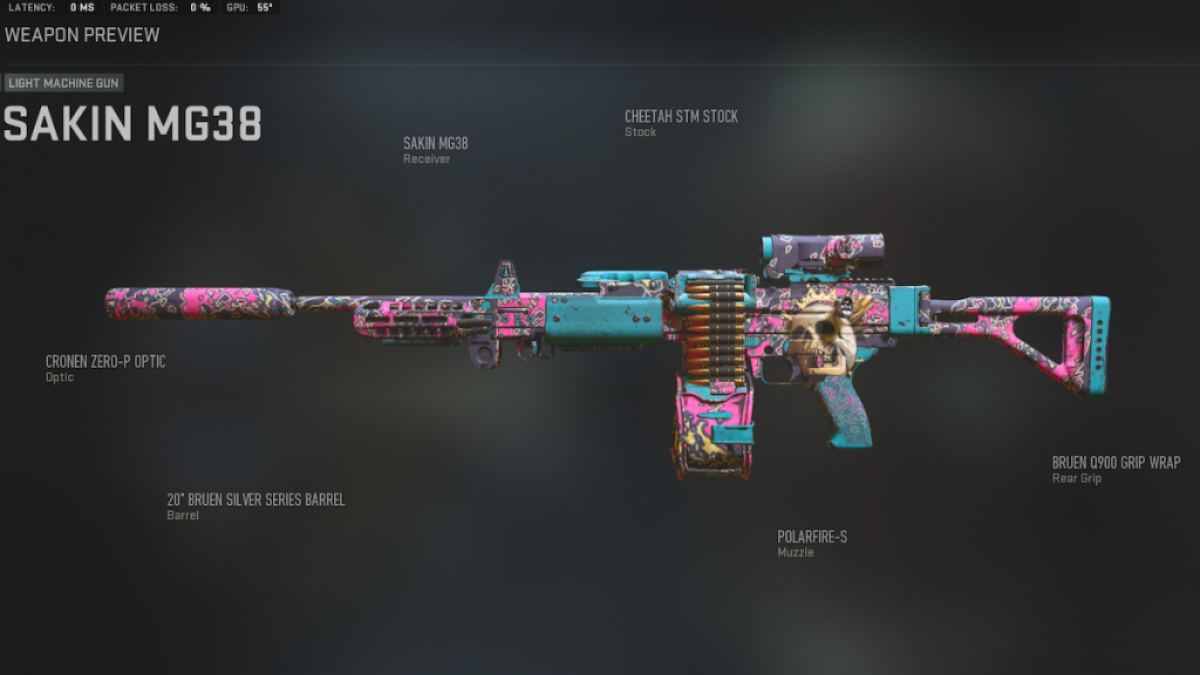 The Sakin MG38 is a Light Machine Gun with 100 bullets per clip, allowing players to spray down on opponent squads without having to reload. This LMG is unlocked by default, and its best to level it up quickly to unlock Weapon Tuning. Once its available, you can tune the attachments to improve certain aspects that suit your gameplay. For instance, the Sakin MG38 lacks in Mobility and Handling, and these two stats can be improved by tuning the attachments. Equip the following attachments and test it out in Firing Range before dropping into Warzone 2.
Barrel: 20" Bruen Silver Series Barrel

Tune Barrel for maximum Aim Down Sight speed, and Recoil Steadiness

Muzzle: Polarfire-S

Tune Muzzle for maximum Aim Down Sight speed, and Bullet Velocity

Rear Grip: Bruen Q900 Grip Wrap

Tune Rear Grip for maximum Aim Down Sight speed, and Sprint to Fire speed

Optic: Cronen Zero-P Optic

Tune Optic for maximum Far eyesight, and Aim Down Sight speed

Stock: Cheetah STM Stock
Best Sakin MG38 Perk and Equipment Setup for Warzone 2
The Sakin MG38 is a strong LMG, which players will primarily use for mid-to-long range combat. This means you need to have a weapon to cover enemies at close range. We recommend an SMG or a Shotgun as a Secondary weapon. Also, you must select Tactical and Lethal equipment, and Perk Packages for this loadout.
Tactical: Stim
Lethal: Drill Charge
Perk Package: Weapon Specialist Perk (for two primary weapons)
Wondering how to drop the biggest payload in Warzone 2? Check out How to get a Nuke in Warzone 2, right here on Pro Game Guides.