Call of Duty: Warzone Season 5 Last Stand introduced a new limited-time mode called Operation: Last Call. It is a Search and Destroy style game mode on a bigger-than-usual multiplayer map—Caldera. Here's how to play this LTM and secure a win with your squad.
How does Operation Last Call work in Call of Duty Warzone
In this game mode, you drop on Caldera to detonate or defuse several bomb sites scattered across the map. While a bomb detonation gets credited to the Villains, Heroes get points for defusing planted bombs. Whichever side first reaches the maximum points of eight wins. While you are free to play as either a Hero or a Villain, i.e., defuse or detonate bombs, you can only secure a win if the side you have contributed the most points to wins.
Related: How to unlock the Valois Revolver in Call of Duty Warzone and Vanguard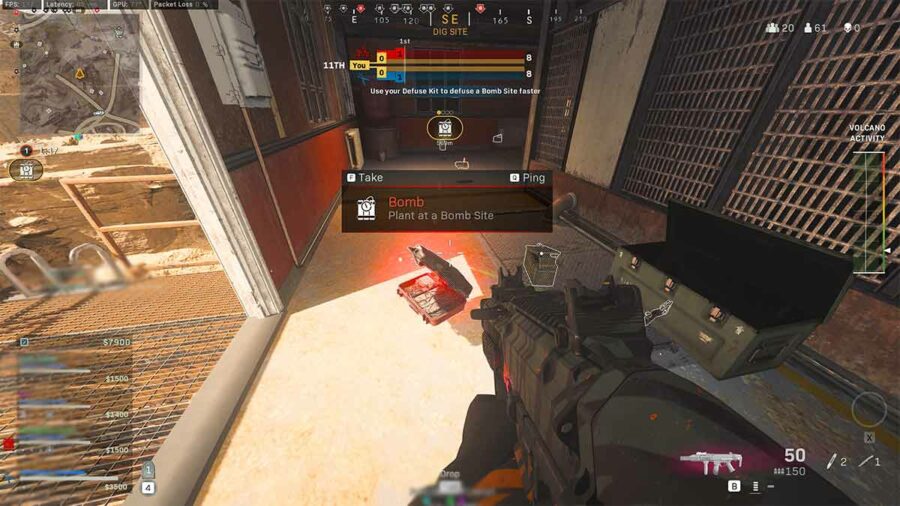 The bomb sites are marked on your tac map and are updated frequently. To plant an explosive at a bomb site, you first need to pick up the Bomb item you can find as ground loot, as shown in the image above. Afterward, go near a bomb site and plant the explosives to start the detonation timer.
An active bomb site glows red on the map, and nearby players may try to defuse it. If no one defuses an armed bomb site until the timer runs off, the site will explode, and you'll receive one point. If you want to defuse a bomb, simply approach it and hold the interact button. This may take a while, but not so much if you have the Defuse Kit, a loot item that allows you to defuse bombs faster.
You should also note that Operation: Last Call in Warzone is a resurgence mode, which means you'll keep redeploying back to the map even after getting eliminated. Furthermore, you start the match with your selected loadout. While playing, use redeploy balloons to travel faster, and beware of the randomly falling lava rocks.
Stay tuned to Pro Game Guides for more Call of Duty content. In the meantime, head over to our article on How to unlock the RA 225 SMG in Call of Duty Warzone and Vanguard.