Pathfinder is one of the Tier 2 missions for the White Lotus Faction in Call of Duty: Warzone 2 DMZ. This mission tasks you with looting a device from a specific Dead Drop and then visiting all points of interest (POIs) on the Al Mazrah map.
How to complete the Pathfinder mission in DMZ
Loot the GPS Tracker from the dumpster Dead Drop in Zaya Observatory.
Travel to every POI in Al Mazrah while carrying the GPS Tracker in one deployment.
Extract the GPS Tracker.
Where is the Zaya Observatory Dead Drop located?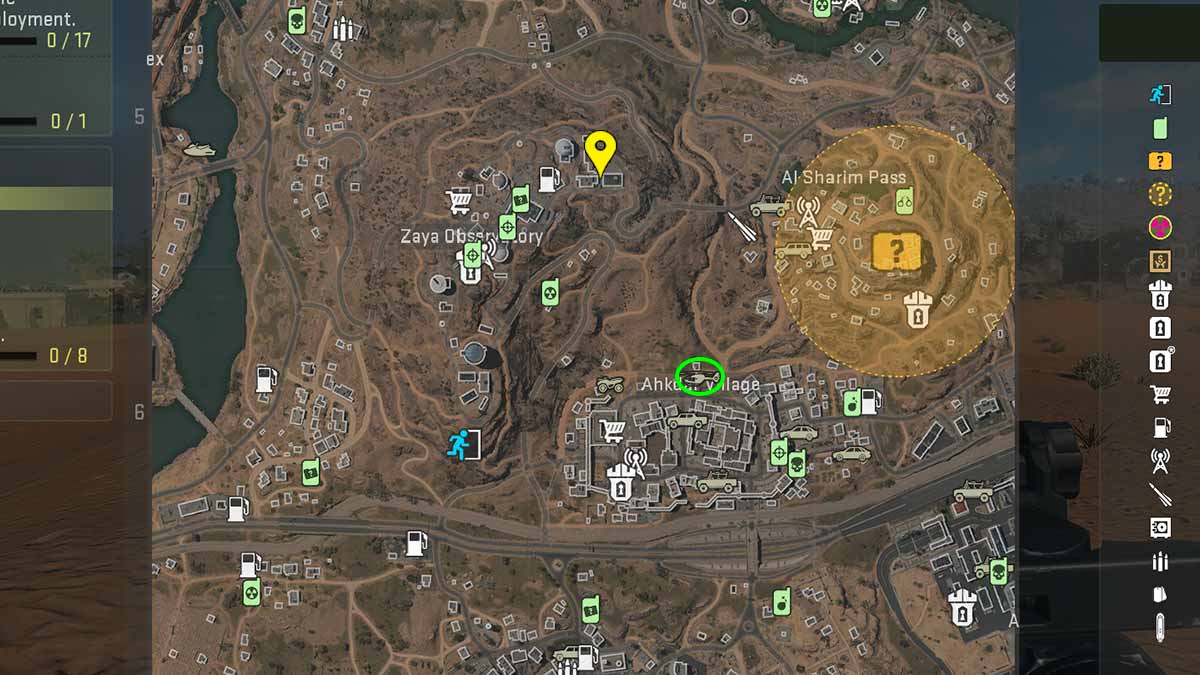 The Zaya Observatory Dead Drop can be found on the northern edge of Mt. Zaya in central Al Mazrah (see map image). The dumpster is placed next to the burger restaurant and is protected by AQ soldiers, so beware while approaching it. Interact with the Dead Drop to open it and then grab the GPS Tracker from inside.
Once the GPS Tacker is in your backpack, you need to visit all 17 POIs on the map, ideally using a vehicle. Grab a Helicopter if you can as it will allow you to travel faster. These vehicles usually spawn in Akhdar Village, which is to the southeast of Zaya Observatory. We also recommend that you cover the POIs in such a way that the final one remaining has an exfil point from where you can extract the GPS right away.
Related: Caved In DMZ Mission Guide: Riverside Caves, Smuggling Records, and Sensitive Documents
How to easily cover every POI in Al Mazrah with the GPS Tracker
As you may have already guessed, the easiest way to travel to all the POIs in Al Mazrah is by using a Helicopter. You can obviously use any other vehicle, but flying a bird will make this task way less time-consuming. Also, note that you can't simply ask your teammate to visit a group of POIs while you visit the others. This is because the only regions that count are where the GPS is taken, and only one player can hold the device. While flying a chopper over a POI, wait for it to register on the progress bar before moving forward.
You may also carry a couple of Gas Cans, which can be acquired at Gas Stations. This allows you to refuel the bird on the go. If not, you can simply hover over a Gas Station to refuel and repair the vehicle without leaving it. After you've visited all 17 POIs with the GPS Tracker, you need to extract the device for the final step in the Pathfinder White Lotus mission. In case you die in the process of exfiltration, you can simply loot the GPS from the Dead Drop and exfil right away in the next match.
Stay tuned to Pro Game Guides for more Call of Duty: Modern Warfare 2 and Warzone 2 content. In the meantime, head over to our article on DMZ Water Pump Control Key Location – Warzone 2.