Cookie Run: Kingdom is a popular mobile gacha game in which characters are all different varieties of cookies, graced with Soul Jam of the purest kind. One of the many features of the game is the ability to join Guilds, play with friends online, participate in events. Joining or creating a guild is one thing, but leaving one is an entirely different thing altogether.
Leaving a Guild in CRK
In order to leave a guild, you must:
Press the Guild icon on the top-left corner of the screen with your guild's name.

This will cause you to be taken inside the castle.

Press the Guild icon again.
Press the Leave icon to leave the guild.

You will be met with a window that lets you know that once you leave, you will not be able to join/create a Guild for 24 hours. You will also lose your Activity Points and you will not be able to receive your Guild Battle reward.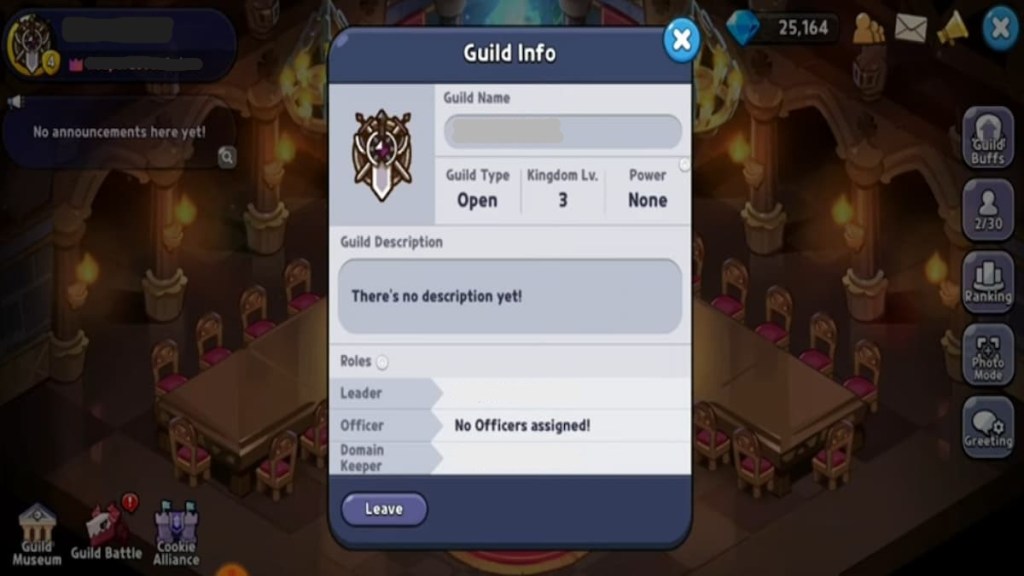 Related: Best Oyster Cookie Toppings build in Cookie Run Kingdom
How to create a guild in Cookie Run Kingdom
In order to create a Guild, you must first unlock them! You must first get to Episode 4, Pilgrim's Path, and complete stage 3-6. After that, the Guild button will become available on the bottom-left of the main screen.
All you have to do to create a Guild at this point is press the Guild button at the bottom-left of the main screen and then press the Create button. This will cost you 500 Crystals in order to complete. You will have the option to create your own Guild name and description, and even choose if it will be invite-only.
For more on Cookie Run: Kingdom, check out CRK Codes – Cookie Run Kingdom rewards! (July 2022) only on Pro Game Guides.