Updated: September 26, 2023

We looked for new codes today!
Cookie Run: Kingdom is an adorable gacha action RPG with an array of characters that are so cute we could literally eat them up. To succeed in Cookie Run Kingdom (CRK), we have to collect those sweet cookie heroes, upgrade them, and defeat the darkness that has befallen the kingdom.
Elevate your experience with various CRK codes that give you access to unique perks and items that are otherwise unobtainable. You'll get various items like Crystals, Sugar Gnomes, Rainbow Cubes, and other freebies to aid you in your adventure. Our list of Cookie Run Kingdom codes below will help you score some of these things for free.
Cookie Run Kingdom Codes List
Working Cookie Run Kingdom Codes (Active)
CRKINDONESIA—Redeem for 3k Crystals (new)
Expired Cookie Run Kingdom (CRK) Codes
CHERRYSPRINGGIFT—Redeem for 20 Time Jumpers
BRAVESPRINGGIFT—Redeem for 300 Rainbow Cubes
HERBSPRINGGIFT—Redeem for 100 Stamina Jellies and 100 XP Star Jellies Level 5
BLOSSOMINGGIFT—Redeem for 1k Crystals
2NDBIRTHDAYPARTY—Redeem for 3k Crystals
CRK2NDBIRTHDAY—Redeem for 3k Crystals
CRK2NDBIRTHDAYD1—Redeem for 100 Star Jellies
CRKALWAYSLOVEYOU—Redeem for 3000 Gems, and 1500 Rainbow Cubes
CRK2NDBIRTHDAYD2—Redeem for 3x all Aurora Items
CRK2NDBIRTHDAYD3—Redeem for 100x Topping Pieces
CRK2NDBIRTHDAYD4—Redeem 500x Rainbow Cubes
POCKETGAMERAWARD—Redeem for 10 random Cookies

NEWUPDATEISAHEAD—Redeem for 1500 Rainbow Cubes & 3000 Crystals
FOLLOWINGINLATAM—Redeem for 2500 Crystals
CRKINGDOMWITHBTS—Redeem for 3000 Crystals, 1000 Army Bombs
1015CKCOOKIELIVE—Redeem for 2500 Army Bombs
MAYYOUBEALITTLEHAPPIERINOURKINGDOMTOGETHER—CRK Riddle Password Code
THANX200MPLAYERS—Redeem for 2000 Crystals, 2000 Rainbow Cubes
CRKBEHINDNFUTURE—Redeem code for free rewards
FOLLOWUSINEUROPE—Redeem code for free rewards
TIKTOK1MFOLLOWERS—Redeem code for free rewards
COOKIELIVECOUPON—Redeem code for X3000 crystals
DEVNOW40MKINGDOM—Redeem code for free rewards
DEVNOW40MKINGDOM—Redeem for free rewards

2022PPLSCHOICETY—Redeem for free rewards
0224CRKDARKCACAO—Redeem for 3k Crystals
COOKIELIVECOUPON—Redeem for rewards
GETUR1SUGARGNOME—Redeem for Sugar Gnome
SAMSUNGCRKINGDOM—Redeem for 1K crystals
2CRK1STBIRTHDAYD7—Redeem for 500 Rainbow Cubes
021KRGAMEAWARDS—1K rainbow cubes, 1K cold crystals, & 5K crystals
30MILLIONKINGDOM—Redeem for 3K rainbow cubes & 3K crystals
KINGDOMNBLUECLUB—Redeem for 500 crystals
REALTOUGHCOOKIES—Redeem for 500 crystals
KINGDOMWITHSONIC—Redeem for 1K crystals
GETUR5SUGARGNOME—Redeem for Sugar Gnomes

GETUR3SUGARGNOME—Redeem for Sugar Gnomes
Cookie Run Kingdom FAQ
Here's everything you need to know regarding Cookie Run Kingdom codes.
How to redeem CRK Codes (Devsisters Code Redeem)
It's pretty straightforward to redeem codes in Cookie Run Kingdom, just follow the steps below: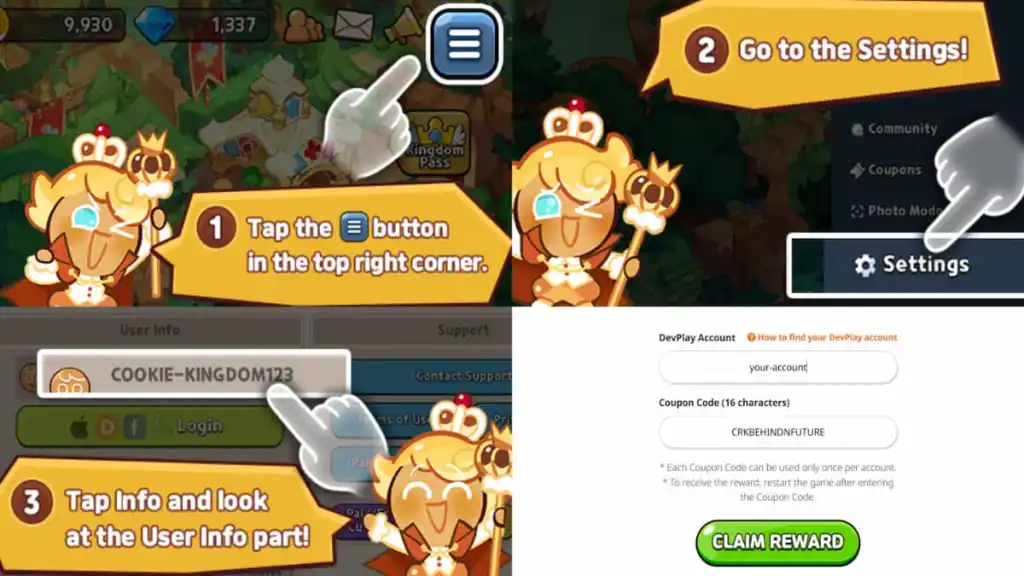 Launch the game and hit the three lines icon in the upper-right corner
Go to Settings, then select the Info tab.
Copy your DevPlay Account ID and paste it into the textbox on the Coupon Page Site.
Enter the code in the text box
Press the Claim Reward button to get your prize
How can I get more codes for Cookie Run Kingdom?
It's always worth joining the game's Discord server and Twitter page. There, you can receive frequent updates about the game, immediate CRK code notices, and potentially make a few friends within the CRK community! If you want to have everything in one place, then bookmark this page and visit it often. We will give you all the up-to-date CRK codes.
Why aren't my CRK Codes working?
Most CRK codes expire fast. Hence, you should claim the rewards as soon as possible. If you find no longer active codes, please let us know so we can remove them. Another reason why your codes might not work can be a grammar error. To avoid that, copy and paste codes from the working codes section above into the redeem text box.
What is Cookie Run: Kingdom?
Cookie Run: Kingdom is a mobile RPG where you build and defend your city. As you may have guessed, you play as Cookies. Find materials to enhance your abilities and build up your kingdom to become the ultimate Cookie!
If you need more help, we have some great CRK guides like Best Pure Vanilla Cookie Toppings, the Best Caramel Arrow Cookie Toppings build, How to farm Light of Resolution, How to beat 14-10 in Cookie Run Kingdom, and How to beat Beat 11-27 in Cookie Run Kingdom. Browse Pro Game Guides at your leisure for other helpful guides across multiple titles.
Check out more game codes like Dead by Daylight Codes – Free DBD Bloodpoints! on Pro Game Guides.