Cuphead: The Delicious Last Course is a scrumptious addition to the perfect cake that is the main game. There are 12 entirely unique bosses for players to experience, one of which is known as Moritmer Freeze. Here is how you can beat Mortimer Freeze in Cuphead: The Delicious Last Course.
How to defeat Cuphead Delicious Last Course boss Mortimer Freeze
Best Weapons and Charms to use against Mortimer Freeze
To increase your odds against Mortimer, you'll want to make sure you head into battle with the right Weapons and Charms. The best weapons to take into this boss fight are any that can track an enemy. We went into battle with both the Crackshot and the Chaser. As far as Charms go, we recommend you equip the Astral Cookie. This will let you play as Ms. Chalice during the fight, gaining access to all of her abilities, including the double jump, parry, and invisible dodge.
Phase one - Mortimer Freeze: Cuphead Delicious Last Course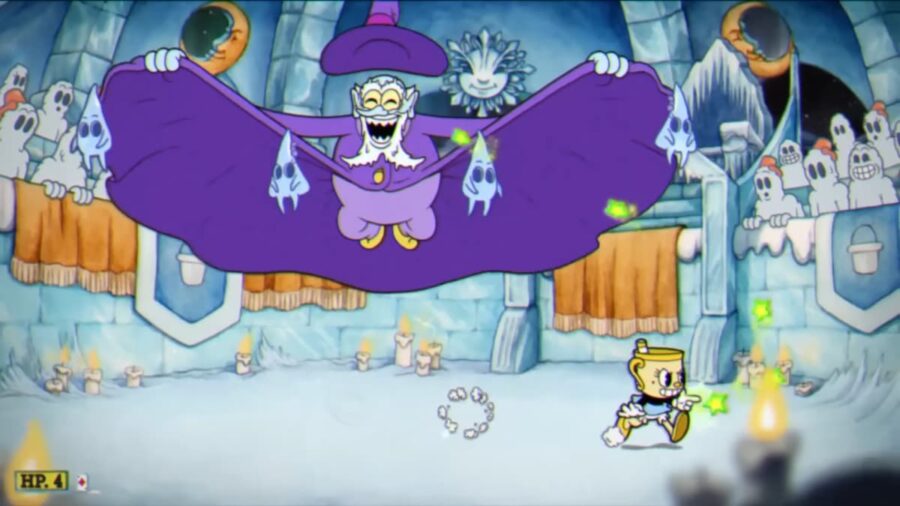 Stage Layout
This battle will begin with the wizard Mortimer Freeze floating above your head. For the entirety of this phase, he will remain floating above you while performing various attacks. You are able to move freely along the stage floor and only have to worry about Mortimer's attacks.
Attacks
Mortimer has three main attacks during this phase. The first one is the attack shown in the image above. He will spawn four ice minions that will move toward you after touching the ground. These enemies can be easily destroyed in a few hits, and it's best to deal with them as soon as they spawn.
The second attack is when Mortimer pulls out a crystal ball. Using this, he will send large playing cards flying at you in a straight line. He only fires one of these at a time, so they are pretty simple to evade. Eventually, one of these cards will be pink, and you will be able to parry it.
The final attack to look out for in this phase is a giant orange whale that Mortimer attempts to flatten you with. The tell for this attack is pretty obvious and gives you a second or two to evade it. When you see Mortimer pull out the whale, dash to either side of the screen to evade the attack.
Phase two - Mortimer Freeze: Cuphead Delicious Last Course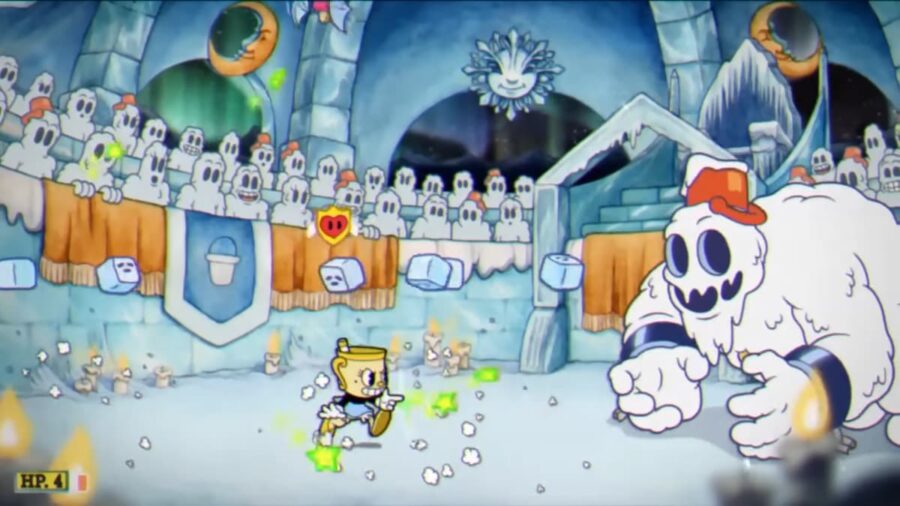 Stage Layout
Pase two begins when the wizard floating above you rings a bell and morphs into a big snow monster. The layout of the stage overall stays the same as it was during the first. The only difference is that instead of Mortimer Floating above you, he will move from one side of the screen to the other, stopping to lay down a few attacks first.
Attacks
In the second phase, there are another three attacks to watch out for. The first is when the snow monster rolls its body up into a ball and either rolls or jumps from one side of the stage to the other. This attack is avoided as easily as jumping over his body when he rolls. That, or dash under when he jumps.
The next attack to look out for is when the snow monster morphs again into a giant refrigerator. The fridge will then shoot ice cubes into the air. Once these ice cubes hit the ground, they split in two, multiplying each time they bounce until they get too small to split again. There is no easy way to deal with these, so being on top of your dodging game is key. While the fridge shoots ice cubes, it will also shoot out a few popsicles. They move pretty slow and can be easily dodged or detroyed. There's also a pink one that you can parry.
The final attack that the snow monster utlizes throught this phase is a slam attack. The monster slams the ground, causing swords to shoot out. These are easy to see, as the snow will be disturbed where the sword is about to stick up. Simply move to either side of it until the attack is over. Once you do enough damage, this phase will end, and the next will begin. It's signified by the monster hunching over and a snowflake popping out.
Phase three - Mortimer Freeze: Cuphead Delicious Last Course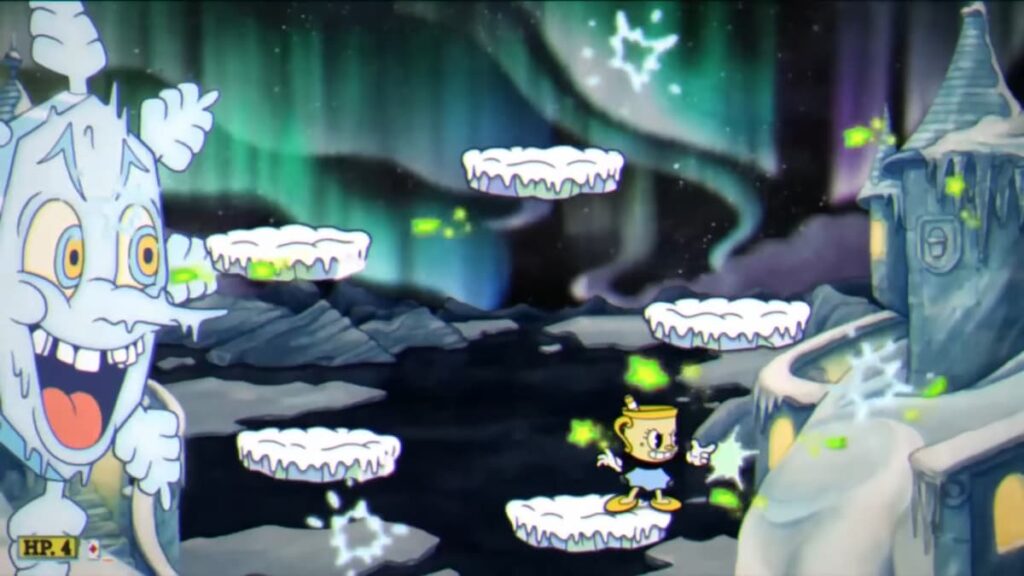 Stage Layout
The final phase of this fight begins after defgeating the snow monster and climbing up some platforms out of the arena. You ditch the frozen arena that you were fighting in for a bunch of rotating ice platforms up in the sky. Here, you will be fighting against a giant snowflake. The face will take position on one side of the screen at a time. Make sure that you are always moving and landing on the platforms, as falling off of them can mean taking a hit or even death. It's reccomended you always stay on the platform farthest from the boss. This makes it easier to dodge attacks.
Attacks
In this phase, the boss has three unique moves that you will need to dodge. After perfoming an attack, the boss moves over to the other side of the screen. One attack the boss might try is throwing buckets at you. Avoid getting hit by these buckets, then remain alert. Each time a bucket reaches the opposite side of the screen, it explodes into three crecent moons that move outward and back toward you. Managing to dodge all of the moving projectiles will get you safely through this attack.
Another atttack that the boss tries is popping out its eyeball. This eyeball floats around the screen for a few seconds and attempt to damage you. It will also shoot lightining in a vertical path at random times, so make sure to keep your distance.
The last attack to look out for is a bunch of floating heads made to look like ice cream cones. Mortimer will spawn these, and they will immediately begin moving in a predetermined straight line. Avoiding this attack is as simple as moving out of their way.
And there you have it, that is how to beat Mortimer Freeze in Cuphead: The Delicious Last Course. Out of all the bosses in the DLC, we found Mortimer Freeze to be relatively simple. Successfully dodging most or all of Mortimers attacks will eventually reward you with that glorious knockout.
For more guides on Cuphead, check out How to solve the graveyard puzzle & find the broken relic in Cuphead right here on Pro Game Guides.