Every Tuesday, Destiny 2 experiences a weekly reset that refreshes the game with new seasonal content like weekly quests, new raids, pinnacle gear opportunities, and more challenges. All weekly bounties like vanguard and crucible also refresh, allowing for more opportunities to earn powerful and pinnacle gear across multiple characters.
In this post, we keep track of all the new content available at the start of every weekly reset so that you never miss an activity or opportunity for new gear. Weekly resets occur every Tuesday at 10am PT, 1 pm ET and 6pm BST from March to Nov.
Weekly Quests - Season of the Splicer
Season of the Splicer continues with the featured weekly quest, Path of the Splicer VI. The quest should operate similarly to the precious Path of the Splicer weekly quests, albeit in a different location of the world with additional story progression from Mithrax. Speak to the Splicer Servitor on the HELM to pick up this quest, which takes place on Europa.
Path of the Splicer VI also grants players access to the next Expunge: Corrupted Labyrinth Weekly Story mission, which grants Pinnacle gear. A new Expunge mission will release each week until June 29.
Lost Sectors
K1 Communion (Master)
Location: Anchor of Light, The Moon
Recommended Power Level: 1340
Rewards: Exotic Legs Armor (Common), Enhancement Cores
K1 Crew Quarters (Legend)
Location: Hellmouth, The Moon
Recommended Power Level: 1310
Reward: Exotic Arms Armor (Rare), Enhancement Cores
Nightfall Strike
The Disgraced
Nightfall Weapon Reward:
Pinnacle Gear Challenges
Europa
Exo Challenge: Simulation: Survival
Empire Hunt: Dark Priestess
Raid: Deep Stone Crypt
Banshee's Weapons
Banshee-44 is the Exo Gunsmith who arms Guardians with legendary weapons each week. He's worth approaching every Tuesday not only to pick up his bounties, but to check out potential weapons missing from your arsenal. Banshee-44 is located on the Tower in the main center area.
Grenade Launcher: Memory Interdict
Pulse Rifle: Cold Denial
Shotgun: Retrofuturist
Sidearm: Lonesome
Sniper Rifle: Ikelos_SR_V1.0.2
Sword: Falling Guillotine
Iron Banner Drops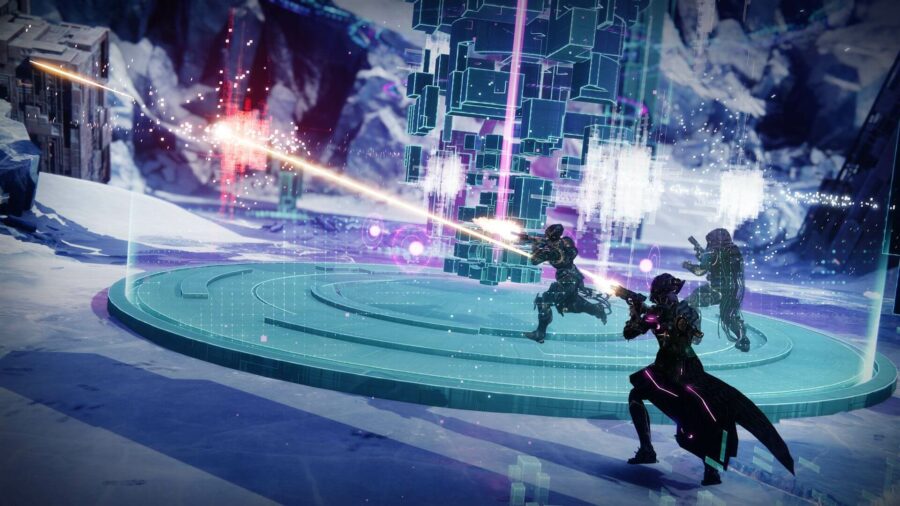 Four weapons are included in Iron Banner during Season of the Splicer, two of which return from previous seasons and two brand new weapons. All four of the weapons have random rolls which should encourage players to grind Iron Banner if they do not earn the weapon with the exact stats they were hoping for.
New Weapons
Shotgun: Riiswalker
Machine Gun: Archon's Thunder
Returning Weapons
Hand Cannon: Finite Impactor
Sniper Rifle: Occluded Finality
For more Destiny 2 content resets, check out Destiny 2: Where is Xur? on Pro Game Guides.