There are dozens of shotguns in Destiny 2, all of which feel different to play. You have Wastelander M5 dropped from the Dares of Eternity activity, as well as Riiswalker from Iron Banner. From Legendary to Exotic weapons, it can be difficult to choose a shotgun that suits your playstyle. Come join us and meet Heritage, the shotgun of your dreams.
What is Heritage in Destiny 2?
Where to get Heritage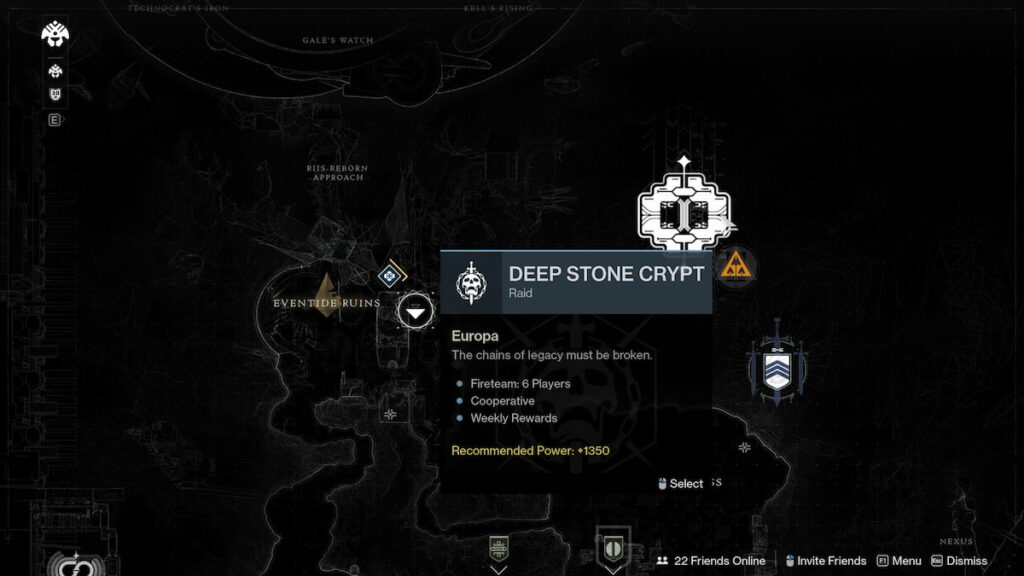 Heritage is a Legendary shotgun that can only be acquired from the Deep Stone Crypt raid on Europa. This raid requires players to own the Beyond Light expansion and has a recommended power level of 1350.
Deep Stone Crypt also drops other useful weapons such as Succession and Trustee. If Heritage does not randomly drop during the raid, players can use Spoils of Conquest to purchase Heritage from the kiosk at the end of the raid.
Heritage PvP God Roll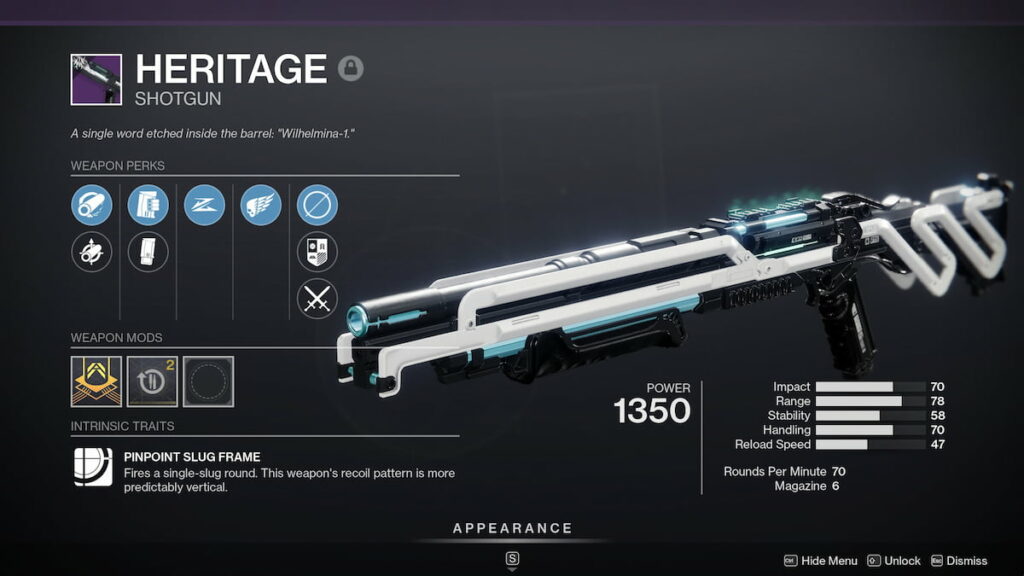 The PvP god roll for Heritage is Slideshot and Killing Wind, along with Appended Mag and Accurized Rounds. Though infamous in Destiny 2's community, shotgun sliding is a popular method of dominating Crucible matches.
In this god roll, Slideshot causes a partial reload of the weapon upon sliding, as well as a range and stability boost. Killing Wind grants the player range, handling, and mobility upon a final blow. Appended Mag increases the shotgun's magazine capacity, and Accurized Rounds improves the weapon's range.
This combination of perks and weapon features transforms Heritage into a brutal weapon of mass destruction in PvP. The range of this weapon is surprisingly far, and this is only buffed by the god roll's perks. This god roll plays to the strengths of Heritage, focusing on its magazine size and range.
Heritage PvE God Roll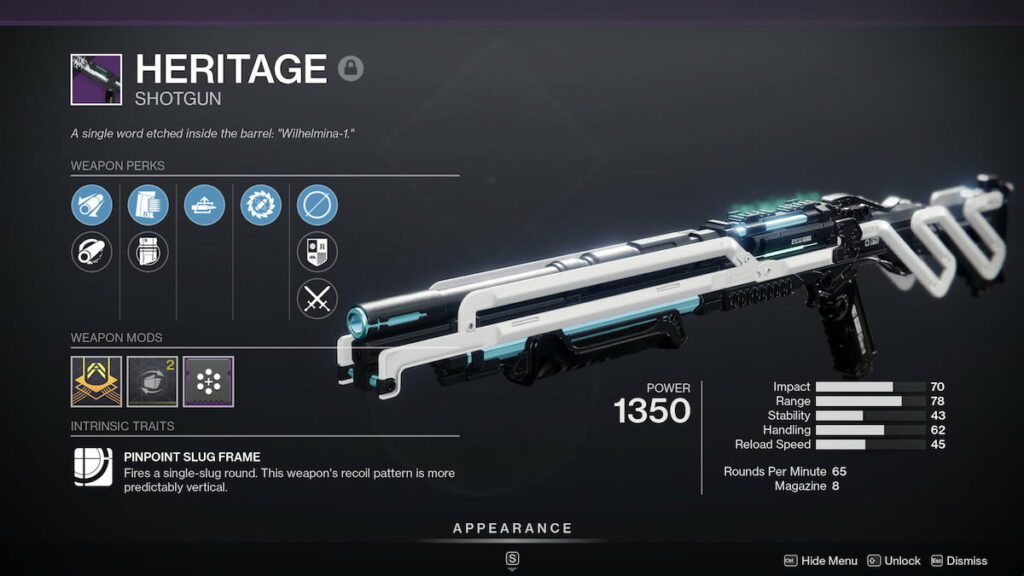 The PvE god roll for Heritage is Auto-Loading Holster/Reconstruction and Recombination, along with Assault Mag and Corkscrew Rifling. This perk roll is perfect for dishing out heavy damage to PvE bosses.
In this god roll, Auto-Loading Holster causes the weapon to automatically reload after a brief period of time. Auto-Loading Holster can also be substituted for Reconstruction, which reloads the weapon over time and overfills the magazine, resulting in twice the maximum bullet capacity.
Recombination causes elemental final blows to add a stack of "Recombination," which increases the damage of Heritage's next shot. In PvE, this buff can stack all the way up to 88% extra damage. Assault Mag greatly increases the stability of Heritage, as well as its rate of fire. Corkscrew Rifling slightly increases the range, stability, and handling speed of the weapon.
This combination of perks nominates Heritage for an excellent choice in PvE, especially against bosses. This god roll makes Heritage feel reliable in raids, missions, and Lost Sectors. It plays to Heritage's strengths, buffing its magazine size and damage.
Heritage builds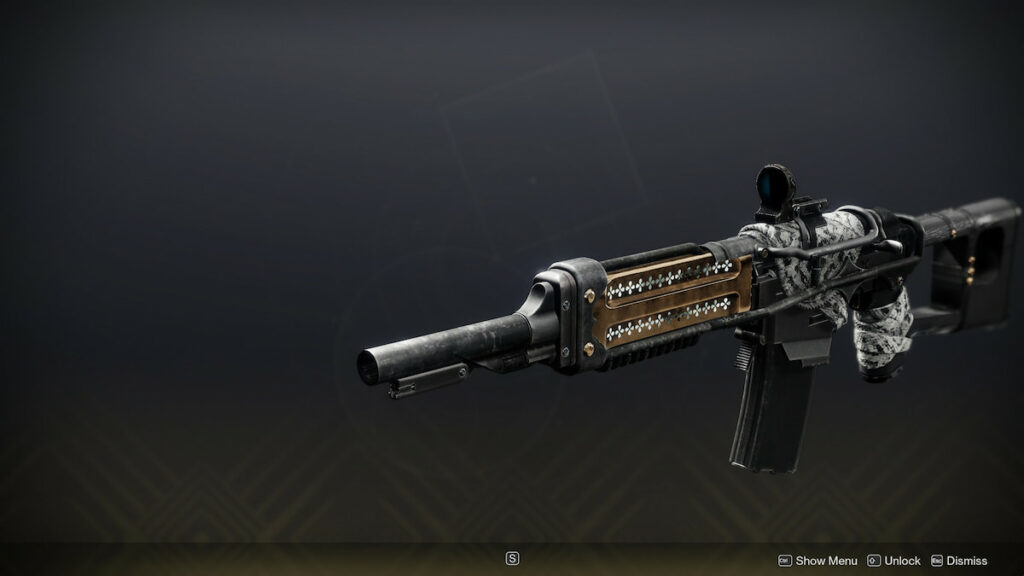 Heritage pairs well with Auto Rifle Energy weapons, especially if players possess the "Recombination" perk. Auto Rifles are able to add stacks of Recombination quickly, as well as take down rank-and-file enemies with ease.
One effective build is Heritage in the Kinetic slot, and Gnawing Hunger in the Energy slot. It is especially powerful if that Gnawing Hunger has the Subsistence perk. This loadout reduces the need to reload, due to both Auto-Loading Holster and Subsistence.
With this loadout, players can fire swiftly and at a decently long range. Although this loadout leans more toward PvE, it can also be dangerous in PvP. This combination of weapons is also quite helpful during the early encounters in the raid Last Wish.
Related: Destiny 2 – All Wishes on the Wall of Wishes (with pictures) in Last Wish
Heritage also pairs well with Scout Rifles like Trustee, which is a weapon that is also dropped from the Deep Stone Crypt raid. If both Heritage and Trustee have the Reconstruction perk, players may never have to reload in their lives. This loadout is optimized for players who desire a large magazine size.
Scout rifles are also excellent choices for stacking Heritage's Recombination buff. This scout rifle and shotgun combo is focused around PvE, although it also proves beneficial in PvP. If you are going for a PvP build, a better scout rifle would be Dead Man's Tale.
For more Destiny 2 guides, come check out How to claim rewards in Bonfire Bash in Destiny 2 here on Pro Game Guides.