Lost Sectors are jaunty yet challenging secret dungeons spread throughout each planet within Destiny 2. With the release of the Beyond Light expansion, Bungie introduced Legend Lost Sectors. These Legend Lost Sectors rotate on a daily basis and are far more challenging than their standard counterpart. However, completing one yields far greater rewards.
The Quarry Lost Sector Location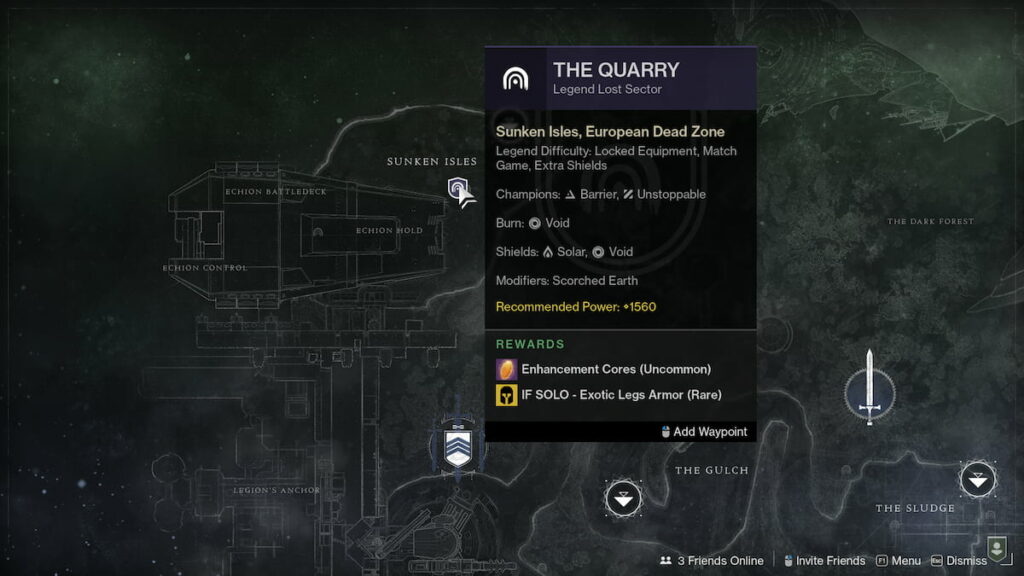 The Quarry can be found in the EDZ north of Firebase Hades in the west. Guardians should spawn at the Sunken Isles and almost directly straight from that spawn point. There will be a large hill that the entrance is on the other side of.
The Quarry Legend Lost Sector Exotic Drops
The Path of Burning Steps: Titan Exotic Leg Armor
Radiant Dance Machines: Hunter Exotic Leg Armor
Star-Eater Scales: Hunter Exotic Leg Armor
Boots of the Assembler: Warlock Exotic Leg Armor
Rain of Fire: Warlock Exotic Leg Armor
Secant Filaments: Warlock Exotic Leg Armor
There will be Barrier and Unstoppable Champions, so bring the appropriate mods to counter them. Unstoppable is easily countered with The Enigma Glaive, and Barrier can be shut down with a reliable heavy weapon and pulse rifle like Bad Juju to pop the bubble. They will also have Solar and Void shields, so it might be time to raid that vault to find the appropriate accessories.
For more Destiny 2 goodies, check out How to get The Infinite Prismatic emblem in Destiny 2 – Pride 2.0 Pin reward on Pro Game Guides.