Our everything we know about Diablo 4 guide will touch on all the currently available information on the game. We'll be taking a look at details involving the release date, platform availability, leaks, and anything else involving the game. We will be updating this post periodically with additional news items and material.
Diablo 4 Release Date
There's no official release date for Diablo 4 currently. From the way it sounds, it looks like the game is a long way off. During one of the Diablo panels at BlizzCon 2019, Luis Barriga was quoted as saying that the game is "not coming out soon" and not even "Blizzard soon." If you're not familiar with the Blizzard "soon" meme, the company is usually pretty vague on release date details because they tend to spend a lot of time on polishing their games. A "soon" from the company could mean a year to multiple years.
Next Update
If you're thirsty for more Diablo information, there is a "cool update" planned for February 2020. Blizzard apparently has quarterly updates planned that will display behind-the-scenes stuff and additional information.
We've been taking this week to assess and discuss our takeaways from BlizzCon, and we love all the deep discussions happening around the art, features, systems, and world of Diablo IV. We're also excited about a cool update we're planning for you in February of next year. It will be the first in a series of quarterly updates where we'll share behind-the-scenes looks at our progress going forward.
What Platforms Will Diablo 4 Be Available On?
It will be available on Windows PC, PlayStation 4, and Xbox One. It is unclear at this time if there will be a version made for the Nintendo Switch. Diablo 3 eventually made its way there, so it's not unlikely that Diablo 4 would get there at some point as well. It is also possible that the game ends up on the future versions of both PlayStation and Xbox.
Offline Mode
Diablo 4 will NOT have an offline mode. If you were hoping to play the game without being connected to the internet, it looks like you will be out of luck. Even if you play on the Console, you won't be able to disconnect like you might have been able to previously.
Microtransactions (MTX)
It looks like there will be microtransactions in the game, but they will be strictly used for cosmetics and possibly stash and character slots. This sounds a lot like the Path of Exile model, but I doubt Blizzard will be making this game free to play.
Who is Lilith?
Lilith is the daughter of Mephisto, Lord of Hatred, and the sister of Lucion and is know as the Queen of the Succubi. Lilith first appeared in Diablo 2 and is sometimes known as Uber Andariel, which is an Uber boss monster you encounter during the Pandemonium Event. Lilith's writings can be found in Act 5 of Diablo 3 in the Pandemonium Fortress, but she does not appear as an in-game model. Based on the cinematic for Diablo 4, it looks like she will be the main villain of the game.
Diablo 4 Classes
There are currently three confirmed playable characters in the game: Barbarian, Druid, and Sorceress. It has also been confirmed in the follow-up panel to the initial reveal that there will be five total classes in all. There's no current details available on what those are.
Barbarian
The Barbarian class has been one of the signature characters in the previous games. They excel at destroying demons with brutal moves and melee weapons. They generally use war cries to bolster themselves and party members with stat buffs.
Druid
Druid is a returning class to the Diablo series and was first seen in Diablo 2's expansion, Lord of Destruction. They are a shapeshifter class, but they can also command earth, wind, and storm. If you like having a pet by your side, you can also fight alongside creatures of the wild. It's kind of a hybrid class between a Barbarian and Mage.
Sorceress
Sorceress is another of the long standing characters that you've been able to play throughout Diablo. They wield powerful spells that generally are split between elements like fire, ice, and lightning. In the demo, their ultimate ability has them changing into a ball of electricity that deals massive damage to any enemy that comes into contact with it!
Skills & Traits
There's both skills and a trait tree you can manipulate to customize the play of your character. You gain 1 or more skill points for each level, and your skills are permanent once they are set. However, if you're able to find a specific Skill Tome in the world, you can use it to reset them. Traits can be reset as often as you like.
Runewords
The return of Runewords looks to be upon us! If you never played Diablo 2, you could combine items called Runes into the sockets of a weapon or armor to make a word. This word would make the weapon extremely powerful and give you buffs to stats and skills. Some Runes were a lot more rare than others, so trying to either find or trade for them was a large part of the game.
In Diablo 4, it looks like there will be two types of runes: Condition and Effect. Instead of exact combinations, it looks like it's going to be a bit more free form. You'll add specific runes that will be helpful to your build.
Rune Examples
Vex (Condition Rune): When you use a healing potion, activate the next socketed rune.
Dol (Effect Rune): When active, gain 50% critical strike chance for 7 seconds.
With these two examples, you can see how they will interact together. You use the Vex rune to trigger the Dol rune when you use a healing potion.
Mounts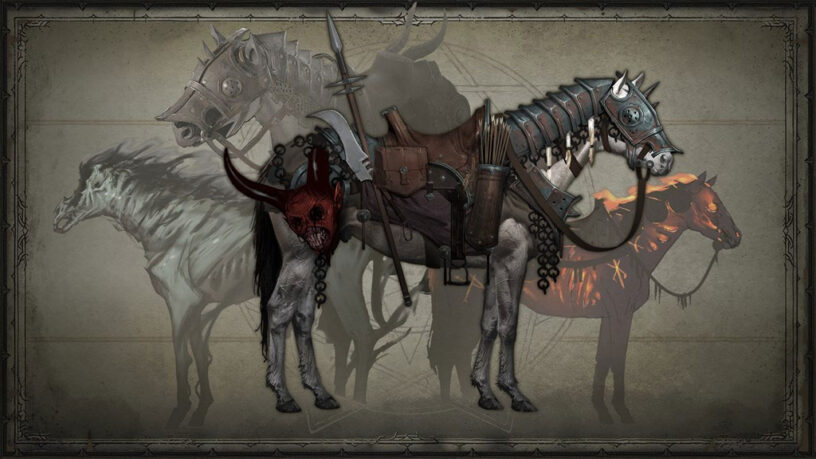 The world of Diablo 4 is going to be a lot more open than previous games, so to trek across these open spaces you will be able to utilize a mount. Currently it looks like you'll be able to add armor to your steed, as well as change out the demon head that hangs like a trophy. It also sounded like there will be items that increase the speed of your mount and how much damage you will receive if you're on a mount. I would wager this is an area they will have microtransactions for in terms of the mount cosmetic itself.
There's also going to be Dismount Abilities, which will allow you to jump off your horse quickly and unleash some damage onto enemies. For example, if you're a Sorceress, you can use one of these to dismount into and turn into an ice storm that will freeze everything in your path!
Hardcore Mode
If you're glutton for punishment, then no worries about missing out on the Hardcore experience in Diablo. It is set to be included in the game, but they are still deciding on whether or not to make the character available in Softcore mode.
Death Penalty
When you die in the normal mode of the game, you will need to run back to your body from a checkpoint and gold will have dropped that can be recollected. This is very similar to how it was in Diablo 2.
Diablo 4 Map
Here's a map of what you will be able to explore in the game. It sounds like you won't be locked into a linear story like you were previously, you'll be able to explore as you want and return to completing the main quest line as you like.
Trade & Social Towns
Trading is going to be a feature in Diablo 4. The trading will not be open-ended, it looks like there will be three categories of items:
Common items or commodities that can be traded at anytime.
Bind on Trade: Items that can be traded once, but after a trade they will be bound to the player you traded it to. You will be able to use this item all you want prior to trading it.
Bind on Pickup: An item that can't be traded if it is picked up. This is similar to items in World of Warcraft: Classic.
Diablo 4 will feature towns where you can go and meet up with other players online. You will be able to pick up quests, trade, and party up with other players. Jumping into a group is going to be important because there's going to be World Events that are meant for multiple players to take on.
World Events & Bosses
As you make your way across Diablo's desolate lands, you may encounter large World Bosses. These are not meant to be taken on alone, so you might need to gather up some additional players to slay the boss for potential loot!
Keyed Dungeons
Instead of Rifts there will be something called Keyed Dungeons. These are referenced in Blizzard's post about System Design. These are fairly similar to Rifts, but will increase in difficulty as you tier up by introducing Dungeon Affixes. Most dungeons are real places in the world, so you will know what types of monsters and events to expect. The Dungeon Affixes will be displayed on the key, so you will be able to prepare yourself for what lies ahead of you in the dungeon.
PVP Areas
It looks like the long return of some more open PvP will be available to you if you want to kill your fellow demon slayers. The zones might have objectives for PvE, so you might not get an option of avoiding these zones completely. It also sounds like PvP is not entirely figured out, so expect any of these details to change in the future.
Diablo 4 Cinematic Video
The Diablo IV cinematic is how we were officially introduced to the game at BlizzCon 2019. It is a beautifully created glimpse into the story behind the game. However, it is extremely dark in tone, so if you're squeamish or easily scared, I'd consider skipping watching this one.
Diablo 4 Gameplay Trailer
The gameplay trailer introduces us to some of the new characters, as well as some of the gameplay elements that will be apart of the game.
Diablo 4 Leaks
There were a couple of leaks prior to the official reveal at BlizzCon 2019. The game appears to have been rebooted in 2016, and has potentially been worked on for three years. We will see how much long is required to get to release, but based on the quotes from the developer it doesn't look like it will be soon.
Kotaku "Leak"
Most people remember the ill-fated BlizzCon 2018 announcement of the Diablo Immortal mobile game (yes, this is still being developed), and the infamous "Do you guys not have phones?" quote that has been memed across the internet ever since. Not too long after that, Jason Schreier posted a news story that featured him speaking with 11 current and former Blizzard employees about the future of the Diablo franchise. Based on the conversations he had, it looks like Diablo 4 is absolutely in development, but had been "rebooted" in 2016.
Things were potentially looking up for the franchise, because Josh Mosqueira who was the director of the well-received Reaper of Souls expansion was leading development. Apparently, he was going to change things up quite a bit for the franchise. The game was said to be going in a gothic and challenging dungeon crawler direction that would feature an over-the-shoulder perspective. That would be a huge change to the isometic camera angle that the game has been using for the previous three games. This was the version of the game that was eventually rebooted in 2016, and is possibly the reason that led to the departure of Mosqueira from Blizzard soon after.
Luis Barriga, Game Director at Blizzard, is now said to have taken over the project. It has been mentioned that game is going to be a lot darker, and head back into the direction of the first and second versions of the game. This is likely music to a lot of player's ears, because one of the main complaints about Diablo 3, especially early on, was that the game was too bright and colorful. According to the article, there's also been discussion about adding "light MMO elements" that could feature a hub city for players to congregate in.
This was the first concrete information we received that Diablo IV was actually in development. It would be a while before we heard much of anything about the game again.
Artbook Leak (10/20/19)
This is what I would actually call a real leak. A German based publication called Gamestar magazine got an advertisement from Blizzard for a Diablo Artbook. The advertisement came directly from Blizzard, and was written as the following:
"Featuring over 500 artworks from Diablo, Diablo II, Diablo III and Diablo IV, this book features many noteworthy artworks created for Blizzard Entertainment's iconic action RPG, which has given generations of fans everlasting nightmares."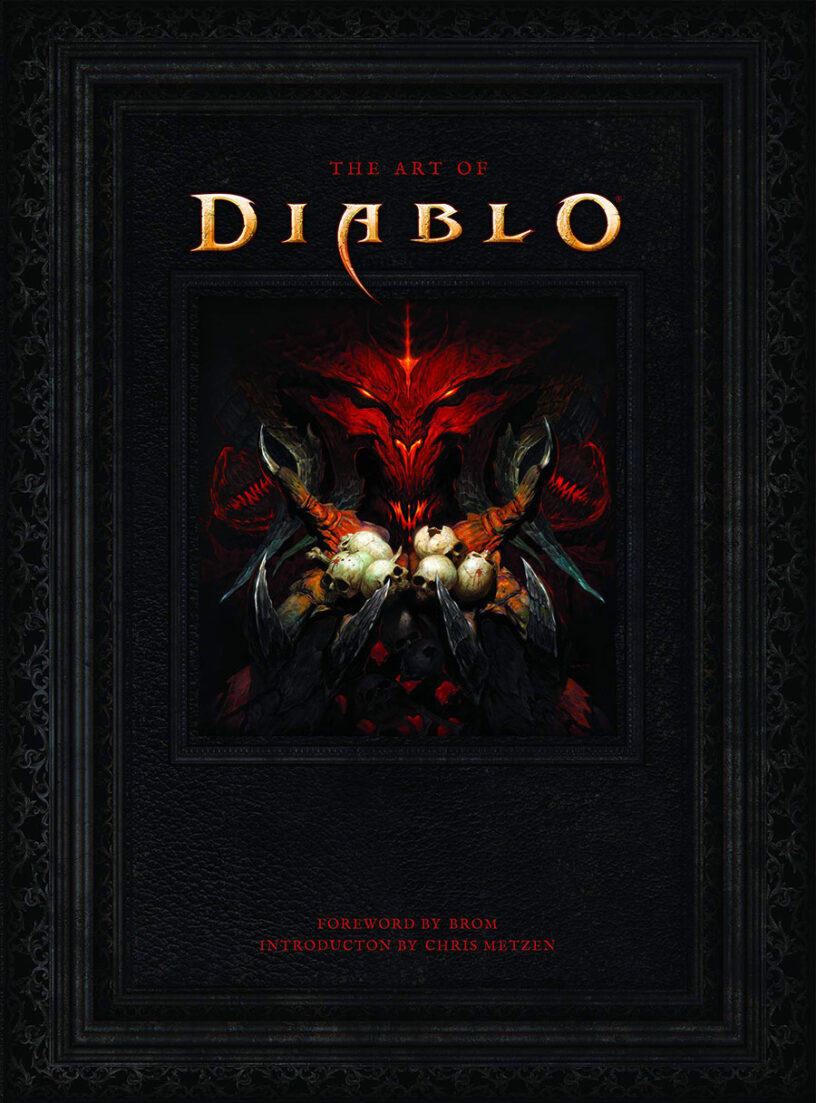 The book in question can be seen here (Affiliate Link), however, nothing is mentioned in the Amazon description or shown in the example images that is Diablo 4 related. It is possible that this was nothing more than a typo, but since we've pretty much had the existence of the game confirmed previously, it's possible that the book really does have some concept art from it.