Apart from the Elder Rift and Challenge Rift, another exciting way to face and battle powerful demons in Diablo Immortal is the Helliquary. This machinery identifies powerful Wrathborne Demons and tracks them down to a rift-like dungeon, wherein you can try your hand at besting them in a raid team of eight. Defeating demons in the Helliquary, and upgrading it, will increase your ORDR, which can significantly boost your overall strength in the game. In this guide, we'll cover everything there is to know about the Helliquary in Diablo Immortal.
Everything we know about the Helliquary in Diablo Immortal
As mentioned before, the Helliquary is a special device that tracks down powerful Wrathborne Demons so you can face them in eight-player PVE battle. Once the boss is defeated, all members of the raid party will gain an increase in their combat rating, which acts as a key element of progressing the Helliquary. For each Wrathborne Demon defeated, players will receive a Demonic Remain. They can subsequently place it in their Helliquary to activate its Combat Rating bonus and other passive bonuses.
What is the Helliquary?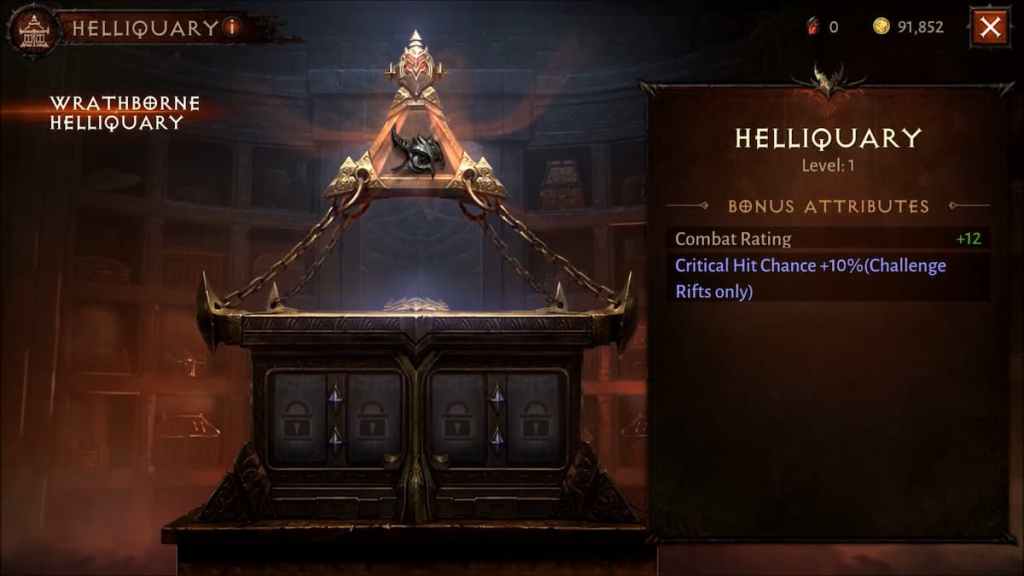 The Helliquary is a conduit device that tracks down powerful Wrathborne Demons for players to battle in massive eight-player PVE raids. The Helliquary feature is unlocked for players only after finishing the main questline in Bilefen and talking to Deckard Cain in Westmarch. Players will gain significant buffs to their Offense Rating and Defense Rating for defeating Helliquary Bosses. They'll also gain a Demonic Remain to place in their Helliquary. As you progress your Helliquary, you will face more powerful bosses and gain additional benefits in the Challenge Rift.
How to use the Helliquary
Players can take part in Helliquary Raids from the Demonic Portal in Westmarch. You can choose to participate in Helliquary raids by either finding a party, creating a party, or by joining the raid with your Warband. Completing these raids with your Warband will grant additional Scoria, which is the primary material required to upgrade your Helliquary.
You can also socket Demonic Remains dropped by Helliquary bosses into your Helliquary. You will gain the bonuses to Combat Rating of all your remains stored in the Helliquary. While you can store multiple Demonic Remains, only one of them can be active at a time to provide a special attribute bonus.
How to unlock the Helliquary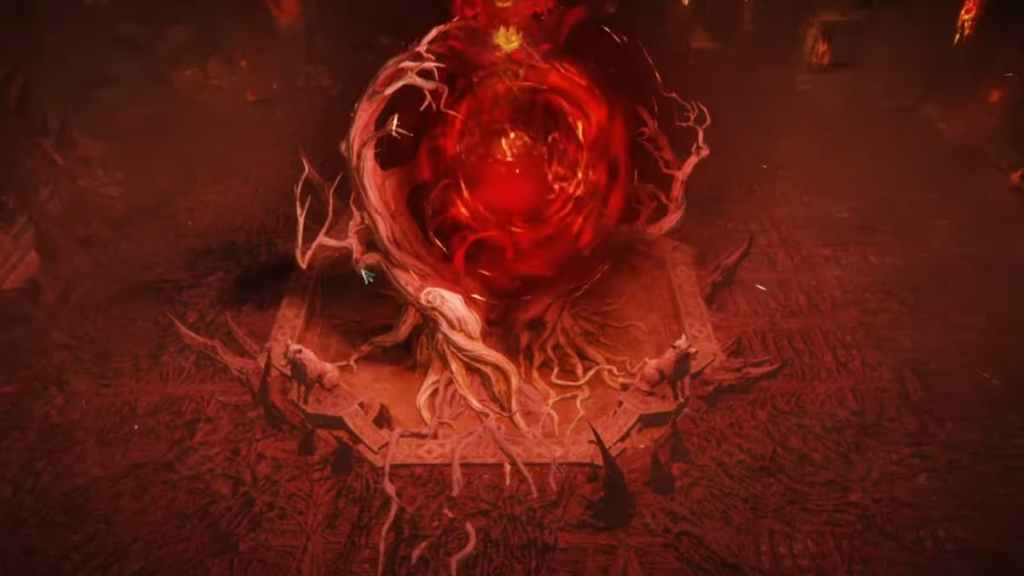 In order to unlock the Helliquary, players are required to complete the main questline in Bilefen and reunite with Deckard Cain at Westmarch. After meeting with Deckard Cain, he will introduce you to Rayek, a friend of Charsi, who can be found near the Einfrinn Tree. He will encourage you to pick up the Helliquary. Afterward, a cutscene will start, and your character is teleported to an instance. After a small cinematic in which Lassal unleashes hell upon the city of Westmarch, you are teleported back to Deckard Cain's workshop, where Rayek explains the situation.
You are then required to go through the city and kill every mob you encounter. Eventually, you will reach Rakkis Plaza, where you'll encounter the first Helliquary boss, Chaos Herald Pyle. Once Pyle is defeated, travel to the Einfrinn Tree to face Lassal the Flame-Spun in combat. Finally, after defeating Lassal in battle, our protagonist wakes up from a daze and gains permanent access to the Helliquary.
Related: Diablo Immortal: What to do with duplicate Legendary items
How to upgrade the Helliquary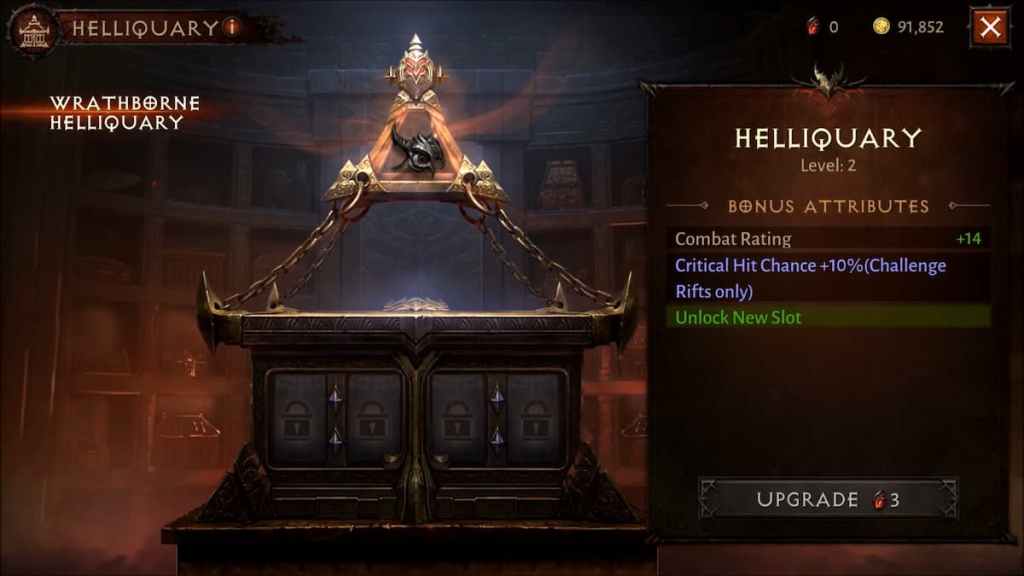 Upgrading the Helliquary is key to getting more powerful bosses and bigger buffs to your ORDR. The primary material required to upgrade the Helliquary is Scoria. However, you need to then take the Scoria to a Blacksmith, who will convert your Scoria to Hellfire Scoria for 100 gold. You can earn Scoria from the Empowered Battle Pass, defeating Helliquary bosses, and by completing Codex Daily Quests. Keep in mind that the higher your Helliquary level, the more Hellfire Scoria it will need to level up.
How many players can join the Helliquary?
Unlike Elder Rifts and Challenge Rifts, the Helliquary raids can only be accomplished in a team of eight players. Since the bosses have multiple health bars and phases, it is recommended you either create a party, join a party, or enter the raid with your Warband members to stand a chance to defeat the boss.
Can a Warband enter the Helliquary together?
As mentioned prior, a Warband can enter the Helliquary together and join forces to bring down the Wrathborne Demons. It is highly advisable to join Helliquary raids with your Warband, as doing so will grant additional Scoria rewards to participants.
All bosses so far in the Helliquary
Players are required to upgrade their Helliquary to certain levels and increase their Combat Rating in order to face different bosses in Helliquary raids. The following are all of the bosses you might encounter in the Helliquary:
Chaos Herald Pyle
Lassal the Flame-Spun
Vitaath the Shivering Death
Gorgothra the Claimer
Beledwe and Gishtur
Izilech the Misshapen
Wondering how to spend all that gold you earned in Diablo Immortal? Check out the Best ways to spend Gold in Diablo Immortal, right here on Pro Game Guides.