After unlocking Simba in Disney Dreamlight Valley, there is a whole line of Friendship quests to complete from him that lead to exciting new discoveries for your village, such as the rare Dreamlight Fruit. With Simba's level 7 quest, you have grown the Dreamlight Tree, but if you're hoping for more Dreamlight Fruit, you will want to make sure you complete this quest asap. Here's how to do so as quickly and efficiently as possible.
How to complete Dreamlight Grove quest in Disney Dreamlight Valley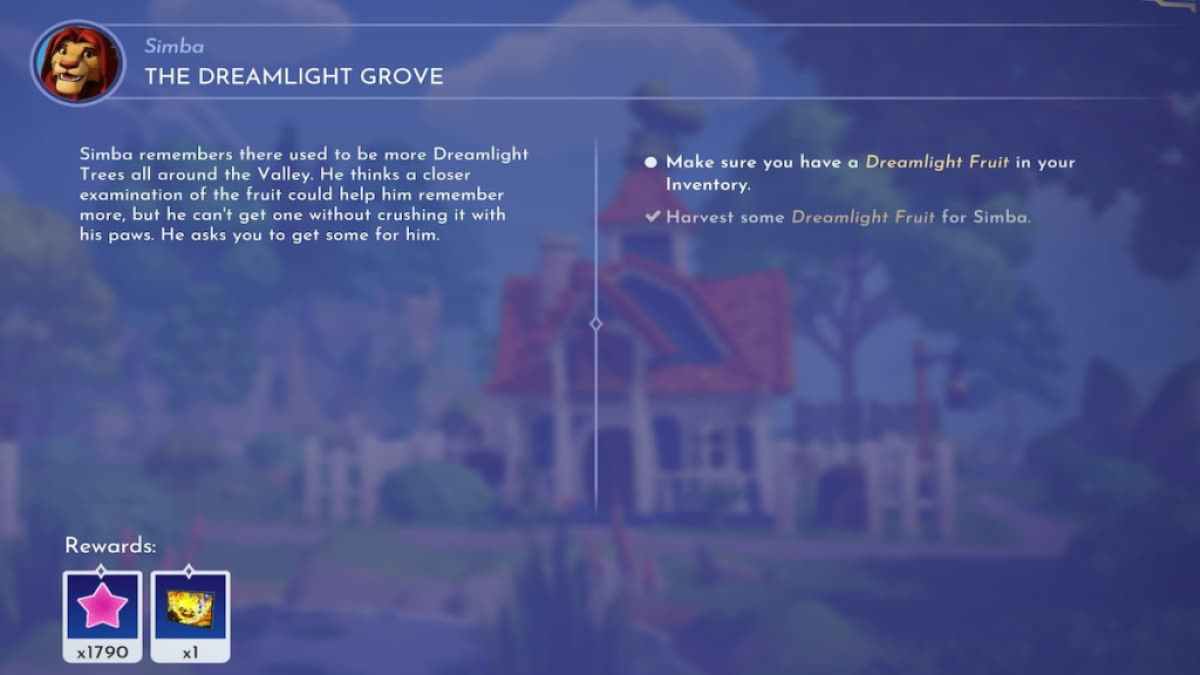 First, you'll need to ensure Simba reaches Friendship level 10 to receive the quest. The best way to do this quickly is to complete your Friendship task with him while hanging out, such as mining, harvesting, fishing, etc. You'll also want to check his favorite gifts of the day and make sure to give those to him. Once you reach the level, you can talk to him to begin the quest.
Simba has an idea of extending the Dreamlight Trees' growth, meaning you will be able to collect more Fruit at a time, which is a must for players looking to cook recipes and such. He will need you to give him one Dreamlight Fruit, which you can get from your tree in Sunlit Plateau after completing Simba's level 7 quest. Then, he will ask you to speak to Mother Gothel. Once you talk to her, she will give you a recipe for Dreamlight Tree Fertilizer. It will require several ingredients, so here's how to get them all.
How to craft Dreamlight Tree Fertilizer in Disney Dreamlight Valley
You will need the following items to begin crafting the Fertilizer for your Royal Watering Can:
Vitalys Crystals x5
Purified Night Shards x2
Sunlit Plateau Water x1
Dreamlight Fruit x3
Empty Vial x1
Related: How to get Dreamlight Fruit in Disney Dreamlight Valley
Collecting these items may seem like a whole task and a half, but here's how you can get them efficiently:
Vitalys Crystals: Take a mining buddy to the Sunlit Plateau mine and break the deposits. With a mining companion, you should be able to get them more quickly.
Purified Night Shards: You can craft these with 10 Night Shards and 2 Dream Shards. If you don't have enough Night Shards, you can find them by digging up sparkling holes in the ground or crafting them with Onyx gems you can get from deposits around the Valley.)
Sunlit Plateau Water: Head to Sunlit Plateau and interact with any of the sparkling areas near the river or water spots. It will automatically fill the vial for you.
Dreamlight Fruit: This is the tricky part. You'll need to harvest from your Sunlit Plateau Dreamlight Tree. If you don't have enough, unfortunately, you'll have to wait 24 hours before the fruit refills on the tree for you to harvest again.
Empty Vial: To make an Empty Vial, you'll need three pieces of Glass. Glass is crafted with sand and coal. You'll need to gather 15 sand and 3 coals to make all three pieces of Glass. The best way to get a lot of sand is to break sandstones, which are the greenish-patterned rocks on the beach.
Related: All 20 Orange Pebble Locations in Disney Dreamlight Valley
Once you have all these items, the Fertilizer will be available to craft in the Potions and Enchantments portion of the Crafting Table. Then, open your inventory and select Use on the potion to apply it to your Royal Watering Can.
Simba will now tell you to head around the Valley and water flowers, eventually growing into the Dreamlight Trees. You'll need to run to these three different Biomes and water flowers in each:
Frosted Heights x5
Forgotten Lands x5
Glade of Trust x5
It doesn't matter what flowers you water. The tree will grow in a random-ish spot in the Valley. You can water the closest flowers you see and teleport to the other Biomes to get this done asap. Once you do, head back to Simba, he'll want you to follow him to the Dreamlight Tree in Sunlit Plateau.
Once you get there, he will announce that the air feels different and that there are now Dreamlight Trees in every biome. That means you will have way more Dreamlight Fruit at your disposal and won't have to worry so much about waiting around for more to grow. He will also give you his level 10 reward, the Circle of Life Window.
Looking for more Pro Game Guides Disney Dreamlight Valley content? Check out our guides on How to complete Here and There and Back Again in Dreamlight Valley (Nala Level 10 Friendship Quest Guide) or How to complete WALL-E Loves Flowers in Disney Dreamlight Valley!