Disney Dreamlight Valley is a magical life-simulation experience available on PC and Nintendo Switch and free to play with Xbox Gamepass. You can befriend some of the best Disney characters as you complete their unique questlines and restore the Valley. Craft special items, decorate the biomes, and even prepare Disney-themed meals. There are tons of recipes to learn in Dreamlight Valley, all of which can be beneficial for restoring energy, selling, or sharing with friends.
Apple Cider Glazed Salmon Recipe in Dreamlight Valley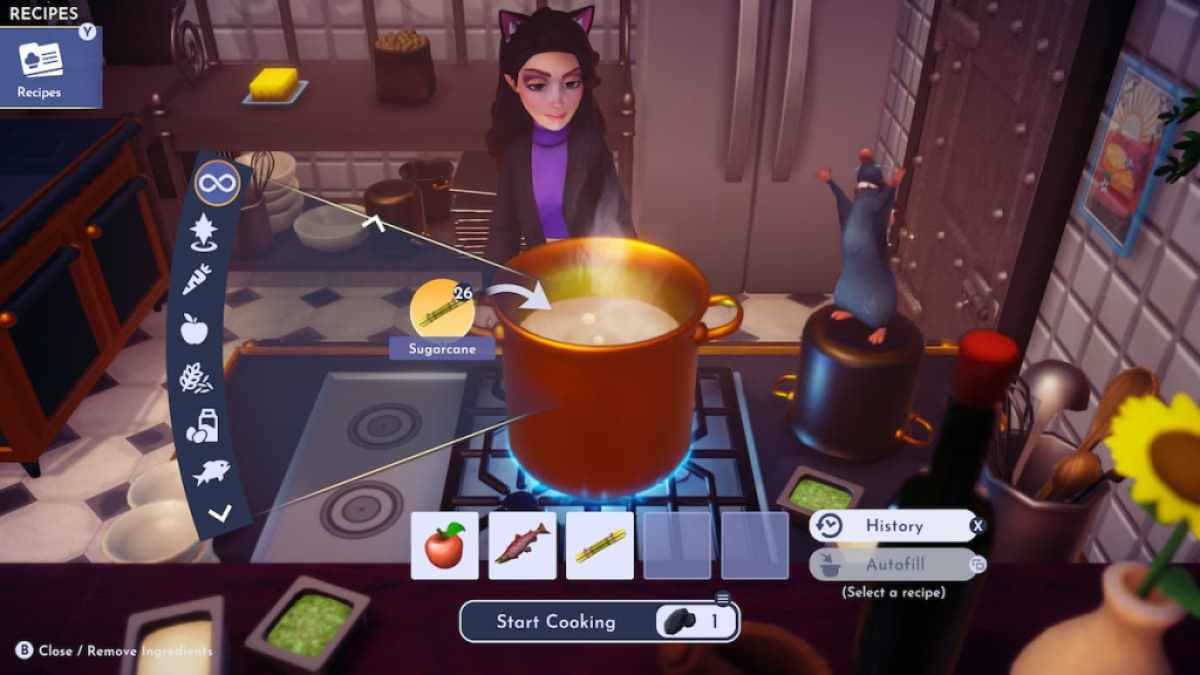 Although it may sound complicated, Apple Cider Glazed Salmon is actually an easy three-star meal to make, only requiring three different ingredients. It can restore up to 1,572 Energy when eaten, sell for 271 Star Coins at any of Goofy's Stalls, or be gifted to a friend for Friendship.
The only ingredient that may take some time to collect is the Salmon. Otherwise, you will find the other ingredients easily accessible. Here are all the elements you will need to prepare this meal:
Apple x1
Salmon x1
Sugarcane x1
Related: How to make Eggplant Puffs in Disney Dreamlight Valley
Where to get the ingredients for Apple Cider Glazed Salmon in Dreamlight Valley
This dish only requires three reasonably simple ingredients. The only one that may require a bit more patience is the Salmon since you will need to find it in fishing spots. Apples are harvestable, and Sugarcane is relatively easy to find and grows quickly, so preparing this dish should be a breeze. Here is where you can find all the items you need:
Apple: The Plaza or Peaceful Meadow, harvestable from Apple Trees
Salmon: Frosted Heights, from white or blue fishing spots
Sugarcane: Dazzle Beach, bought from Goofy's Stall or found from Night Thorns
Often, characters around the Valley will have meals as their favorite gifts of the day. This means you will want to know as many recipes as possible, so you are prepared to make them and boost your Friendships as quickly as possible. There are plenty of recipe guides on our site for your convenience. Happy cooking!
Looking for more Pro Game Guides Disney Dreamlight Valley content? Check out our guides on How to make Fish Pie in Disney Dreamlight Valley or How to make all Sushi and Maki dishes in Dreamlight Valley!