Disney Dreamlight Valley is a fascinating life-simulation game available on PC and Nintendo Switch and free to play with Xbox Gamepass. Explore the world of Dreamlight Valley and team up with some of the best Disney characters to rid the Valley of evil magic. There are plenty of unique quests to complete and room for you to express your own creativity with decorating features and wardrobe designs. You can even cook a plethora of Disney-themed recipes essential to your time in the Valley. Here's how you can whip up this yummy Chowder dish.
Chowder Recipe in Dreamlight Valley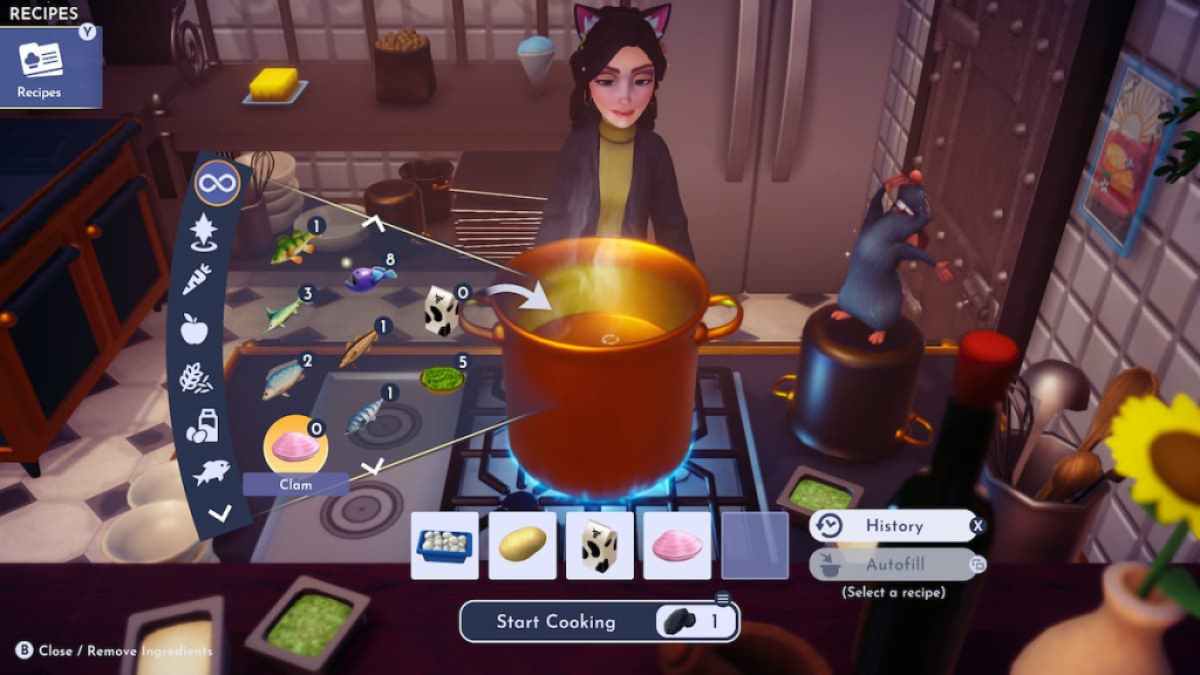 Despite being a four-star dish, this Chowder allows for plenty of flexibility with your choice of any Seafood or Vegetable. This means you can use whatever you have on hand or quickly go out and harvest some from Wall-E's garden or the closest fishing spot. When eaten, this dish can restore up to 1,346 energy, or you can sell it any of Goofy's Stalls for 646 Star Coins. Some characters may also want this meal for their daily gift or order it at Chez Remy, allowing you to earn some friendship with them. These are all the ingredients you will need:
Potato x1
Milk x1
Any Seafood x1
Any Vegetable x1
Related: How to make Creamy Garlic Scallops in Disney Dreamlight Valley
Where to find ingredients for Chowder in Dreamlight Valley
Since you can use your choice of seafood and vegetables, gathering the ingredients for this meal is quick. The only one that may be more of a hassle is the Potato since it will cost you a bit extra to purchase or may take a little while to grow. It's always a great idea to check Wall-E's garden before spending any of your Star Coins to get it. Here's where you can find all the elements you will need:
Potato: Forgotten Lands, bought from Goofy's Stall for 189 Star Coins ( 55 Star Coins for seeds)
Milk: Chez Remy, bought from Remy's pantry for 230 Star Coins
Seafood: Dazzle Beach, Glade of Trust, Frosted Heights, or Forgotten Lands, harvestable or from fishing spots
Vegetable: Any Biome, bought at Goofy's Stall
Meals are great to have, whether for restoring energy, gifting to a friend, or selling for some Star Coins. Knowing how to make them will make your task more effortless in the future. You can use our other recipe guides for assistance as needed to prepare any dish and fulfill your meal collection.
Looking for more Pro Game Guides Disney Dreamlight Valley content? Check out our guides on How to make Leek Soup in Disney Dreamlight Valley or How to cook Lemon Garlic Swordfish in Disney Dreamlight Valley!