Disney Dreamlight Valley is a magical adventure simulation game available on PC and Nintendo Switch and free to play on Xbox Gamepass. You can team up with some of your favorite Disney characters as you attempt to restore the land of Dreamlight Valley to peace and harmony. Create, decorate, design, and even prepare a plethora of special Disney-themed meals that you can share with your friends of the Valley or use to restore your energy.
Fish Creole Recipe in Disney Dreamlight Valley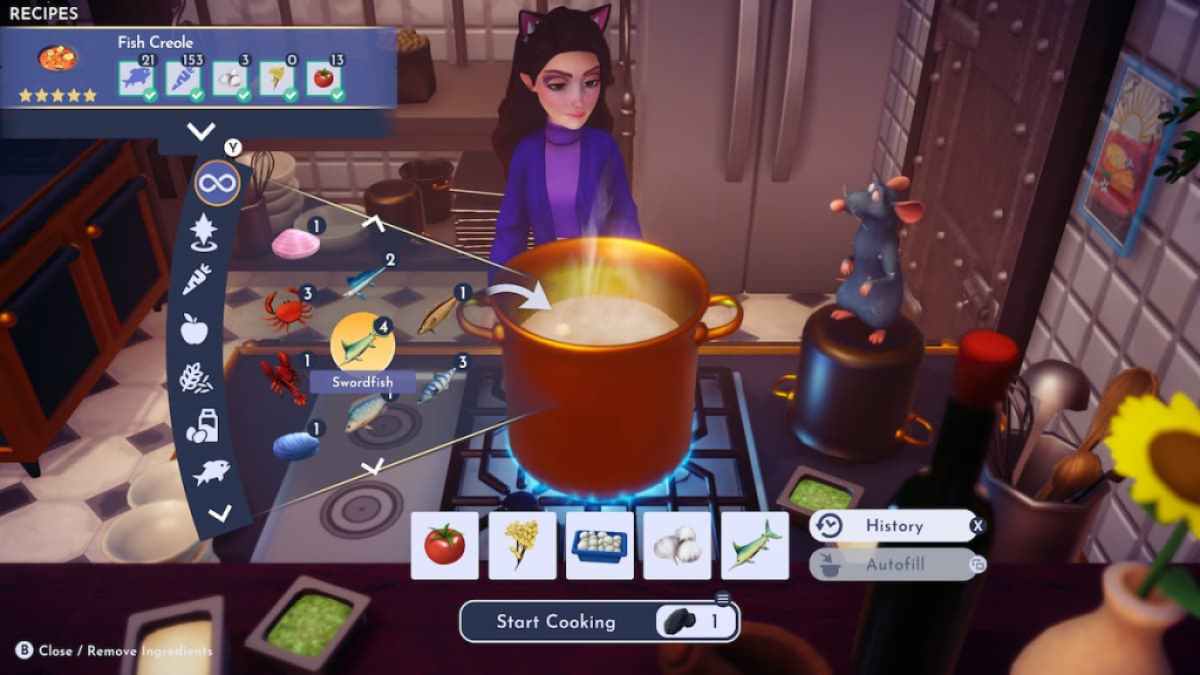 Fish Creole is a five-star meal, which means it will require the max amount of ingredients to make, but it will also restore more energy, be worth more to sell, or boost greater friendships. Thankfully, it allows you to substitute any vegetable or fish on hand, making it a little more flexible of a recipe. These are all the ingredients you will need:
Tomato x1
Rice x1
Garlic x1
Any Vegetable x1
Any Fish x1
Related: How to make all Sushi and Maki dishes in Dreamlight Valley
Where to get the ingredients for Fish Creole in Disney Dreamlight Valley
Since you have the option of using any fish or vegetable for this dish, you can find them in any location that you wish or use whatever you already have stored. The last few ingredients are not complicated to find if you don't have them already:
Tomato: In Dazzle Beach, bought at Goofy's Stall
Rice: In the Glade of Trust, found from Night Thorns or bought at Goofy's Stall
Garlic: In the Forest of Valor, harvestable from the ground
You may also be able to find Tomatoes and Rice, as well as that random veggie growing in WALL-E's Garden, depending on how many upgrades you have purchased for it.
There are so many unique and specially-themed dishes you can prepare in Dreamlight Valley. The more recipes you have, the easier it is to cook them and share them with your friends or enjoy them for yourself. The friends of the Valley often have meals as their favorite gifts of the day, so keep checking back for more recipes!
Looking for more Pro Game Guides Disney Dreamlight Valley content? Check out our guides on Disney Dreamlight Valley – How to learn new Recipes or How to make Mint Sorbet in Disney Dreamlight Valley!