Disney Dreamlight Valley is a life-simulation game available on PC and Nintendo Switch and free to play with Xbox Gamepass. You can befriend some fan-favorite Disney characters as you restore Dreamlight Valley by completing unique questlines, crafting items, decorating the Biomes, and even cooking Disney-themed meals. Cooking is essential to your time in the Valley to restore energy, boost your friendships with characters, or even make some extra Star Coins. Here's how you can make this Simple Fried Perch recipe.
Simple Fried Perch Recipe in Dreamlight Valley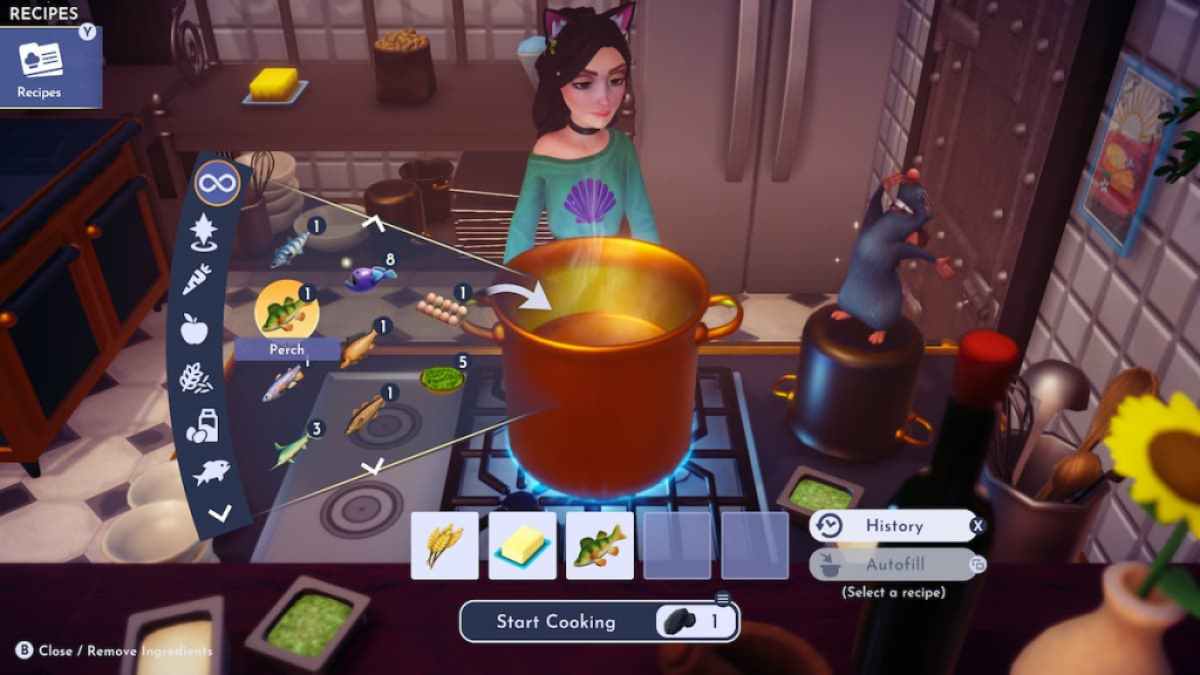 Simple Fried Perch is a three-star fried meal made with Perch fish. As it's named, this dish is simple to prepare and can benefit your journey around the Valley. When eaten, it can restore up to 1,317 energy, or you can sell it at any of Goofy's Stalls for 380 Star Coins. Some characters may also want it for their daily gift or order it at Chez Remy, allowing you to boost your friendship with them. Here are all the ingredients you will need:
Perch x1
Wheat x1
Butter x1
Related: How to make a Tropical Pop in Disney Dreamlight Valley
Where to get ingredients for Simple Fried Perch in Dreamlight Valley
You will need three different ingredients for this three-star dish, and they should be easily accessible. Perch is the main star of this dish and is a more common fish to find while fishing. The other two ingredients can be quickly purchased nearby and won't cost too much. You may even choose to grow Wheat yourself since it is one of the crops with the fastest growth time and will be even cheaper to purchase seed. Here are all the ingredients you will need:
Perch: Forest of Valor or Sunlit Plateau, from white or blue fishing spots
Wheat: Peaceful Meadow, bought at Goofy's Stall for 3 Star Coins ( 1 Star Coin for seeds)
Butter: Chez Remy, bought at Remy's Pantry for 190 Star Coins
Once you have all these ingredients, head to the nearest cooking station and combine them to fry up this Simple Fried Perch dish. Then it's up to you to utilize it to its full potential. We have plenty more recipe guides to help fill up your Meal Collection and make it easier for you going forward.
Looking for more Pro Game Guides Disney Dreamlight Valley content? Check out our guides on How to make Chowder in Disney Dreamlight Valley or How to make Creamy Garlic Scallops in Disney Dreamlight Valley!