In Disney Dreamlight Valley, players get to make various recipes and dishes by collecting ingredients from different biomes. The Steamed Fugu is one of the recipes you need to prepare, and it's classified as a three-star entree. The Scar's Kingdom update brought several new aspects to the game, and players must be prepared to progress quickly. The ingredients required for Steamed Fugu are found at Forest of Valor, Dazzle Beach, and Forgotten Lands, so you need to have these biomes unlocked. Here's how to cook the Steamed Fugu in Disney Dreamlight Valley.
Disney Dreamlight Valley Steamed Fugu Recipe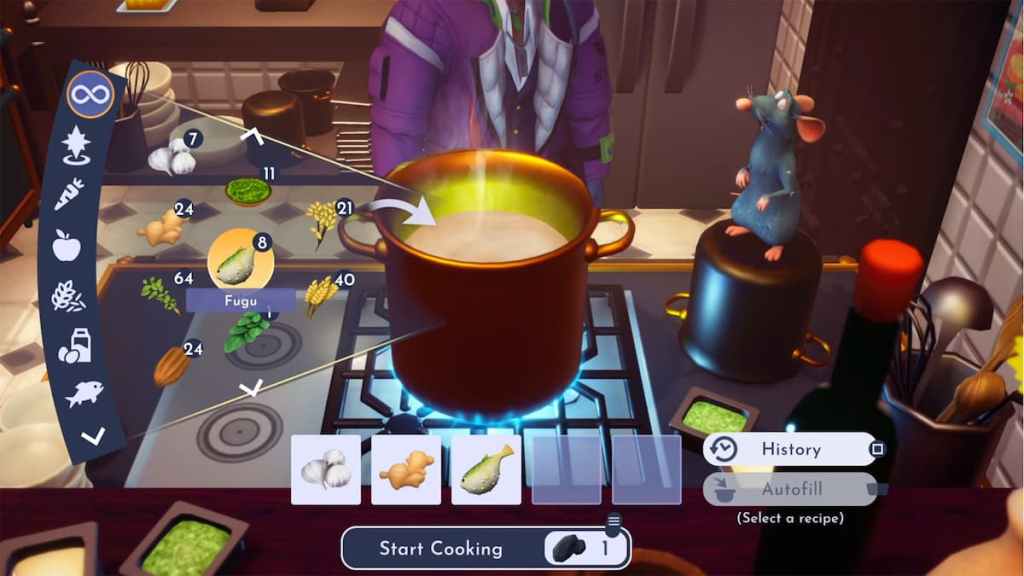 Steamed Fugu is a three-star recipe in Disney Dreamlight Valley, and it needs three different ingredients to prepare. You will need one piece of Fugu Fish, one piece of Ginger, and one piece of Garlic to make this dish in Disney Dreamlight Valley. Out of all the ingredients, the Fugu Fish is elusive and only found in the Dazzle Beach biome. You can only catch this fish when it's raining. Cast the line from the Fishing Rod at golden ripple bubbles on water bodies at Dazzle Beach. You can find the ingredients needed in the list below.
One Fugu Fish: Can be caught while it's raining by fishing at golden ripple bubbles in Dazzle Beach.
One Garlic: Can be harvested at the Forest of Valor biome.

Look for leafy shoots sprouting from the ground.
Garlic seeds can be purchased from Goofy's Stall at Forest of Valor for 50 Star Coins.

One Ginger: Can be harvested from the Forgotten Lands biome.

Look for the leafy shoots on the ground.
Once you have all three ingredients, head over to a Stove. Add the ingredients and use a Coal Ore to prepare the meal. The Steamed Fugu sells for 1,400 Star Coins, which can be consumed to gain 3668 Energy. We recommend consuming it to stay at full Energy while completing the quest. If you are not using it, gift the Steamed Fugu meal to a companion to improve your Friendship Level with them in Disney Dreamlight Valley.
Wondering how to complete Mother Gothel's questline? Check out How to get the Gleaming Dusk Fragment in Disney Dreamlight Valley on Pro Game Guides.