In Disney Dreamlight Valley, players will find around 40 types of flowers. Players can see the details for each flower in the Foraging Items tab under Collections. Like most ingredients, flowers grow in specific biomes, and you'll need to explore these regions to find them. The game has three different variants of Bell Flowers, and it is relatively easy to find them all. Here's how to find the Bell Flowers in Disney Dreamlight Valley.
All Bell Flowers and how to get them in Disney Dreamlight Valley?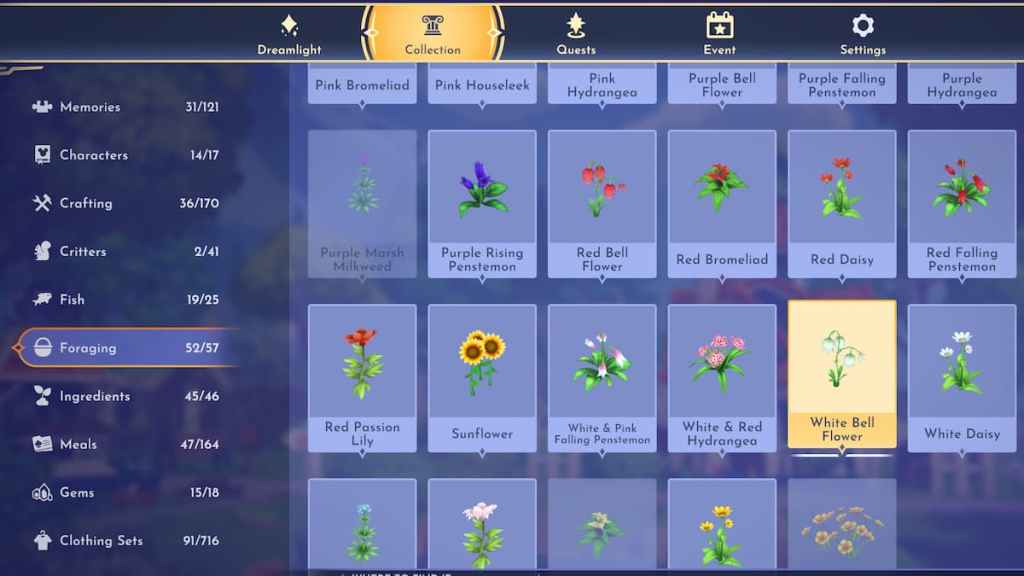 Bell Flowers have a peculiar look in Disney Dreamlight Valley. Unlike other flowers, these can be identified by their drooping petals, which are pointed at the ground. There are three types of Bell Flowers: Red Bell Flower, White Bell Flower, and Purple Bell Flower. Thankfully, all three Bell Flower variants grow in the same biome, the Forest of Valor. To unlock the Forest of Valor, players need 3,000 Dreamlight. Although these Bell Flowers grow in the Forest of Valor, you won't find them in abundance. Players will find only a few at a time, and you need to keep visiting these biomes as the flowers grow back. Here are the sell prices for each Bell Flower.
White Bell Flower - 60 Star Coins
Red Bell Flower - 23 Star Coins
Purple Bell Flower - 30 Star Coins.
Related: How to make Pickled Herring in Disney Dreamlight Valley
If you are running out of inventory space, consider turning one of the rooms in your house into flower storage. That way, you can complete quests that require flowers quickly. The Forest of Valor biome is full of Tree Stumps and other obstacles. Tree Stumps can be removed with the enchanted Shovel tool. Similarly, you can go into edit mode and remove most obstacles in this biome to clear the surface. This way, you can make more space for the flowers to grow and plant seeds in this biome to harvest later.
Wondering how to cook exquisite salads in Dreamlight Valley? Check out How to make Mediterranean Salad in Disney Dreamlight Valley on Pro Game Guides.