As you explore the open seas in Dredge, you'll have a plethora of equipment at your disposal to help you discover everything the ocean has to offer. One such tool is the Explosives, allowing you to access blocked-off areas. But it isn't available immediately—you need to unlock it first. Here's a complete walkthrough on how to get the Explosives in Dredge.
Where to find the Explosives in Dredge - Hermitage Pursuit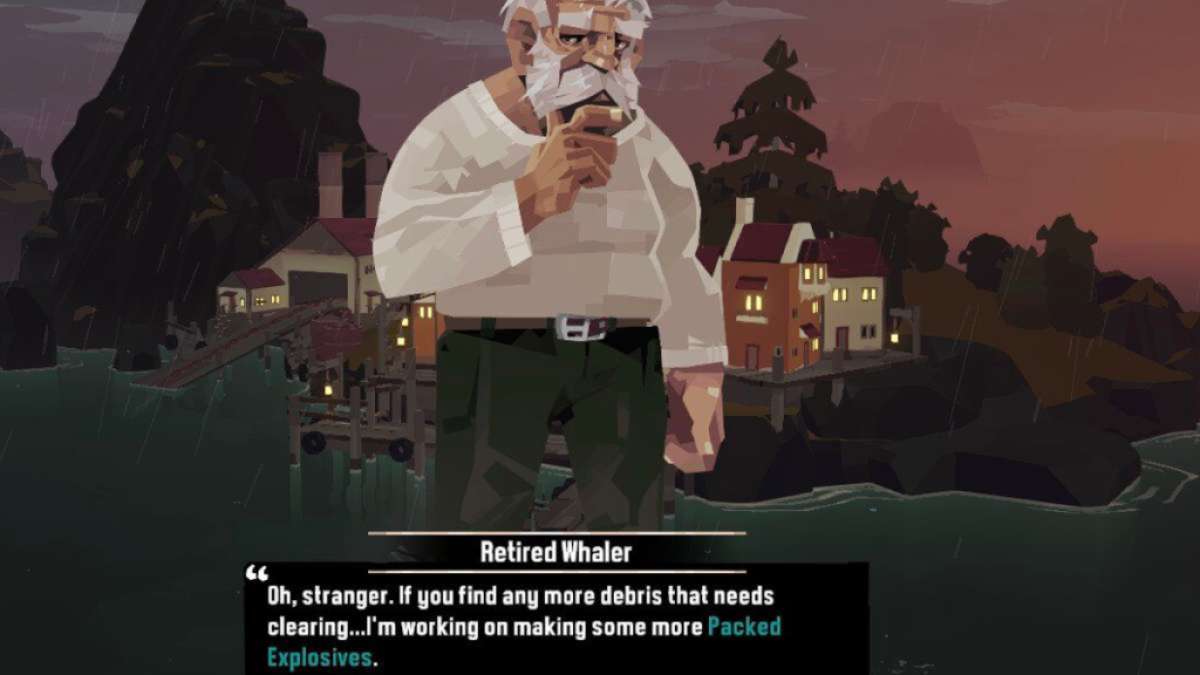 To get your hands on the Explosives in Dredge, you need to have started the 'Hermitage' Pursuit. To do so, head to the small town of Ingfell in the Gale Cliffs and speak to the Retired Whaler, who will talk to you about his brother he hasn't spoken to in years. From here, return to the sea and travel south slightly, where you'll spot a lone cabin on some rocks. Dock at the Ruins here and talk to the Hermit.
The Hermit requests that you find his Family Crest that he stole from his brother (the Retired Whaler) years prior, leading to them becoming estranged ever since. He remembers losing it to a sea monster nearby.
Where to find the Family Crest in Dredge?
To find the Family Crest in Dredge. Get back onto your boat, and you'll notice that there are a couple of pathways you can sail down in the area. While it may be tempting to take one of them, don't. The monster the Hermit mentioned lurks down these paths and will damage your vessel if it spots you, so it's a good idea to get a boat upgrade or two if you've brave enough to venture through there.
Instead, head north, then west, and sail around the back of Ingfell to the south and all the way around until you see three shipwrecks. Take the path heading east here, and you'll come to a waterfall with a bubbling spot next to it; this is where the Family Crest is (map coordinate O3). Fish it up, being careful to avoid the monster, and return to the Hermit to show him the Crest.
He'll ask you to take it to his brother, so get back into your boat and travel to Ingfell. Give it to the Retired Whaler by selecting "I believe this crest is yours," who now wants to make peace with his brother but has a request that needs doing first: blow up the wall blocking the area near where the Family Crest was so his brother can get through to Ingfell.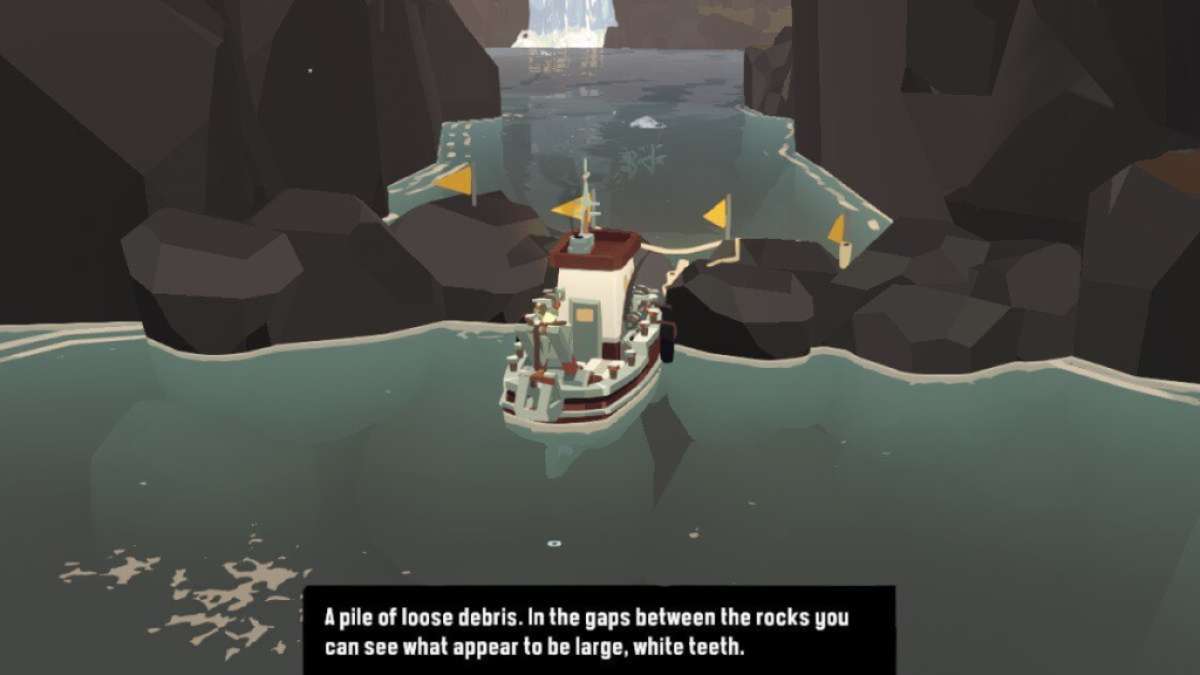 Luckily, he's already set the explosives up, so all you need to do is light them. Travel to map coordinate O3, and you'll see some rocks with yellow flags on them. Interact with them to blow them up and clear the way.
Related: How to get Research Parts in Dredge
Finally, return to the Retired Whaler, who asks you to get his brother. Go to the Ruins, pick up the Hermit, and sail to Ingfell to reunite the pair. The Retired Whaler will reward you with one set of Packed Explosives and sell them for $40 a pop. They will also now appear in the Travelling Merchant's wares.
How to use Explosives in Dredge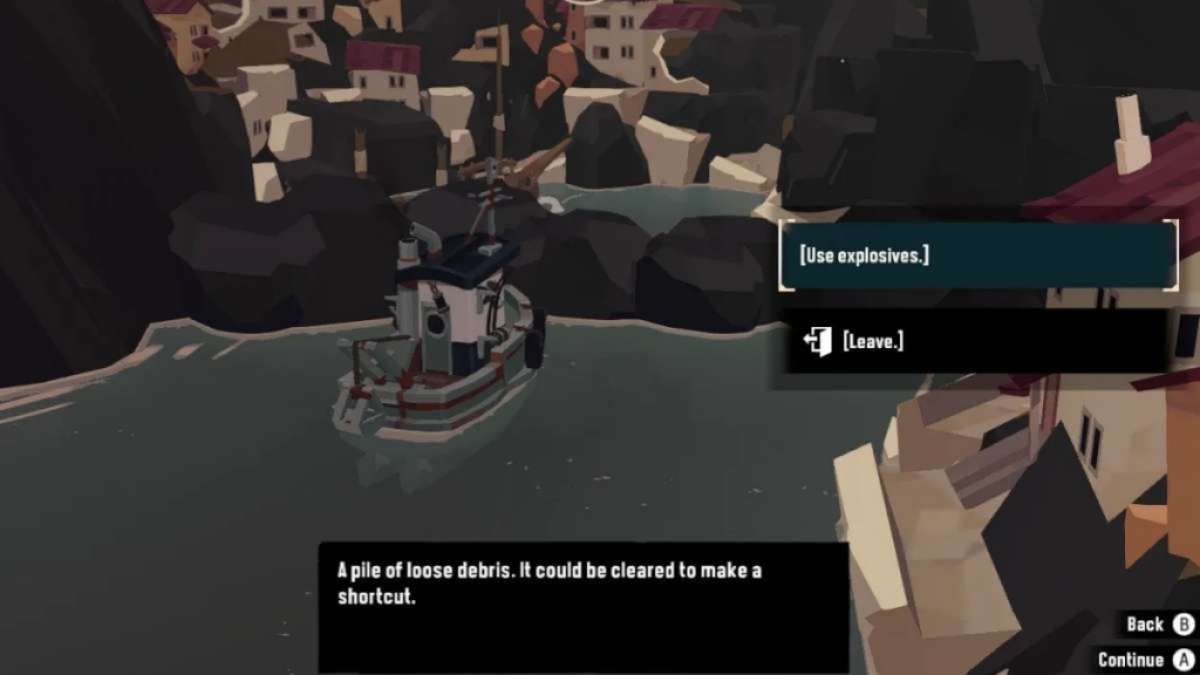 As you roam the seas, you'll notice certain areas are blocked off, which means you'll probably be able to clear the way with Explosives. You'll know if debris is bombable if you see sparkles next to it. To blow it up, ensure you have Packed Explosives in your cargo, as you can't access your storage while on the water.
Interact with the debris, and you'll get a prompt asking if you want to Use Explosives. Confirm, and the path will be cleared, allowing you access through.
For more information on Dredge, check out Where to get Oarfish, Gulper Eel, Goliath Tigerfish & Coelacanth in Dredge on Pro Game Guides.