Elden Ring is one of the most anticipated video game releases in recent years. Developed by FromSoftware and made in collaboration with George R. R. Martin, Elden Ring promises fans, especially fans of the Soulsborne genre, a fantastic, new, open-world Fantasy RPG.
Players excited to get invested in the world of Elden Ring can expect global release times to vary. The picture via Elden Ring's official Twitter account provides a few major release windows, but players should keep an eye out for their timezone. We've listed the info for you below:
PT

Console: February 24 - 9:00 PM PT
PC: February 24 - 3:00 PM PT

CT

Console: February 24 - 11:00 PM CT
PC: February 24 - 5:00 PM CT

ET

Console: February 25 - Midnight Local Time
PC: February 24 - 6:00 PM ET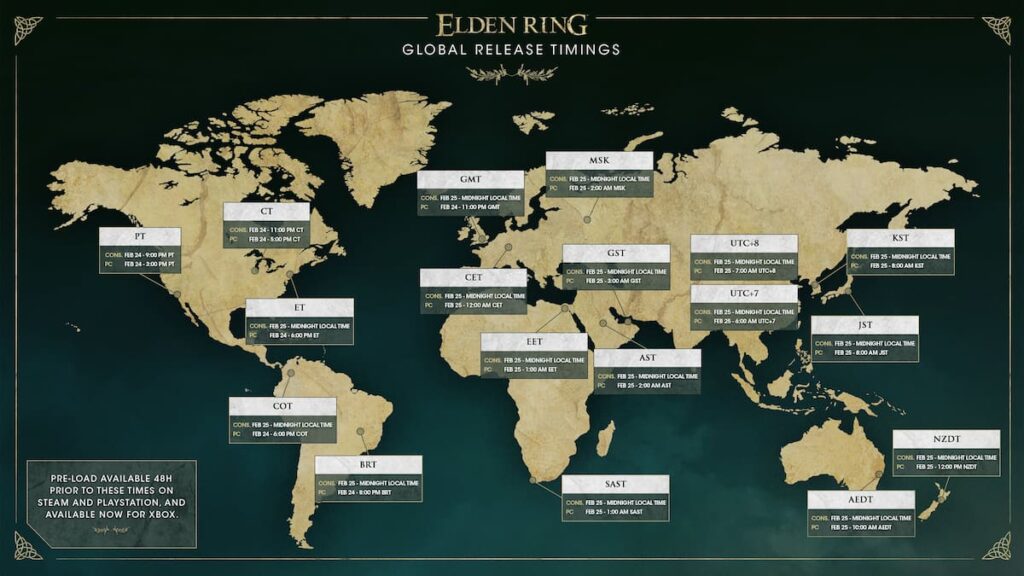 Related: What are the Elden Ring PC minimum system requirements?
How to play Elden Ring?
Elden Ring will be released on most major platforms, including Windows PC, PlayStation 4, PlayStation 5, Xbox One, and Xbox Series X|S. It has a release date of February 25, 2022. Players can preorder the game on most major consoles.
Want to know what else you'll need to know before playing Elden Ring and want to read more? Check out How large will the download for Elden Ring be? on Pro Game Guides!