Added in FFXIV Patch 6.3, the Waterfall Partition is an incredibly beautiful-looking housing item that instantly adds a water feature to your personal or Free Company housing. Here's how to get the Waterfall Partition in Final Fantasy XIV.
How to obtain the Waterfall Partition in FFXIV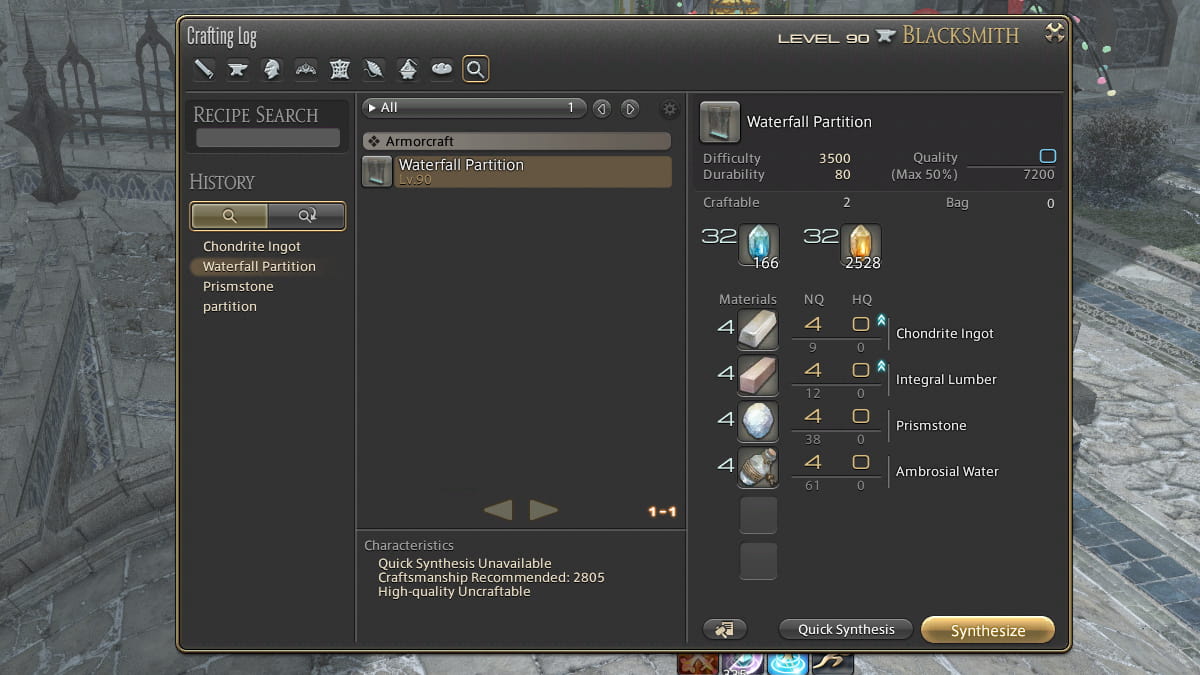 The Waterfall Partition is a crafted Indoor Furnishing. It's a level 90 Armorcraft recipe and requires a recommended Craftsmanship of 2805. Without that level, you'll struggle to complete the recipe. You cannot construct a High-Quality (HQ) version of this item. The required materials are as follows:
4 Chondrite Ingot
4 Integral Lumber
5 Prism Stone
4 Ambrosial Water
The total raw materials are as follows:
20 Chondrite
4 Dimythrite Ore
20 Integral Log
4 Prismstone
4 Ambrosial Water
Related: How to unlock the Wind-up Philos minion in Final Fantasy XIV
As with most furnishing items, the Waterfall Partition is tradeable and marketable. This means you can also obtain it on the Market Board, where it currently sells for something in the region of 100,000 gil. However this price is set to fluctuate, and given that the materials required to craft it aren't hugely hard to obtain, its price could fall rapidly.
The Waterfall Partition is a really fantastic piece of decor that we expect to see in a lot of houses going forward. It's non-solid, meaning you can walk through it and act as a doorway. It also blends seamlessly into other partitions and walls. It fills a space from ceiling to floor in normal-sized rooms and is extremely versatile. A must-have for FFXIV housing!
For more Final Fantasy XIV news, guides, and info, check out How to unlock the Anden III mount in Final Fantasy XIV on Pro Game Guides.